"We change our minds by moving our hands," wrote cognitive psychologist Susan Goldin-Meadow in a seminal 2014 study about how gestures and physical tasks deepen and enhance creative thinking. But for most designers, gone are the days of drawing pads, inks, pencils, glues, rulers, thumbnails and sketching. Today's deadline-driven creative environment has relegated the design process to clicking on a mouse and tapping on a keyboard all day.
Like many, Irish product designer Fiona O'Leary finds it difficult to create original, exciting work on her screen alone. "I found working at a computer every day really stifled my creativity," she says. Her solution: Real, handheld tools.
"I wanted to create tools that challenge the keyboard interface and move away from the computer. I think all designers work better with their hands." In a new series called "Tools for Digital Collecting," O'Leary's graphic design gadgets transform digital tools like the copy+paste function, into actual tools.
A font and color sampling tool
Inspired by the eyedropper color sampling tool in Adobe Photoshop, Spector is a handheld camera designed for sampling sections of text to determine its font.
Described elsewhere as a "Shazam for fonts," a push of Spector's button instantly applies the fonts on paper to a digital document, allowing designers to try out typefaces without needing to print out and waste paper. "I came up this idea from my frustration with designing for print on screen, it never looks like it does on screen as it does in the finalized print," explains O'Leary, who currently works as a designer at a social change-driven tech start-up. "You have no idea of scale of the page or typography and colors often visualize differently too."
Spector also samples colors from any surface and instantly applies the exact hue to the linked on-screen text.
O'Leary admits that the prototype created for her masters thesis at the Royal College of Art in London needs a bit of fine-tuning before it's ready for market. "With regards to accuracy, this is something we're currently working on to make sure that it can be as accurate as possible," she tells Quartz.
A slight margin of error could be unsatisfying for meticulous typesetters and perfectionist designers. "If it doesn't recognize it, it will give you the closest one possible," says O'Leary. She is also sorting out issues to prevent typeface piracy, where savvy users might get away with sampling and using a font without paying for its license.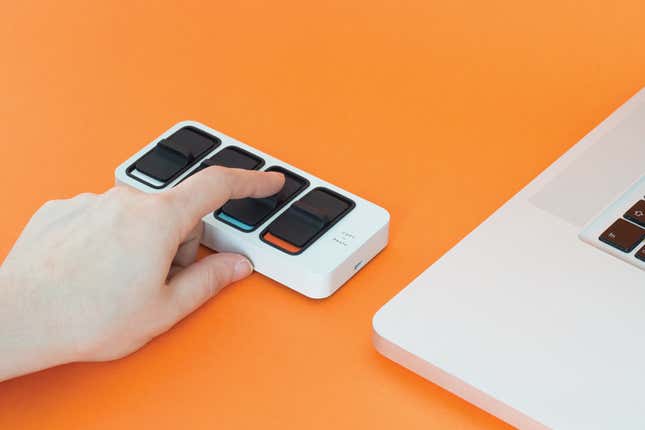 Copy and paste, in real life
A small hard drive that lets users clip, store, review and paste multiple images across devices, MIMO is physical translation of the copy and paste function. By flicking one of the switches (that appropriately look like Post-it tabs) users can copy and paste images they've saved to any email or document.
O'Leary describes timesaving tool as an improvement of the way we usually perform this function on the computer. "We still copy over elements by accident because we simply cannot see what we have just copied," she says. "MIMO is a tool that shows you what has being copied while allowing you to copy multiple items at once."
If O'Leary's experiments catch on, the designers' desk could involve multiple tools, requiring the dexterity of playing a pipe organ. But it may be worth it.
Liberating the hand from monotonous motions of tapping a mouse or keyboard is necessary in the creative thinking process, giving our actions more intention, argues O'Leary. "I am keen on the idea of physicalizing digital concepts like copy and paste and eyedropper to help us with understanding the digital task better," she explains.