Gotta catch 'em all? Good luck catching even one in the new Pokémon mobile game.
As a child of the '90s, I have a special place in my heart for Pokémon, the cute, sometimes deadly, pocket monsters spawned from a massive Japanese franchise that includes trading cards, comic books, video games, TV series, and movies. In fact, I recently opened up and fixed my 20-year-old Gameboy Pocket, so I could play Pokémon Blue, the original Pokémon game, which was released in 1996 along with Pokémon Red.
So when I got a press release Wednesday night (July 6) informing me that Pokémon Go was available in the US, Australia, and New Zealand, I immediately downloaded it.
A month before, Niantic—the game developer spun out of Google that secured the licensing to make this game from the Pokémon Company, which is partly owned by Nintendo—had given me a preview of Pokémon Go. With augmented reality, the game let people see and catch Pokémon in the real world with their smartphones. Using the device's camera, the screen would show the scenery surrounding them, plus an overlay of virtual objects, such as Pokémon and items.
Though the game was familiar, the way to play it was very different. When you encountered a wild Pokémon, you wouldn't battle it. You'd skip to the capturing part by throwing a Pokéball at it. (You are, however, able to engage in gym battles.)
The reason for this change is that gamers aren't sitting on a couch hunched over a Gameboy; they're out and about. Pokémon Go is based on another popular Niantic game called Ingress, which encourages players to explore the real world. On Pokémon Go, virtual Pokéstops shown on the screen direct people to nearby landmarks and other points of interests. In this way, Pokémon Go is as much a game as a travel guide, even if you're only exploring your backyard.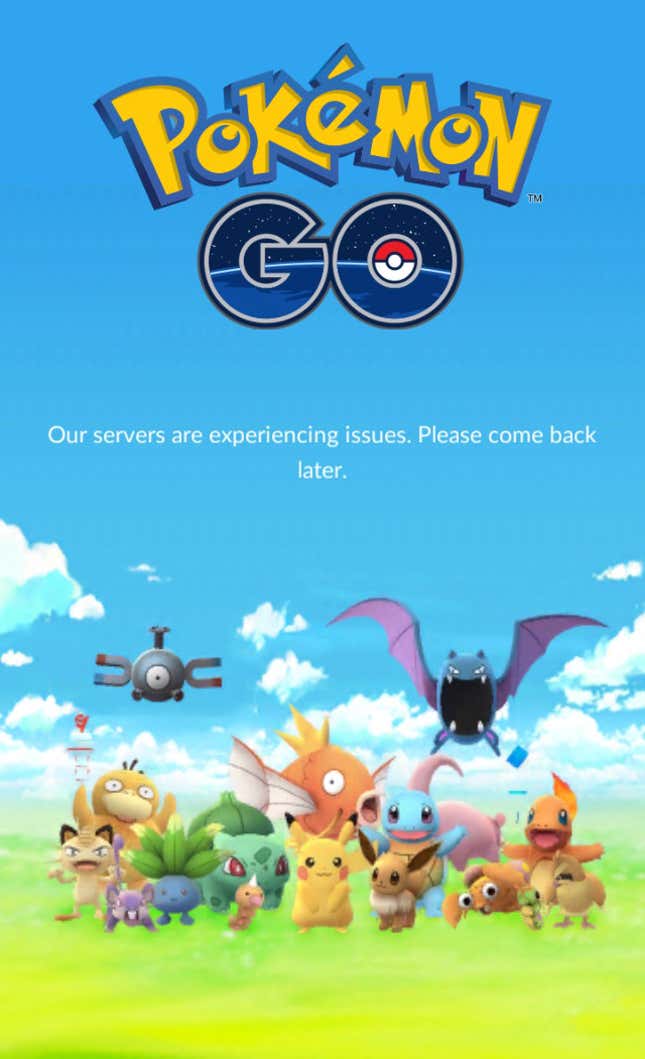 Though I hate using my phone while walking, I felt the game's concept was in line with the original Pokémon titles. Replaying Pokémon Blue two decades later, I've found a new appreciation for its slow pace. It's possible to speed through Pokémon in less than two hours, but the point is to discover your surroundings by reading every sign, stopping to talk to every character, and entering every open door so you can piece together the parts of the puzzle before advancing to the next problem. For example, in Pokémon Blue, you travel the Celadon City-Lavender Town-Vermillion City area, so you can retrieve the Silph Scope from Team Rocket, which is needed to obtain the Pokéflute from the haunted Pokémon Tower, which then lets you wake the Snorlax blocking the road to your next destination.
But in Pokémon Go, I didn't explore. I didn't catch Pokémon. Hell, I could barely get the game to load.
Instead, I repeatedly got the following message: "Our servers are experiencing issues. Please come back later."
I wasn't the only one. In fact, @PokemonGoHub, a Twitter account reporting updates on the status of Pokémon Go servers, racked up 125,000 followers less than two days after the game's launch. (A PSA from the account: "Don't waste time checking a million times if the server is back. Let us waste ours. Turn on our notifications and we got you. #PokemonGo.")
I almost caught a Bulbasaur, the cute plant-based Pokémon that can attack by extending vines from its back. I almost caught a Charmander, a fire-breathing creature that also happens to be my all-time favorite Pokémon. I almost got an item at a Pokéstop at my office building, a historical site in San Francisco.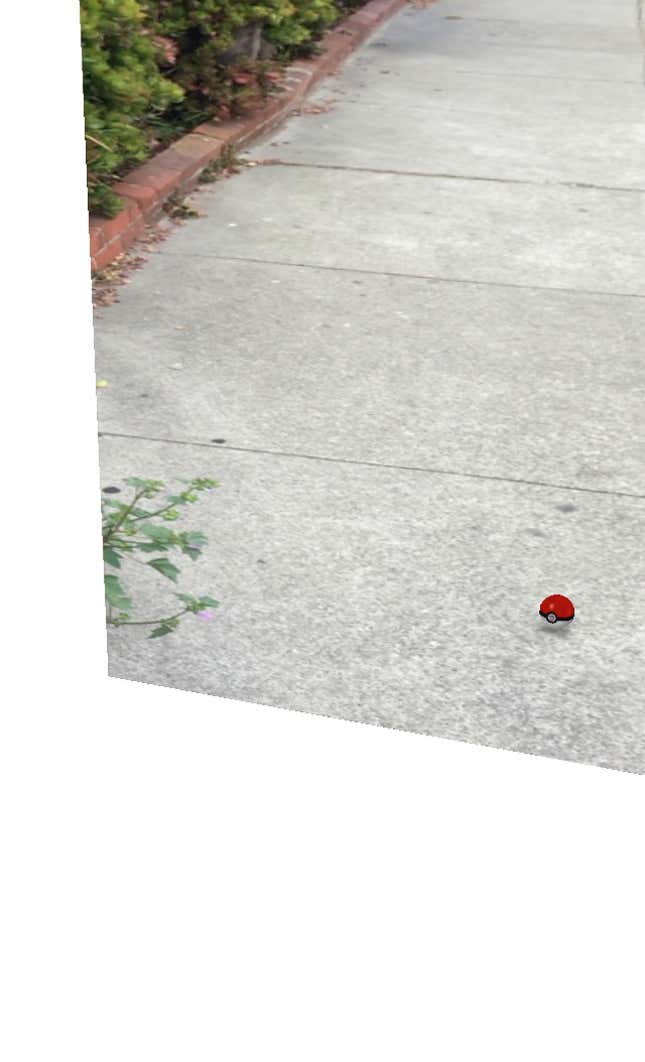 But the game crashed each time. Instead, I'm searching Twitter and growing envious of everybody sharing photos of their new Pokémon and achievements.
Here's a summary of the problems I encountered: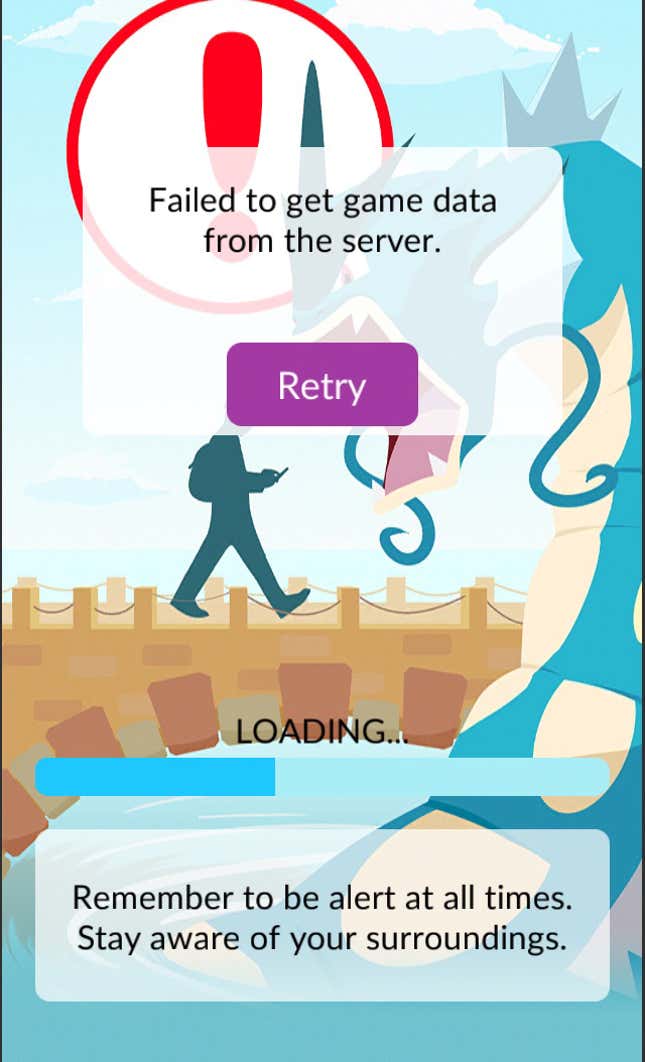 I tried to create an account on the Pokémon Trainer Club, both on my computer and iPhone. Failing to do so, I decided to use my work Google account instead, which lets me start playing.
However, each time the app crashes, I have to log in again. This requires three steps: typing in my email address, pasting in my complicated password from my password manager, and entering a code from a text message to verify my identity. Even though I check the box for Google to remember my device, in theory skipping this process the next time I sign on, I have to repeat these steps every time the app crashes. According to my text message records, I did it 10 times.
If I have my camera on (turning on the augmented-reality overlay), capturing a Pokémon will immediately freeze and crash the app.
When I finally successfully capture a Pokémon, I'm asked to create a nickname that other players will refer to me by. I try Ash, the original protagonist, and that doesn't work. I then attempt about a dozen other names. The only one that worked literally ended with "1234567890." I wonder why this wasn't part of the setup process, when I was customizing my avatar. Having to do this in the middle of the game, compounded with all the delays I've already experienced, only added to my frustrations. Shortly after, the app crashes.
The data doesn't always save when the app crashes. I still have no Pokémon.
My battery life quickly diminished from nearly full Thursday morning to 30% after half an hour of play (and by play, I mean repeatedly shutting down and restarting the app). I'll have to remember to bring a portable battery pack for my next Poké-outing.
It's normal for kinks to accompany new products, but Niantic and the Pokémon Company were vastly underprepared for this launch. Though the game shot up to the top of the App Store, it's clear Pokémon Go is simply not ready for primetime.