This week, the 126-year-old company Nintendo turned away from tradition. After years of keeping flagship characters like Zelda and Mario off smartphones, it released Pokeman Go, a game app allowing millions of fans to catch creatures and relive childhood memories on the same devices they use to make phone calls.
Downloads of the app, available for both iOS and Android, immediately surged. For a period, the app was so popular that Nintendo's servers went down, preventing some users from logging in. But the game is a hit for now, and it might even revive Nintendo's tanking fortunes.
Pokemon Go is a risk for Nintendo, in part because the average consumer has never seen anything like it before. Rather than taking place in a fictional world, Pokemon Go sets the game in the player's immediate surroundings. The app connects to one's GPS and notifies users when a Pokemon is nearby. They then travel to specific locations, sometimes well-known local landmarks, to catch them. This forces players to get up and move around.
This twist has been well received so far. Millennials nostalgic for summers spent playing the earliest Pokemon titles on Nintendo's handheld game console Game Boy Color have stormed social media with Pokemon-centric memes and jokes.
Pokemon Go is currently ranked as the most-downloaded app in the "free" category in Apple's App Store in the US. More importantly, it's also ranked as the highest-grossing app. The game is free to download. Nintendo makes money when users buy optional virtual goods, such as extra "Pokeballs," which help players catch more Pokemon.
Investors are ecstatic. On the morning of July 8 on the Tokyo Stock Exchange, Nintendo's share price surged 10%, opening at $163.88 compared to the prior day's close at $148.89
Nintendo needs this boost, badly. The company earns almost all of its revenues from consoles like the Wii U, which plugs into one's home TV, and the Nintendo 3DS, a handheld device. But its revenue has plummeted as consumers abandon console games en masse for smartphone games.
Unlike Sony's PlayStation and Microsoft's Xbox, Nintendo's consoles have typically targeted casual gamers who flock to cuddly characters like Pikachu and Kirby. But these are the exact type of gamers who have shifted from consoles to smartphones. The company's competitors are now smartphone-focused game developers like Supercell, maker of the hit Clash of Clans. The Finnish company pulled in $2.3 billion in revenue and $934 million in profit last year, making it four times more profitable than Nintendo.
There's no guarantee that Pokemon Go will be a long-term hit. Smartphone gamers are finicky.
Three months ago the company released its first-ever smartphone title, Miitomo, a game that doubled as a social network. It topped app store charts for days, but quickly plummeted into obscurity (perhaps due to gameplay that confused non-Japanese users):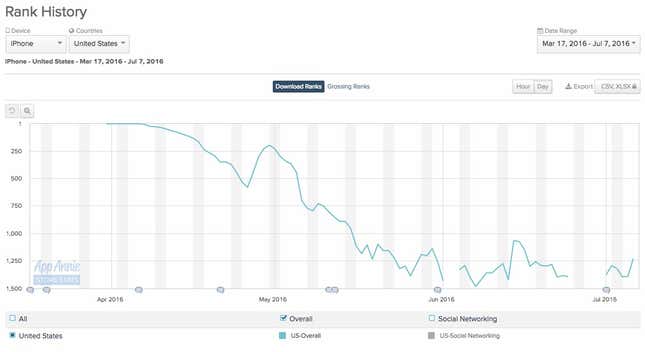 But staple Nintendo characters like Charizard and Jigglypuff have resonated with consumers for decades. Nintendo, like Disney, has a magic touch when it comes to creating memorable characters. Nostalgia has helped Pokemon Go enjoy a running start. To revive its fortunes, Nintendo must now entice Pokemon Go players to continue parting with their cash.