Stickers are worth hundreds of millions of dollars to chat platforms. The virtual tchotchkes earned $268 million for the chat app LINE last year. As Apple lays the foundations for its own sticker economy, with an overhaul of iMessage in iOS 10 due in a few months, none other than Kim Kardashian West is waiting in the wings to capitalize on it.
Kim K is way ahead of the curve. Last December she released a hit sticker app called Kimoji, that for $1.99, lets users paste custom-made images of herself into their messages. It's by far the biggest money-maker among celebrity-emoji apps on the App Store, according to data from app analytics firm Sensor Tower.
When stickers are baked in to iOS 10, Kimoji's opportunities to make money are going to explode. "It's clear that users are willing to pay a premium for stickers," says Randy Nelson, an analyst at Sensor Tower. "Initiatives like [the iOS 10 changes to iMessage] will only increase their adoption as users can buy emoji from within the most popular messenger and have them seamlessly integrated."
Kimoji is on track to make over $2.8 million in revenues worldwide this year, and it's never been ranked below the top 10 most downloaded apps in the App Store's "entertainment" category, according to Sensor Tower. In the United States, Kimoji is making about 10 times the revenue of its closest competitors, which are sticker apps from basketball star Stephen Curry and Justin Bieber. Here's what that looks like charted:
Kimoji's success can be attributed to disparate factors. Firstly, it's a keyboard app, which means it can be universally accessed from within any iPhone application that requires text input. That's a clever workaround, because iPhone users aren't spending screentime with new apps. Secondly, the Kimoji app is still quite fiddly because it's a keyboard app. Users have to activate it in their phone's settings before it's available. By contrast, a version of Kimoji released as a native sticker app for iMessage would be frictionless.
Kardashian works with a Los Angeles-based company called Whalerock Industries to produce her app and design the emoji within it. Whalerock won't say how it shares the app's revenues with Kardashian. The Whalerock staffer in charge of turning Kardashian's vision of emoji into virtual reality is Jen Allen Garcia. "She comes up with ideas, and we execute them," Garcia says. "We go back and forth on designs. She's very particular, very specific. She's incredibly detailed."
The idea for Kimoji sprang up because Kardashian sensed that a different order of pictograph was needed to capture the zeitgeist among her fans, Garcia says, and conventional emoji just weren't cutting it. "She wanted to create images that people were talking about via text," Garcia says. "Sometimes it's about sex, sometimes its about partying. 'We're missing a condom, we're missing birth control.' We're pushing boundaries."
Indeed, nearly all Kimoji wouldn't make it past a Unicode Consortium selection process to be included as standard, universally available emoji. Many depict specific people (Kim, her husband Kanye West, and their daughter North West, for starters) and would probably be deemed too "transient" to be adopted. The most popular Kimoji also include what might be considered risqué pictographs, like a depiction of Kardashian's butt. In fact, the "butt" Kimoji is the second most used pictograph. "We have a black Jesus in the Kimoji pack, so it's not something you're going to see everywhere," says Garcia. "She knows what she wants."
Here are the top Kimoji and their official names, according to Whalerock: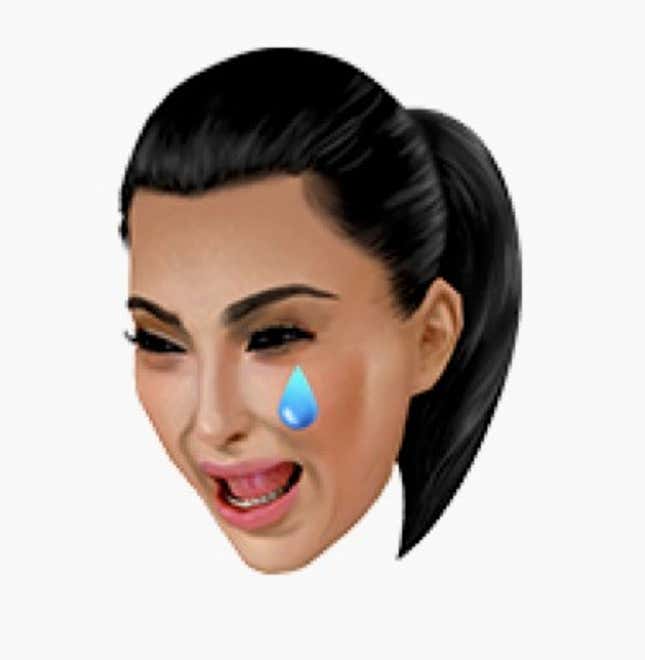 1. Cry Face -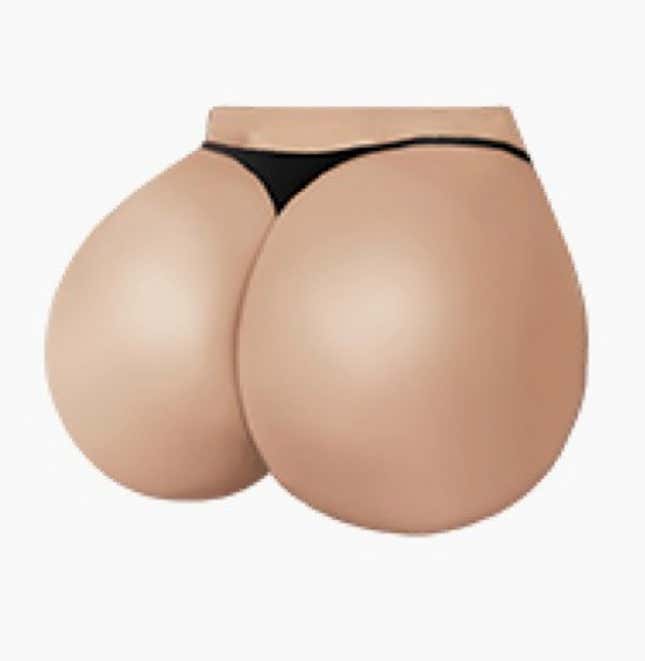 2. Butt -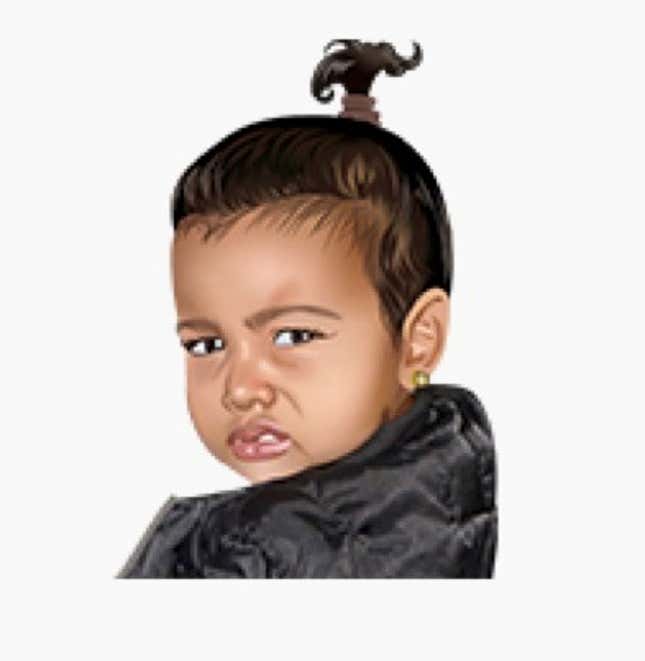 3. North Stink Face -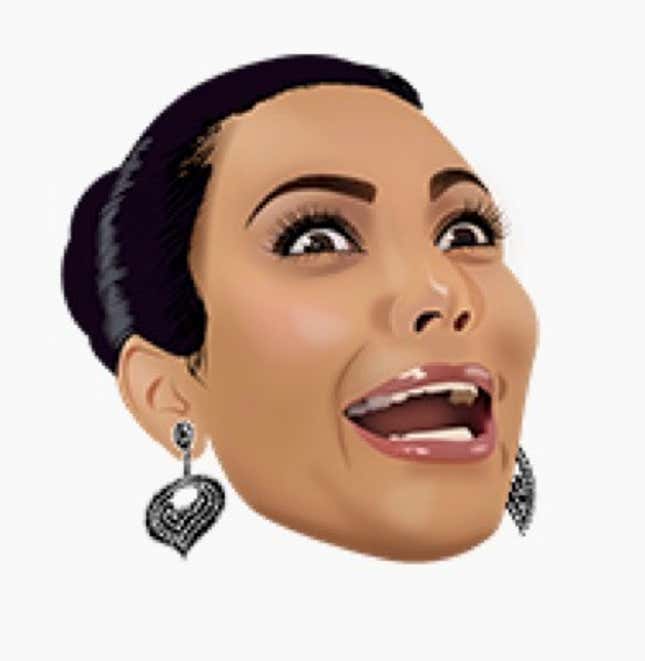 4. Kim Funny Face -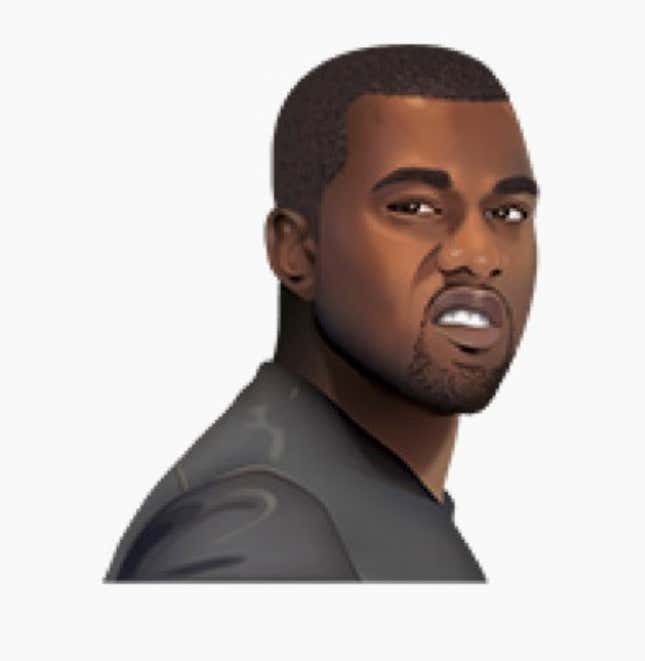 5. Kanye Stink Eye - 
Apple's move to revamp its messaging platform means the sticker economy is here to stay. As users begin to suffer from app fatigue, the new fronts are the keyboard and virtual goods like stickers. In fact, stickers in chat apps could be shaping up to become a new "platform war," says Sensor Tower's Randy Nelson. "The various [chat apps] could vie for exclusives on popular brands, or brands can potentially pay to become integrated into the apps' particular 'emoji ecosystems'," he says.
Kardashian has a stellar track record with mobile apps. Her game, Kim Kardashian: Hollywood, produced by game studio Glu Mobile, grossed over $100 million in about two years, making money from in-app purchases of virtual clothes and accessories.
Now Kardashian, and Whalerock, are primed for the coming sticker wars. In June, Kimoji launched in-app purchases, allowing users to gain access to 160 new stickers if they paid an extra $0.99. Four months before that the app introduced "Kimogifs," the Kardashian take on animated gifs. Both those measures boosted downloads significantly. As Apple's revamp looms, Garcia and Kardashian are already planning their next moves. "We're always educating ourselves," Garcia says. "It's about defining the space."