Iran's economy has slowly but measurably rebounded in the year since Tehran signed a historic nuclear deal with the world's six major powers. The two most tangible changes have been the increase in oil exports–which have nearly doubled since sanctions were lifted on Jan. 16–and the dozens of foreign trade and investment deals Iran has negotiated. In June, Iran even reached a tentative $17.6 billion deal with Boeing, the world's largest aircraft manufacturer, to purchase passenger planes.
But one year after the deal, some international firms are still hesitant to do business in the Middle East's second largest economy. Corruption, a lack of transparency, and other issues make Iran's business environment challenging for investors. Foreign companies also risk incurring penalties from remaining US sanctions on Iran for terrorism and human rights violations.
The deal also has yet to yield significant benefits for the average Iranian. Unemployment increased slightly in 2016. Only 46% of Iranians believe the country's economic situation is good as of March 2016, compared to 54% in May 2015, according to a poll by the Center for International and Security Studies at the University of Maryland. Hardliners question President Hassan Rouhani's focus on foreign investment over domestic production.
In the coming year, Rouhani may face even more pressure to prove that the deal has yielded the economic benefits that many Iranians anticipated.
Overall, Iran's economic outlook has improved since the deal. The International Monetary Fund (IMF) predicts between 4% and 5.5% growth in 2016 – up from the 1.3% growth it had predicted for 2016 before the deal was signed.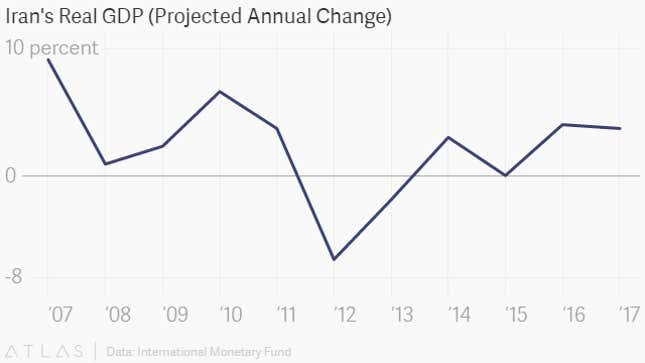 Sanctions relief has led to higher oil production, restored access to billions of dollars of assets, and easier trade and financial transactions. The IMF also predicts that average inflation will drop from 15.1% in the 2015-2016 Iranian fiscal year to 11.5% in the 2016-2017 fiscal year.
Oil & Gas
After sanctions were lifted, the Islamic Republic aggressively ramped up oil and gas output. Oil production climbed from 2.9 million barrels per day in January to 3.8 million barrels per day in late May. Oil Minister Bijan Zanganeh predicted that output could top 4 million barrels per day by March 2017.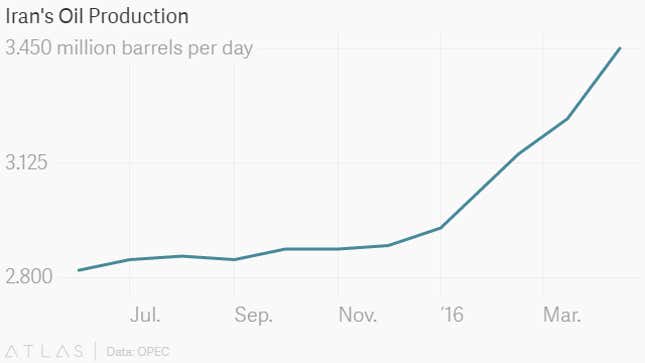 Sanctions relief also allowed Iran to export millions more barrels of oil monthly. In February, Iran exported its first shipment of oil to Europe since the deal was implemented. Oil exports to China, India, Japan, and South Korea increased 50% in March 2016 compared to the same period in 2015. By May 2016, oil exports had climbed to 2.3 million barrels per day, double the amount exported before sanctions relief.
Natural gas production has also increased. Deputy Oil Minister Hamidreza Araqi announced on May 25, 2016 that gas output had risen by 23 billion cubic meters in the past year, after Iran completed development projects in the South Pars field, the largest gas field in the world. European companies estimated that Iran – which holds the world's second largest natural gas reserves, after Russia – could potentially supply Europe with up to 35 billion cubic meters of gas per year by 2030.
Low oil prices, however, have limited Iran's revenue from these production increases. In January, oil prices fell below $30 a barrel for the first time in 12 years. Prices have rebounded slightly since then, reaching $46 a barrel in June 2016.
Low prices have pushed Iran to diversify its economy. Only around 25% of the state budget relies on oil revenues, compared to 60% in past years. In the last Iranian year, which ended on March 19, Iran had a non-oil trade surplus for the first time since the 1979 revolution.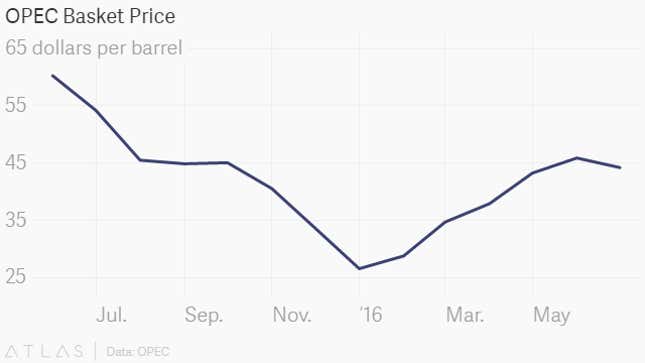 Iran's increasing oil output–despite low prices–has put it at odds with other oil producers. In February, Russia and OPEC members Saudi Arabia, Kuwait, the United Arab Emirates, Qatar, and Venezuela called for a production freeze to stabilize prices. "Iran is not the cause for this turmoil…We do not intend to sanction ourselves again," Deputy Oil Minister Hossein Zamaninia told CNN in February. Oil Minister Bijan Zanganeh said in April that Iran would only entertain the idea of a freeze after production reaches 4 million barrels per day, which was about its pre-sanctions output.
Even if prices increase, Iran may have trouble increasing its oil production beyond that target without significant foreign investment. The Islamic Republic plans to fund and implement oil and gas projects worth a lofty $185 billion by 2020 to boost its crude oil output and refining capabilities.
The Islamic Republic hopes to entice foreign oil companies by offering more favorable contract terms. On June 27, Zanganeh announced that Iran was finalizing the Iran Petroleum Contract (IPC). Unlike the "buy-back" contracts unpopular with foreign firms, the IPC allows companies to participate in all the stages of an oil or gas field's lifecycle.
Foreign trade and investment
Iran has hosted dozens of foreign delegations, many of whom had visited Iran even before the deal was signed. More than 140 economic delegations from 48 countries traveled to Iran between March and December 2015, according to Mir-Abutorab Badri, an official with the Trade Promotion Organization of Iran. Around half of them were from Europe and North America.
In January, Rouhani praised the nuclear deal for opening "new windows for engagement with the world." Foreign governments and firms quickly began finalizing agreements once sanctions were lifted. Chinese President Xi Jinping visited Iran on January 22, 2016 and signed 17 agreements. Two days later, Rouhani embarked on his first trip to Europe, where he inked deals worth $43 billion with French and Italian companies. In January, Iran also finalized a deal with European aircraft manufacturer Airbus to deliver more than 100 commercial jets to Iran.
Foreign direct investment could total $8 billion by March 2017, according to Seyed Hossein Salimi of the Iranian National Committee of the International Chamber of Commerce. In 2015, foreign direct investment only reached around $2 billion.
Even some U.S. companies have explored trade deals with Iran. In June, U.S. aircraft manufacturer Boeing signed a preliminary $17.6 billion deal to sell IranAir 80 aircraft between 2017 and 2025. General Electric has also reportedly scoped out opportunities in Iran's oil and gas industry.
But the nuclear deal has not fundamentally changed Iran's ties with the US. American companies are still generally prohibited from trading with Iran because of other sanctions for human rights violations, support of terrorism, and ballistic missile programs. Boeing was required to receive permission from the US Treasury before even negotiating with IranAir. Republican lawmakers quickly criticized the Boeing agreement, arguing it could hurt U.S. national security interests. On July 7, the Republican-led House of Representatives passed a spending bill intended to block to the Boeing deal.
Risks for investors
Despite enthusiasm for Iran's economic potential, foreign companies still face serious risks that have not been alleviated by the nuclear deal. Corruption, lack of transparency, poor transportation infrastructure, and other issues with Iran's business environment have deterred investors. Iran ranks 118th out of 189 countries in the World Bank's 2016 ease of doing business index, and 136th out of 175 countries in Transparency International's corruption perceptions index.
Foreign companies are also still restricted from trading with more than 200 Iranian entities sanctioned by the United States for non-nuclear reasons. Some firms also fear the possibility of "snapback" sanctions if Iran violates the deal, or policy changes under the next US president.
Citing remaining financial restrictions, Supreme Leader Ayatollah Ali Khamenei accused the United States of not fulfilling its pledges under the nuclear deal. "In Western countries and places which are under U.S. influence, our banking transactions and the repatriation of our funds from their banks face problems … because (banks) fear the Americans," he said in March.
U.S. officials, however, have insisted that Washington has complied with the nuclear deal. The Obama administration has reportedly sought to encourage Iran's reintegration into global markets, hoping to solidify the deal and prevent it from unraveling under future administrations. On May 10, Secretary of State John Kerry told European businesses that they "should not use the United States as an excuse" for not doing business in Iran.
Domestic controversy

Rouhani has courted foreign trade and investment, but Iran's political factions have debated whether Iran should pursue greater foreign engagement at all. Others in the regime are more skeptical.
Hardliners allege that Rouhani's policies will make the Islamic Republic too economically dependent and open Iran to Western cultural influence. On Jan. 30, a group of students protested outside the Iranian Oil Ministry against the new Iran Petroleum Contract (IPC), chanting that the contracts would lead to the "plundering of national wealth." In April, protesters gathered outside the Ministry of Economic Affairs, accusing Rouhani of undermining Khamenei's call for a "Resistance Economy."
In March, Supreme Leader Ayatollah Ali Khamenei had announced that the theme of the upcoming year would be "The Resistance Economy." Focusing on domestic production, Khamenei argued, will be Iran's best defense against sanctions. "With the Resistance Economy, it is possible to fight unemployment and recession and to curb inflation; it is possible to stand up to the enemies' threats," he said.
Rouhani has insisted that his policies are not at odds with Khamenei's vision for the economy—and public opinion polls support him. Two thirds of Iranians surveyed in March supported greater economic engagement with the West, and reformists fared well in the spring 2016 parliamentary elections.
But one year after the deal, lingering economic questions and pressure from hardliners still created challenges for Rouhani. Unemployment rose from 10.6% in March 2015 to 11% in March 2016. Some Iranian businessmen complained that foreign investment was primarily channeled to large state-run enterprises rather than small businesses in the private sector. According to the World Bank, Iran still needed to improve its business environment, reduce government influence in the economy, and reform its financial sector in order to see tangible benefits in job creation.
The nuclear deal has helped raise GDP, boost oil production, and expand trade. But as Rouhani prepares for a reelection bid in 2017, many Iranians expected to see more from the nuclear deal than they experienced in its first year.