Issues with the fit of clothing are among the top reasons customers return clothes and footwear bought online, and it's a costly problem for retailers. A 2015 report by IHL, a retail research firm, estimated that retailers worldwide lose billions each year from returns due to wrong sizing.
As Amazon grows into the largest clothing retailer in the US, the number of returns it needs to handle will only increase. But the Seattle-based company appears to be working on a system to make sure customers get the right size the first time.
A recent patent application filed by Amazon describes a few possible operating methods for a system that makes sizing recommendations to customers based on a "reference item." Amazon would use a device, also described in the filing, to take the internal measurements of its products, allowing it to create three-dimensional models it would store in a database. As a user shops, Amazon would be able to recommend products with a similar fit based on whether its dimensions match the reference item within a certain threshold. If, say, you like the way your Converse sneakers fit, then you could be reasonably assured any sneakers Amazon recommends as a match would fit well, too.
The system can even take into account factors such as what the product is intended for—running, for instance, in the case of sneakers—or how much fabric stretches. One image of a device to measure shoes looks somewhat like a shoehorn, and can record "toe-box width, toe-box height, girth, internal length and other related dimensions."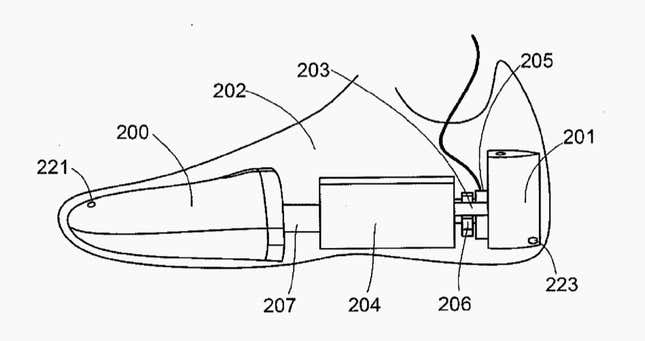 The patent is a continuation of an effectively identical one filed in 2012 by Shoefitr, Inc., a sizing technology company that had clients such as Nordstrom and Cole Haan. Amazon quietly acquired it last year, and appears to be continuing to develop its system, though filing for a patent doesn't guarantee that a product will be developed or used. We've reached out to Amazon for comment and will update this story with any new information.
Both the original patent and Amazon's continuation say the system could also be used to create models of "jeans, pants, shirts, bras, hats and headwear, handbags" and other items.
To measure every product Amazon sells, or even just a large portion of them, would require a huge amount of effort, but is something Amazon is arguably well-equipped to tackle. In 2015, for instance, it opened a 46,000 square-foot photography studio in London to shoot some 500,000 images of clothing a year, as part of its focus on increasing fashion sales.
In March, Terry Lundgren, Macy's CEO—at least until 2017—shrugged off Amazon's threat to Macy's apparel business. "They're going to have an interesting challenge when they start getting all those returns coming back online," he told a group of investors, noting that shoppers often buy multiple sizes at a time because they're unsure of fit.
The best solution is to solve the problem before it becomes one.