Pokémon Go isn't just giving Nintendo a boost. It's also supercharging sales for makers of power banks and portable batteries, as fans rush to extend the length of their mobile gaming sessions.
"Since the launch of [Pokémon Go] last week, we estimate that our overall charger sales have doubled on Amazon," Allen Fung, general manager for portable battery maker RAVPower, told Quartz in an email. "For our larger capacity power banks such as our Ace 22000mAh, sales increases are even more significant, as consumers have recognized they need a large capacity charger to keep the Pokémon Go game running."
At two different Best Buy locations in New York City, shelves normally filled with external chargers were totally cleaned out on Thursday (July 14). The situation was slightly better at a Staples in Manhattan's Flatiron District, where portable batteries were still available, if thinly stocked. Pokémon Go went live in the US on July 6.
"I think people are buying more, but they're not flying off the shelves," Isaiah Wright, a Staples sales associate, told Quartz on Thursday.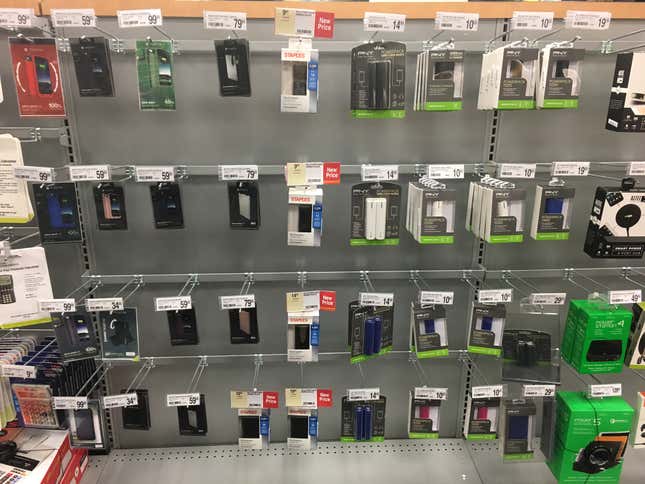 Sabrina Prashad, another Staples sales associate, said she's seen lots of teenagers in the park near where she lives in New Jersey walking around with their phones plugged in to battery packs. Prashad, who also plays Pokémon Go, has a different strategy. "I go to the park with my car and car charger," she says, adding, "if you have your phone plugged in, [the Pokémon] walk to you."
On Amazon, meanwhile, many of the best sellers in the "portable cell phone power banks" category are currently listed as taking four to five days to deliver, even for Prime members who typically receive free two-day shipping on eligible items.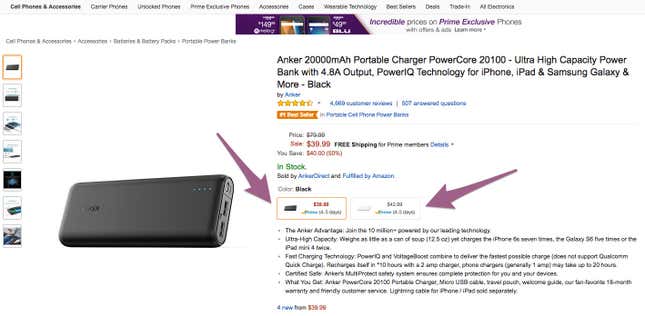 Battery packs aren't the only phone accessory riding the Pokémon Go wave. Consumer electronics company Lifeproof told Quartz that it's seen a "double digit sales increase" over the last week for the LifeActiv bike/bar mount, which lets people clamp a phone or other device to their bicycles. You know, to catch 'em all, but faster.