This is a developing story.
Prime minister Binali Yildirim told the Associated Press that "a group within the military is engaged in an attempted coup." Reports of the action began appearing on Twitter during Turkey's late Friday evening. Ambulances have been seen in front of Turkey's military headquarters, where the AFP reports that the country's highest ranking general is currently being held hostage:
The Turkish military has reportedly released a statement to Reuters confirming they are in control of the government.
Turkish president Recep Tayyip Erdogan called into CNN Türk via FaceTime to publicly reassert his power. (Turkish military had previously taken control of state media.) "I urge the Turkish people to convene at public squares and airpots" to protest the military's actions, he said.
Turkish military aircraft were also reported flying low over the capital of Ankara late on Friday evening (July 15), according to Agence France-Presse.
Meanwhile, two intercontinental bridges in Istanbul—the Bosphorus and Fatih—were closed by members of Turkey's army. The bridges connect Turkey's European section to its Asian side.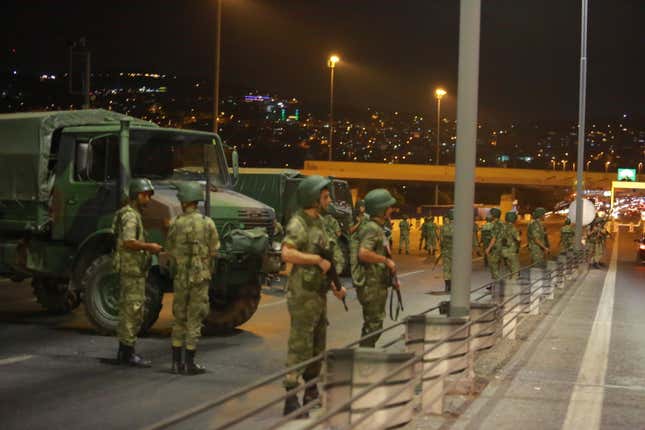 Internet users within Turkey have also reportedly been blocked from Twitter, Facebook, and other social media sites.
Military tanks are have also been reported outside Istanbul's Atatürk airport.