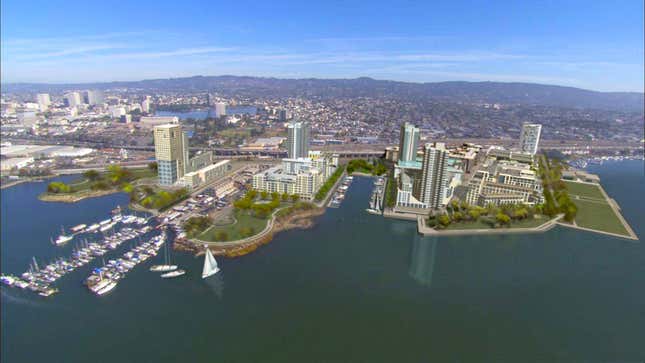 Lending has shot up in China (again). Data released earlier today show that banks issued 1.06 trillion yuan ($171 billion) in loans in March (paywall), up from 620 billion yuan in February. Aside from the risks of more loans going bad, this is fueling a huge and ongoing problem with overcapacity: China is building more factories (and infrastructure projects) when it already has too many. As Michael Pettis, a Beijing-based economist, explains, the country "is producing far more of everything than it can absorb or export, but the only way to keep growth high has been to invest even more, at least part of which creates even greater production capacity."
That's why it's a relief to see Chinese companies looking to places outside China—like, say, the 12th-largest economy in the world, the state of California. Beijing-based firm Zarsion Holdings is ponying up an undisclosed chunk of a $1.5 billion makeover of Oakland's waterfront. Since it's a real-estate and investment firm, Zarsion will be involved in the property development, as well.
Mayor Jean Quan said the project will generate an estimated 10,000 jobs over the course of 8-15 years, and indicated that the investment was part of a larger trend. "We're starting to see more aggressive investments in the U.S. by the Chinese and we're hoping we'll have more Chinese investments in Oakland in the future," she said.
In fact, California already sees a much higher volume of Chinese investment projects than other states, according to the Rhodium Group, an economic consultancy. The state saw 166 deals from 2000-2012; the runner up was Texas, with 55. This is a screenshot from Rhodium's cool interactive chart: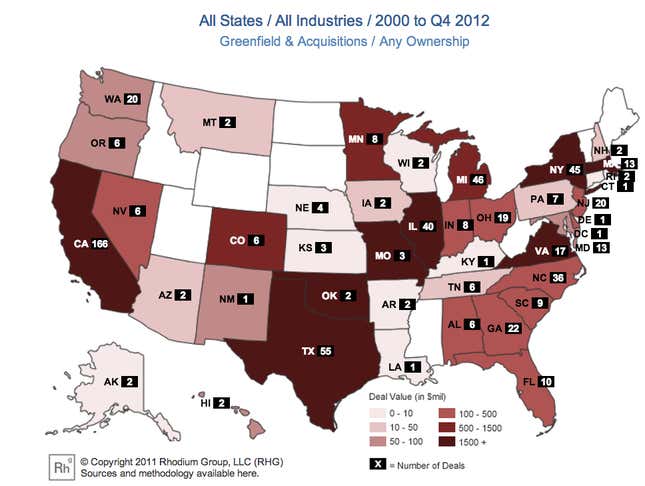 Even so, Californians should be hoping for more of that. Last year, the American Society of Civil Engineers found that the Golden State needed $65 billion in infrastructure upgrades (pdf). And such investments would also potentially benefit Chinese companies in search of better returns, as well as the Chinese government, which now has more foreign exchange reserves than any country in the history of the world, ever.
Interestingly, Rhodium notes that areas of high investment tend also to be areas with high populations of ethnic Chinese (pdf, p.30). While the Los Angeles-Long Beach-Santa Ana area has the biggest number of people of Chinese heritage, the San Francisco-Oakland-Fremont region has the highest proportion (and as it happens, Quan is the first Chinese-American mayor of a major US city):