Shares in Indian technology services giant Infosys fell 20%—the most in 10 years—as it announced a pronounced slowdown in revenue growth today. While analysts had expected sales growth on the order of 12.7%, the company said that it's shooting for between 6% and 10% for the year ending March 2014. Sales failed to meet analyst expectations of around 107.5 billion rupees for the first quarter of 2013, coming in at just 104.5 billion rupees, up from 88.5 billion rupees in 2012.
"It is a real disaster for Infosys, primarily because their low guidance along with their fourth-quarter revenue, which continues to drop," Amar Mourya, an analyst at India Nivesh Ltd, told Bloomberg.
Part of the problem was pricing, which fell by 0.7% in the quarter, due to "delays in budget and decision making" as customers took "longer than expected to finalize their spending," said CFO Rajiv Bansal on the earnings call. Though the company didn't break down regional business activity, some 22% of its revenue typically comes from Europe (the majority, at 64%, comes from the US), according to FactSet.
However, this feeds into a bigger problem for India's second-largest software and services company: profit. It fell 4.1% year-on-year in dollar terms, though exchange rate flux meant it rose 3.4% in rupee terms. The company repeatedly cited the "volatile" business environment as a reason for its uncertainty, saying crimped margins would continue in the short term. It's probably right, since headcount costs are rising faster than sales are, as Firstpost points out. The company's cash-hoarding and stinginess with dividends also suggest that it will extend the strategy of buying growth instead of building it, which it demonstrated most recently with its purchase of Lodestone, a Swiss management consulting company.
India's benchmark Sensex index hit a seven-month low on the news. Here's a glimpse at that arc: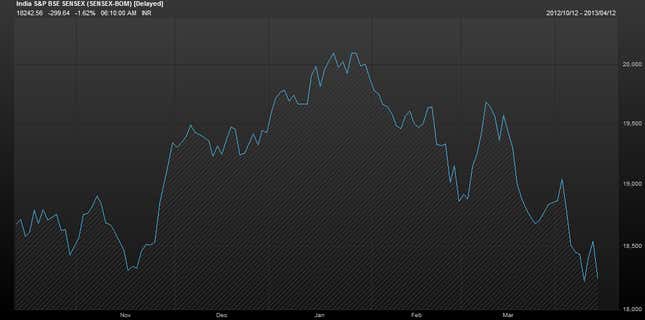 This may have been an overreaction, though. As the Financial Times notes, Infosys isn't necessarily a good stand-in for Indian businesses in general, given its exposure to the US and Europe.