Amazon has reportedly been battling a rising tide of fakes this year, ever since the company opened the door for Chinese manufacturers to sell directly to US consumers on its site.
The problem has become severe enough that Birkenstock, the iconic German sandal maker currently enjoying a surge in popularity, is pulling its products from Amazon, according to a memo obtained by CNBC from Birkenstock USA's CEO. Evidently the company felt the fake sandals on the site, which sell for about $20 less than the real product, were hurting its brand, and it will tell shoppers that Birkenstock products on Amazon can't be trusted to be authentic. (We've reached out to Birkenstock and Amazon for comment and will update this post with any new information.)
But Birkenstock is just one of countless companies whose products are on the site, and far from the only one targeted by counterfeiters. While Amazon doesn't suffer from the same ubiquity of counterfeits as the Chinese online marketplace Taobao, shoppers should nonetheless be wary of what they're purchasing.
To know what to look out for, Quartz spoke with Stuart Fuller, director of commercial operations and communications at NetNames, a global brand protection firm. The company works with clients including Adidas, Hermés, Calvin Klein, GoPro, Microsoft, and others to identify when their brands are being counterfeited online and to get the products removed as quickly as possible.
Fuller says just about every brand is vulnerable to counterfeiting, but popular categories include footwear, clothing and accessories, and electronics. The bad news is that it can be near impossible to know for certain if something is fake based on its Amazon listing. The best you can do is figure out if something seems suspicious, and even then it could be authentic. Still, there are red flags to watch for, and they're useful for avoiding counterfeits on other marketplaces, too.
Figure out who the seller is
The first page of results you get in an Amazon search shows the brand of an item, but not necessarily the seller. For that information, you have to go to the product page.
The seller's name may appear in different places, such as somewhere beneath the price or in a bulleted product description slightly further down. For clothing and footwear, you often need to select a size before that information appears.

The most trustworthy products are the ones that Amazon or the product manufacturer are selling directly, but many of the products for sale on Amazon's marketplace are from third-party retailers. (A recent report by the digital research firm L2 found that 81% of the product listings for the 29 fashion brands it tracked were from third parties.)
Many legitimate retailers use Amazon to clear their excess inventory, so a third-party seller doesn't necessarily mean the product is fake. It does mean, however, that you should take a closer look, especially if it's a great deal.
If it's a third-party seller, do your research
Amazon commingles its own inventory with that of third parties in its warehouses, so just because Amazon itself ships a third-party item doesn't mean it's definitely authentic. Fakes have been found (paywall) mixed with Amazon's own warehouse inventory.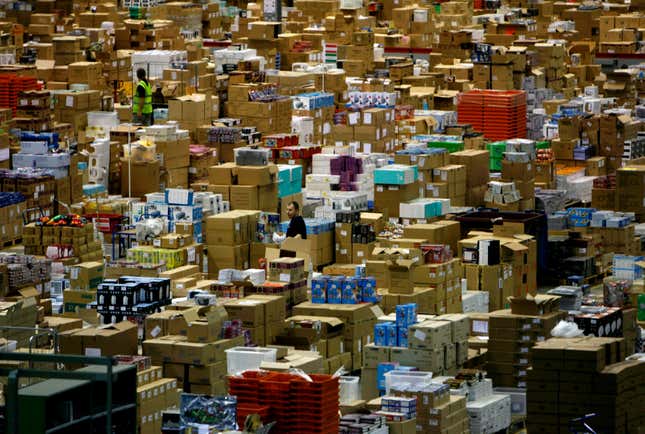 That means it's worth checking the seller's Amazon profile, even if Amazon is shipping the product. The seller's name on the product page will often be hyperlinked so you can see their reviews easily.
If you're still uncertain, search their name online. You could find that it's a legitimate retail shop. You may also find a seller by the same name on other online marketplaces. Fuller says it can be worth checking Amazon's other sites, such as amazon.co.uk or amazon.de, to see if the seller is present there.
In every case, look at what other customers have said. It's often the best—or only—source of feedback you have.
Bad reviews are trouble, but so are exceptionally good ones
Any review complaining of a fake product is obviously a warning sign.
But it's also concerning if the reviews are uniformly positive. In the normal course of things, "there will nearly always be one or two issues where people don't give a 5-star rating, because people don't like giving a 5-star rating," Fuller explains. Lots of good reviews aren't a problem, but reviews that exclusively positive and effusive in their praise suggest the reviews themselves could be fake.
It's a common enough problem that there are guides to spotting fake reviews on Amazon, and Amazon has even sued sellers over the practice.
And if the reviews are fake, you should probably be suspicious of the product as well.
Check if the product photos are original
It's good practice to examine product photos for signs that an item is fake. Online guides also exist for what to look for in certain items, such as Persol sunglasses, to determine authenticity. But as in online dating, images can be deceptive. "Obviously images can be copied from elsewhere," Fuller says.
One trick he recommends is to download one or more of the images for the product you're unsure about, and then use Google's reverse image search, which looks for instances of an image online and others that are visually similar. The results can reveal whether the photos were taken from another site.
If they were, it doesn't necessarily mean the product is counterfeit. The seller may have used an image to list the product without having to take their own photos. It's not a great practice, but it can happen.
The safest route in that case is to contact the seller and ask for more information or original photos if possible. Amazon has a button to contact a seller on their profile page, and sometimes sellers will list their direct contact information as well. If they won't provide their own photos, you may be better off looking for the item elsewhere.
If it's too good to be true…
"My favorite saying is: If it looks too good to be true, it probably is," Fuller says. He cautions that we always need to be a little wary when shopping a big marketplace such as Amazon, which simply can't police every single listing.
"If you look at, for example, the Birkenstock case, where people are selling items for 20% less than retail, I would be wary of that," he says. "If it was being supplied directly by Amazon, they could be potentially doing a special offer. But if it was a private seller, and they were selling in quantity, that would be a concern for me."
Most third parties on Amazon aren't selling in bulk, which makes it tougher to spot counterfeits. It's immediately fishy when a vendor on a site such as Taobao is offering, say, 500 pairs of Nikes far below retail price. Because of how the Amazon marketplace works, however, it's less clear if the seller is just a normal retailer moving most items one at a time.
Inspect your purchase
Despite your best efforts before buying, there is no guarantee you'll catch a fake. "If an individual seller is listing something, unless there is any type of test purchase or any type of genuine visuals of the item, it's actually quite difficult to determine," Fuller says.
The only surefire way to know is to examine the item itself. It's the first thing you should do when receiving a product from an unfamiliar seller, particularly if the product was shipped from a country where counterfeits are common. Those are typically poorer countries with lots of low-cost manufacturing. A video on YouTube, for instance, describes Apple earbuds bought off Amazon that arrived from China and turned out to be fake.
Even up close, fakes can be hard to distinguish from the real thing. People frequently post videos on YouTube comparing what they say are real products and very convincing fakes.
Still, counterfeits are rarely made as well as the authentic product, so if an item doesn't meet the standards of the manufacturer's other products, you should be suspicious. Check the tags on the item too. Typos, misspellings, and poor printing are warning signs of a possible fake.
You should also look at the packaging. New products should come in the manufacturer's packaging, and include whatever manuals or other printed materials you would normally expect with the product. Though they can be faked, too. Typos, misspellings, and misprints are signs to watch for.
If you do find that you've purchased a counterfeit item, contact the seller and Amazon immediately. And don't keep it to yourself. Fakes hurt shoppers, the brands they knock off, and Amazon. User reviews—real ones—are vital to keeping a marketplace healthy.