It's been about a week since the world lost its mind—for Pokémon Go, that is.
So how's this for a First World reality check? Images of children in Syria holding drawings of Pokémon, hoping to catch the world's attention, asking "I am from Syria… save me!"
The campaign was launched by the Revolutionary Forces of Syria (RFS), a coalition opposing Bashar al-Assad's government in the Syrian civil war. In an email to Quartz, a spokesperson for the RFS said the photos were taken in cities around Syria including Idlib, Hama, Aleppo, and Damascus.
The intent of the campaign, the RFS says, is to "remind people across the world that children in Syria should be playing, not having to think where the next barrel bomb will drop, or where to get their next meal."
The RFS also shared another set of images, with Pokémon superimposed on Syrian scenes, asking to be saved:
The campaign wasn't the first to think of combining the horrors of Syria with the whimsy of Pokémon Go. Several designers and artists have recently depicted Pokémon fleeing from bombs or seeking refuge from fighters.
The images below are by Sweden-based Syrian artist Moustafa Jan, who told Quartz that he and other artists, independently from the RFS's campaign, have made "a campaign on the Internet using the Pokémon game to remind the world what is happening to the poor people and the children in Syria."
Syrian artist and photographer Khaled Akil, who fled his country in 2012 and is now living in Istanbul, also worked on a similar set of images. "I wondered what it would be like to hunt a Pokemon among the rubble in Syria," he said, specifying that "my project has nothing to do with politics," but was only aimed at raising awareness on the situation.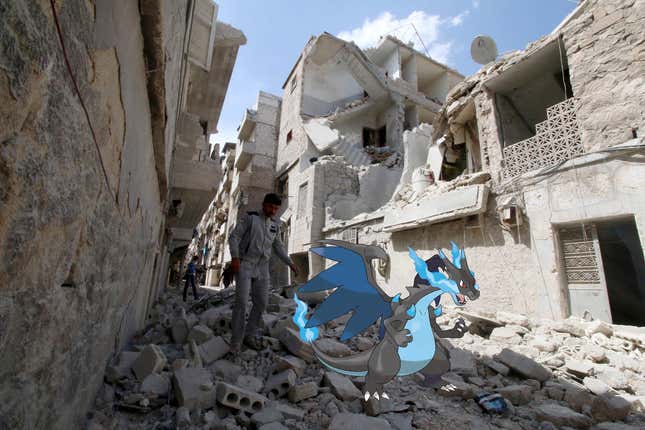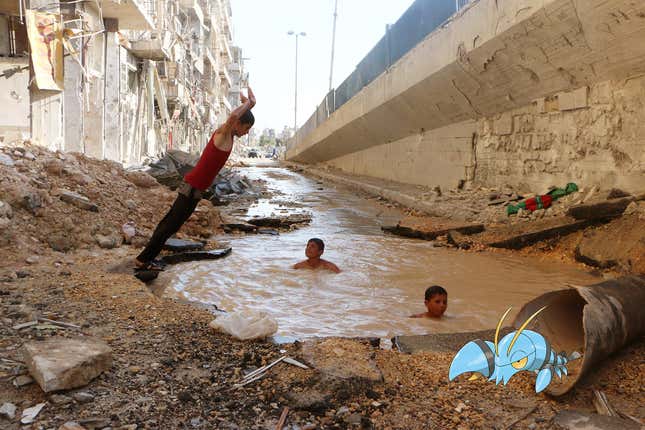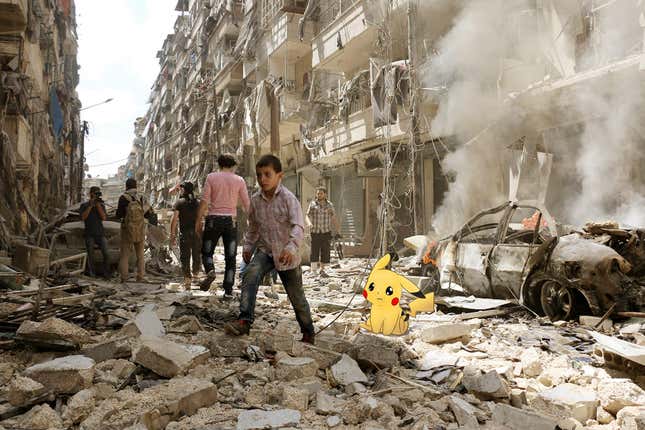 For his part, Denmark-based Syrian artist Saif Aldeen Tahhan dreamt up Syria Go, an augmented reality game tailored for the challenges faced by many Syrians today: