Facing headwinds, Lufthansa has quietly listed seats on its planes on Airbnb.
"Our cabin isn't in the woods, but in the sky!" exclaims the ad, offering a roundtrip ticket from New York to Frankfurt for $885, including taxes, in premium economy.
Lufthansa isn't just being cute by tapping the Airbnb platform. It's trying to fill its planes.
Last week (July 20), the German airline lowered its profit expectations for 2016, saying it would likely earn less than the year before. "Advance bookings, especially on long-haul routes to Europe, have declined significantly, in particular due to repeated terrorist attacks in Europe and to greater political and economic uncertainty since the original forecast was made in March," the airline said.
Airlines have benefitted from cheap fuel this year, and as their biggest variable cost fell, many added seats and flights. But that strategy is backfiring now as demand drops, and the result is an airfare war between airlines and flights that are the cheapest they've been in years.
It's the first time an airline has listed flights on the room-and-home-rental site, according to Airbnb, though Dutch airline KLM has previously offered a night on a grounded jet at Amsterdam's Schiphol airport.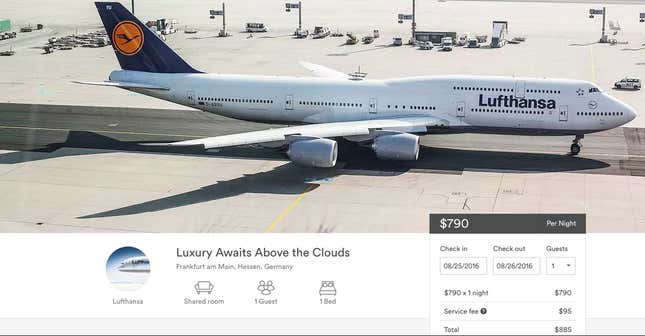 Just to give an idea of how new this concept is, Lufthansa had to check all the boxes that a regular room or apartment renter would have to check. The airline says its accommodations include heating and air conditioning and a "couch" (it's really a seat), but the carrier makes a note that it offers no washer, indoor fireplace, doorman, iron or other amenities.
Even if it started as an experiment, Lufthansa using Airbnb to sell plane seats has a real chance of catching on. The site is likely to see more business-traveler traffic in the near future, and that's exactly the clientele that airlines are after.