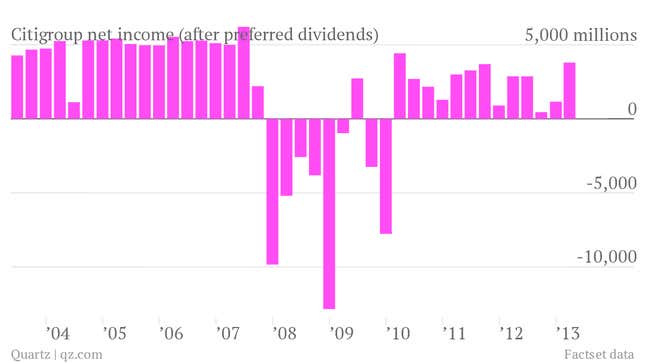 The numbers: Citigroup beat analyst expectations, reporting earnings per share of $1.23 (as opposed to estimates of $1.18) and revenue of $20.5 billion (versus predictions of $20.1 billion). Net income rose from $1.2 billion in the fourth quarter of 2012 to $3.8 billion in the first quarter of 2013.
The takeaway: Although shareholders may have been disappointed that the bank didn't attempt to return more capital to investors through dividends, it's apparent that Citi's leadership is still more interested in the bank's financial health. "It is critical that Citi be viewed as an indisputably strong and stable institution and we made progress towards that goal," CEO Michael Corbat said in the earnings release.
What's interesting: Citi's big winner for the quarter? Investment banking, which took in 22% more dough than it did the year before. Overall, income for the bank's Securities and Banking division rose 31%.