The key to a perfect photo of the stars? Salt at your feet.
On a vast salt plain at the top of the Andes, the sky converges with the earth from December through March. Located 11,994 feet (3,656 meters) above sea level in southwestern Bolivia, Salar de Uyuni is the largest salt plain in the world. When it floods during the southern hemisphere's wet season, it transforms into an immense, shallow puddle—and, at night, into a giant mirror.
Russian "astro-photographer" Daniel Kordan recently traveled there to capture the Milky Way in its reflection. Gleaming across 4,086 square miles (10,582 square kilometers) of water, the galaxy is dizzying.
"It seemed that we float in the open space. Our spaceship is parked in a distance, and stars are blinking with blue, red and yellow colors," Kordan described the shoot in an email to Quartz. "You stand in the deep night with stars above you, aside from you and underneath! It's space on Earth, isn't it?"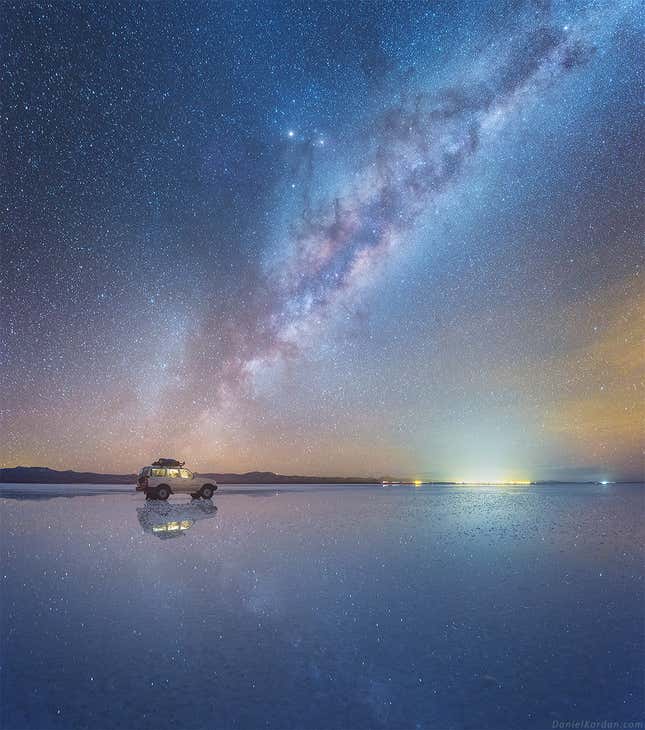 Half of the world's 11 million tons of unexploited lithium, a key component in lithium-ion batteries, happen to lie beneath the Salar de Uyuni, leading to a recent boom in lithium mining in the country.