China's nationalistic tabloid the Global Times has relied on a crew of foreigners help keep its English-language paper and website running since it started publishing in English in April 2009. They're separated from the Chinese edition completely—the English edition is located in the iconic People's Daily building, a few blocks away from the Chinese edition's office.
Both of them are located at the larger People's Daily compound, which also houses other People's Daily subsidiaries like China Economics Weekly. The compound, in one of Beijing's busiest districts, Chaoyang, is closely guarded against outsiders.
There are currently around twenty foreign editors working with the Global Times who are referred to as "foreign experts," a clichéd nickname for any foreigner working with Chinese state media. They do everything from assigning stories to reporting to copy editing—as long as the coverage is not about politics.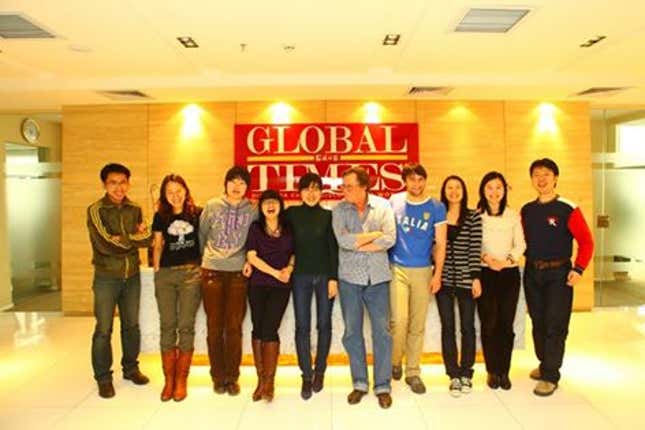 The Global Times lures them on board with bigger paychecks that it gives its local staff. Justin Mitchell, an editor who worked at the Global Times between 2009 and 2012, said the paper covered his monthly rent in Beijing of around 3,000 yuan ($451), and paid him another 19,000 yuan per month. By comparison, Chinese reporters who worked for the Global Times during the same period were paid just 8,000 yuan per month. Another former foreign editor said he earned double at the tabloid than with his previous job. These salaries are rich for journalists in China, but, at about $35,000 a year, are usually below the average journalist salary in countries like Australia or the US.
Foreigners work for Chinese state media, including the Global Times, for all kinds of reasons. Some just want to stay in China with a well paid job that isn't being an English teacher, Mitchell said, while others are "idealists" who think they will "convert the publication to a western point of view." And others are in it for the novelty value. "I once helped the Communist Party with the propaganda machine—it's funnier than anything," one former foreign editor, who asked not to be named, said. He said he didn't feel embarrassed working with the Global Times, but some did leave because they were sick of serving the party.
"I saw myself as somewhat of a teacher," Richard Burger, who worked as an opinion editor with the Global Times in 2009, said of his role of helping Chinese reporters to improve their English writing. "I had to struggle to edit some articles that were entirely written in 'Chinglish,'" he said, "but I always found it rewarding."
Their Chinese counterparts say the collaboration works. Albert Sun, 32, a business reporter with the Global Times between 2009 and 2011, said he "much appreciated" that foreign experts helped him build journalistic skills there. For instance they introduced him to some good English reading materials like The New Yorker, he said.
It isn't exactly a model of collaboration—there's a weekly news meeting that's only open to Chinese staff, for example, in which editor-in-chief Hu Xijin talks about the Global Times' circulation numbers and influence rather than editorial policy, former employees say. For Chinese journalists, a job at the Global Times is viewed as less prestigious as that at well-respected news outlets like financial publisher Caixin and Beijing News, which is known for investigations. Still, some in management are "true believers" of the party, Mitchell said, while young reporters on front line just want a job in journalism, or at least something close to that.
In 2013 after departing the tabloid, Mitchell wrote a blog post titled "It's not a sin to work for Global Times" to counter an opinion from a Hong Kong reporter. "The opinion page continues to suck dead rats and draws the most negative attention," he wrote, "but if one sifts through the news pages there are still some gems."
"The main point of Global Times was just Hu's opinion pieces and the other opinion pieces written by left-wing political commentators," the former foreign editor, who wished not to be named said. "All of the other content on the newspaper were simply there to provide more pages." But because of that, more provocative reporters are enabled to cover sensitive topics including gay rights, labor protests, and ethnic minority groups, he said.
Burger said he was surprised to see a story a few years ago dealing with the illegal "black houses" where Chinese petitioners are secretly jailed. But the story was aimed at local police officials rather than any apparatus of the central government, he added. "The truth was, the government wants to crack down on these illegal practices,' he said, "so the story was approved."
Eventually, Sun, the Chinese reporter, left the Global Times because he felt his "reputation was damaged." When his Chinese journalism peers from other publications laughed at him for working for the tabloid, he would always defend that he was from the English edition. "That makes me feel I'm less connected with those gross editorials," he said. "I have my conscience."