Tinder, the millennial generation's tool for midweek small talk, fumbly in-app seduction, and late-night last resorts, has given its M.O. a shakeup.
"Your night just got better," Team Tinder proudly exclaimed in a giddy, chatty press release in late July. Its new function, dubbed Tinder Social, enables friends to buddy-up and form groups, and then use its signature swiping function to pair groups of strangers together. Now, you can group chat, group banter, group hang… and group whatever-else-floats-your-boat.
Tinder Social ostensibly makes a lot of sense: It could help the app shed its anti-social reputation and offers a gentle nudge to users too shy or nervous to test the waters alone.  If sparks fly between a few of the involved, great! And if not, at least you've made some new drinking buddies.
Considering that Tinder has often been accused of perpetuating a dating apocalypse among young people, this strategy makes sense. The company's hyper-optimistic promo videos similarly suggest the app hopes to entice users with a broader range of experiences, like making honest-to-god friends, sans benefits. But that's where it gets interesting.
There's often a gap between the way a company markets a product and the way its clients use it. In the case of Tinder Social, however, that gap might actually be a chasm.
It's not a quantum leap to presume that when an app known for enabling one-on-one hookups expands its functionality to groups, it might be used for orchestrating orgies. Though Tinder Social only launched in the US on July 21, trailblazing swipers in Australia had a chance to test drive the feature earlier this year. (And there certainly were issues to iron out, such as the unconscious outing of your presence on Tinder to all of your Facebook friends.) Surprise surprise, it turned out that you could use the app for a little more than coordinating picnic schedules.
Jess, a Melbournian twentysomething who has been on a couple of group dates using Tinder Social, says that in her experience, offers of group sex were not uncommon. "But it was never in a misleading or taking-advantage-of sort of way," she says. "It was usually very polite. Not, Wanna bang? but more, We are here looking for a threesome/foursome, sorry if you aren't interested in that."
Jess and a few friends swiped through the offers, and eventually came across a group of guys they liked. "We were just killing time at a bar, and three guys met up with us. They were fine," she says. "We had drinks and danced a bit and got generally pissed. We went to other bars. Only one of us went home with one of them."
She thought it was fun—plus, it got her once-reluctant housemate involved. "She doesn't like Tinder at all, and she's also a little shy" she says. "It was very comforting for her to have friends around. She much prefers it."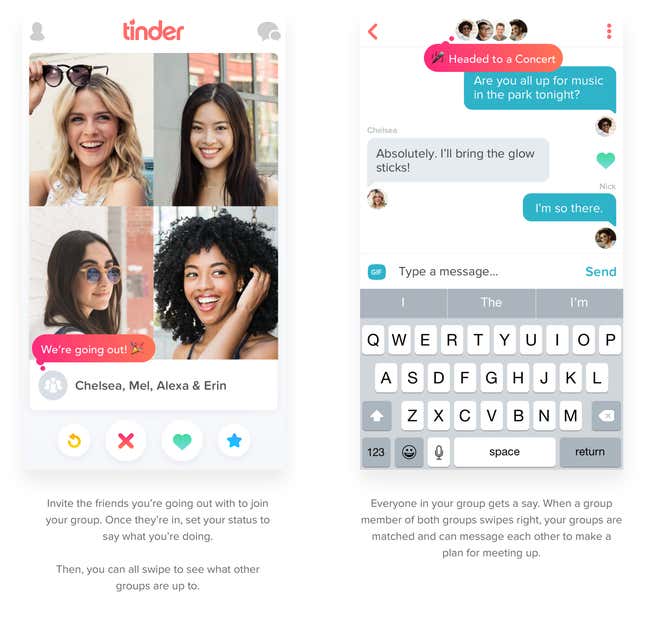 As there are simply more people involved in each meet up, and therefore more chances for connection, Tinder Social can amplify behavior that already exists in its community—both the good and bad. For example, one Friday night, Jess went straight from work to a group Tinder date that her friends had pre-organized. It was a disaster.
"I would describe it as general sleaze-assholery—which I haven't really had from Tinder," she laughs. "It was a joke. When they first showed up, they each pointed at which one of us they preferred. I wish there was a camera. They were four ridiculously attractive guys. As in, people-stare-at-them-and-they-think-it's-normal kind of attractive."
Jess and her friends are part of Tinder's core demographic: single people looking to hook up with other single people, albeit now in a group-dating context. But what about people who regularly pursue group sex? Could Tinder Social prove an able platform for them to migrate to?
One Sydney man, who "regularly dabbles" in group sex and fetishism, explained that he wouldn't bother using Tinder Social to get his kicks because specialized, established communities for finding such partners already exist online. He explains, intriguingly, that OkCupid is one of his preferred sites for meeting other polyamorists, while other apps such as Whiplr and websites such as Fetlife sate others.
Another Melbourne twentysomething who is a group sex enthusiast said that he would have loved to use the app to enable a broader array of experiences, but the process was too cumbersome. "Generally, it takes so long to actually organize a meet up that it would probably become the focus of the night," he says. "It always seemed really logistically weird and about 10 times more awkward than just a single date."
So what's the endgame here? Does Tinder want us to make friends, friends-with-benefits, or friends-with-friends-with-benefits? The answer is: all of the above. While Tinder-enabled group sex might not take off, Tinder expanding its reach into all areas of our social lives would benefit future advertising and event opportunities. After all, if two groups of college-aged strangers meet up for the first time, wouldn't a local bar, festival, or concert want to capitalize on that? Wouldn't an alcohol brand or a travel company like to reach them? Of course, much of this rests on the "social" element: the idea that the app can steer a large number of users away from its primary function as an enabler of rapid-swipe hookup culture.
The idea that Tinder's true desire is to both facilitate—and monetize—all of the new connections we make and all those relationships we're yet to have is wildly ambitious. But it's a logical next step for the company. For the moment, it's not a huge stretch to imagine that I could meet my future wife with a swipe. But my best man? Not quite.