"The goal of Olympism is to place sport at the service of the harmonious development of humankind, with a view to promoting a peaceful society concerned with the preservation of human dignity," reads one of the fundamental principles of Olympism (pdf, p.13), also known as the philosophy of the Olympic games.
Time and again, the Olympic games have served to reflect and even amplify this spirit. It has allowed people to represent their countries—even if they weren't officially recognized by their neighbors or members of the United Nations. This year Kosovo, still officially part of Serbia, will make its Olympic debut with eight athletes after the IOC recognized its bid for independent status. Chinese Taipei, a nation more traditionally known as Taiwan, will participate in Rio with 59 athletes under a cloud of controversy. Palestine, which has been a member of the International Olympic Committee (IOC) since 1995, is bringing six athletes to Brazil.
The Olympics also lets athletes participate despite the sins or mistakes of their home country. In Rio, for instance, swimmer Faye Sultan, a native of Kuwait, will participate as an independent athlete after her country was banned by the IOC.
But this summer, one group's participation will doubtless outshine even Kosovo's historic inclusion. The first ever refugee team will participate at the games in Rio, representing not a country, but the 65 million people displaced (internally, or outside their country) by war and persecution.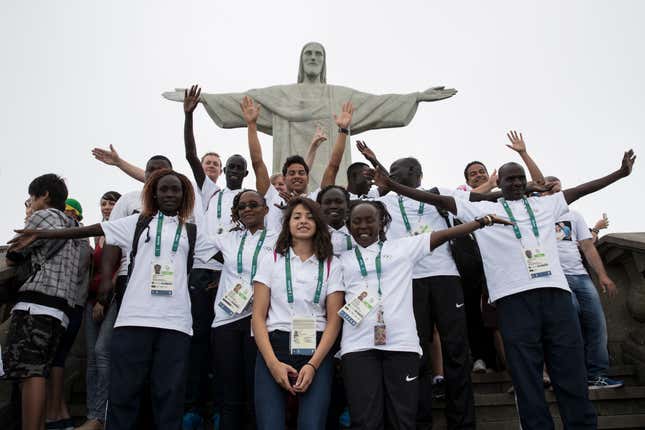 The ten athletes represent Syria, South Sudan, Ethiopia, and the Democratic Republic of the Congo (DRC). Despite overcoming unimaginable hardships on their way to Rio, all of the athletes share an ardent desire that their refugee status not define them. "We still are humans," said Yusra Mardini, 18, a heroic swimmer from Syria who last year helped drag a sinking boat full of fellow refugees to safety. "We are not only refugees, we are like everyone in the world."
Mardini's fellow athletes will be Rami Anis from Syria, a swimmer; runners Yiech Pur Biel, Paulo Amotun Lokoro, Anjelina Nadai Lohalith, James Nyang Chiengjiek, and Rose Nathike Lokonyen (also the flag bearer), all originally from South Sudan; judokas Yolande Bukasa Mabika and Popole Misenga, originally from the DRC; and Yonas Kinde, a runner originally from Ethiopia. Mardini will be the first of the refugee delegation to compete, on Aug. 6, and Kinde will be last, competing in the marathon. Here is their full schedule.
Tonight, as these world class athletes march under the neutral banner of the Olympic flag, we should remember what they represent: that refugees are not a monolithic group, nor are they helpless. Like everyone else competing in Rio, these are strong, high achieving individuals who won't let anything stop them—not violence, not a lack of means, not even war. Tonight they march on behalf of millions of people who are hardly ever afforded the dignity or the respect they deserve. At last, the entire world will be cheering them on.