First there was Discover Weekly, the impressively well-tuned, self-refreshing mixtape of personalized song recommendations that captured the hearts of many and helped Spotify catapult itself to 37 million global subscribers.
Now, Discover Weekly has a companion. Streaming behemoth Spotify has rolled out Release Radar, a second personalized weekly playlist, this one focused on spotlighting new tracks from users' favorite artists. Release Radar is "the simplest way for you to find all the newly released music that matters the most to you, in one playlist," the music streaming service announced in a press release. Like Discover Weekly, Release Radar will update once a week and also get better the more it's used.
Release Radar and Discover Weekly aren't just nifty, quirky features, though. They're a core part of Spotify's strategy to get listeners stuck on the platform for good. It's a simple lesson in behavioral psychology.
The playlists offer a reward (exciting new music), but only for a limited period (one week), and the cycle repeats every few days with a new reward and a cue to action (new recommendations will displace old tracks after seven days, so you'd better listen to them now). As digital music strategist Bas Grasmayer aptly notes, they create "the perfect habit loop"—one that'll now be twice as strong, with the addition of a second personalized playlist that self-refreshes on a different day of the week.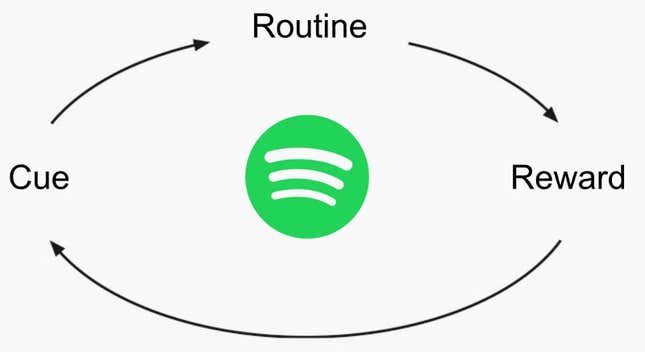 Spotify is, of course, not the first business to think of its customer's psychology when trying to establish and change habits, but it is the most forward-thinking in the streaming music space.
Release Radar may end up an even bigger hit than Discover Weekly, as it culls music from artists that users already love, rather than trying to guess at their tastes across a broad swath. (Such is the main pitfall of the ambitious Discover Weekly; because most people listen to a selection of music in several different genres, the playlist's weekly picks can be somewhat hit-or-miss.)
Spotify is essentially building itself up as a supreme music companion—finding new tracks for you and alerting you to new drops from your favorites, too—in hopes that it'll become indispensable in listeners' minds. With the clump of competition in music streaming right now, achieving that psychological loyalty would be the ultimate victory.