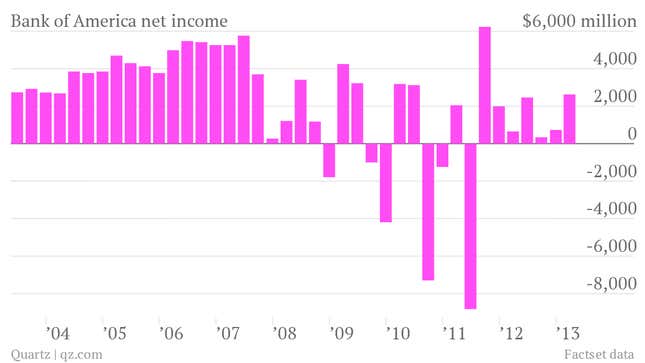 The numbers: Bank of America reported that it had earned slightly less than analysts expected during the first quarter of 2013—$0.20 instead of the $0.22 Wall Street was hoping for. Its revenue for the quarter exceeded expectations very slightly, up to $23.7 billion from $22.5 billion a year ago. Net income rose to $2.6 billion from $653 million in the first quarter of 2012.
The takeaway: Bank of America becomes the first US bank to report less-than-stellar earnings this quarter, and—in trading before market open today at least—its share price is taking a hit. Then again, the bank has come a long way from its crisis days, finally turning a decent profit, ending many of its legal troubles, and seeing an increase in lending.
Key to the bank's success is whether or not it can still play the QE game: issuing loans and then selling them off mortgage-backed securities to the Federal Reserve. It funded $25 billion in home loans in the first quarter, up 11% from the fourth quarter and 56% from the first quarter of 2012.
What's interesting: The bank's credit card customers increased retail spending by 7% from a year ago. Over the same time period, US retail sales increased just 2.6%.