Seven years ago, a Japanese friend took me to a tiny restaurant in the Yoyogi neighborhood of Tokyo. It was without signage or fanfare on the outside. Inside there were six seats arranged around a small kitchen with a young chef cooking behind the counter. She served one menu only: A reasonably-priced four course set that changed every day.
How, I wondered, could she possibly make this venture work? We ate very well—and we observed. The reason she could sustain her business, if not make much of a profit, soon became clear: She was chef, waitress, bartender, and maître d', all in one. Her outside labor costs were basically zero. Her rent was much lower than most other restaurants nearby. I visited many other similarly small restaurants in Japan and realized that hers was but one example of an entire universe of tiny chef or bartender-driven Japanese eating establishments. The concept was, in fact, so endemic to Japan that I began to think of these places as their own genre: micro-restaurants, serving everything from omakase-only sushi fare to provincial French specialties. I loved the intimacy of the counter, the view into the kitchen, and the feeling that the meal was being prepared for me alone.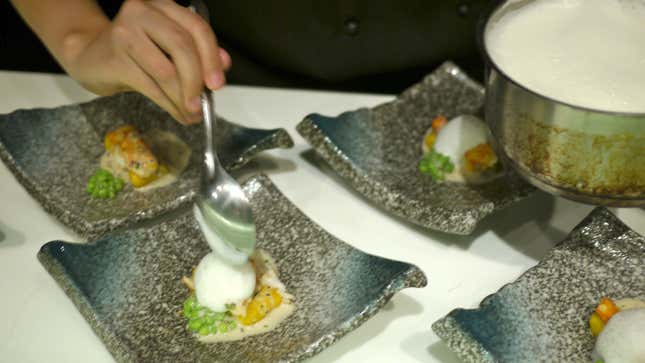 Two years ago, Chef Haikal Johari, a Singaporean living and working in Bangkok, got together with the owner of the restaurant group he was working for and made a plan to create Water Library at Grass, a high-end 10-seat restaurant in which diners sit at a chef's counter and have no choice in what they consume. At around the same time in New York, Jodi Richard, a recently minted restaurateur, went in search of a chef to anchor a place she was starting in the city: a 16-seat restaurant with 12 of those seats at the counter, arrayed around an open kitchen where the chef she selected would prepare the night's tasting menu for every diner. This became Atera.
There are now three other restaurants in New York serving this same kind of high-end, prix-fixe, counter-style, open-kitchen dining in New York City: Blanca, owned by the guys behind Roberta's Pizza; Momofuku Ko, owned by David Chang's Momofuku group; and Chef's Table, part of gourmet grocery store Brooklyn Fare. Ferran and Albert Adria (site in Spanish) are rumored to be opening a tiny space in Barcelona, perhaps with a Japanese bent. Clearly this is the global moment for the micro-restaurant, offering a new approach to fine dining that feels both exclusive and conversational. The price is high and the seats are hard to come by, but you're separated only by a countertop from the people preparing your meal.
It's clear why chefs want to make this kind of food. They get to put their highest-level skills and most carefully selected products into every dish—and they earn the satisfaction of seeing the meal they create each night consumed before their eyes. What's much less obvious is why restaurant owners and investors want to get involved in this kind of business.
Atera offers an example of the challenges micro-restaurants face: Chef Matt Lightner and his team of 10 kitchen staff serve about 27 different plates to two seatings of 16 customers, which means the kitchen is churning out over 800 individual plates per night. That's roughly the same number of plates a normal-sized restaurant would prepare for 300-400 diners. Many of Atera's twenty-seven offerings are small plates, of course, but the time saved in making a smaller portion is insignificant, especially when that ration requires precise and intricate handiwork, as most everything at Atera does.
Lightner presents diners with a vast selection of playful and inventive courses that also taste amazing. He opens the meal with a beer-flavored macaron, as delicate and complex as anything from Ladurée. He cures swordfish belly as if it were country ham and harvests foie gras ducks' hearts and tosses them into a salad. He serves a risotto made from garlic seeds. "It's as if you've just consumed a whole crop of garlic," he says. "That's our idea of luxury because it takes a lot of work to peel all that garlic."
Food costs run very high. In Bangkok, Chef Johari broke down his expenses at Water Library for me: "We charge a lot of money by Bangkok standards," he said. "But we also spend a huge amount on food costs, which typically hover around 50% of the menu price." Blanca, in Brooklyn, spends almost double the percentage of the menu price on ingredients as its sister restaurant Roberta's.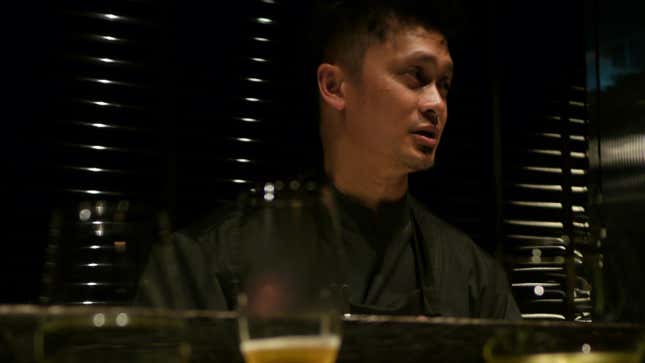 But where Roberta's can expand its hours, its number of seats, and its higher-priced offerings, Blanca has little room to grow. "We've found that 12 diners are the sweet spot for [Blanca]," one of Roberta's owners, Chris Parachini, told me. "We've tried 13 or 14 and it just doesn't work as well."
Atera and Ko offer two seatings, but Blanca and Brooklyn Fare usually offer only one. These restaurants have all already peaked in capacity, and though they can probably streamline their operation a little in the future, given the unscalable nature of the business, they've also nearly peaked in profitability.
Offering fixed menus to a known quantity of diners each night does make for some cost savings. In an ordinary à la carte restaurant, the larders must be stocked with food for all kinds of orders, much of which must be thrown out if it goes unused. In a micro-restaurant, the kitchen makes the same thing for everyone (with only minor variations for allergies or aversions), so the chef has a clearer idea of how much to buy. The New York restaurants mentioned here ask diners to guarantee their attendance with a credit card to insulate themselves against cancellations, but Bangkok's Water Library hasn't felt comfortable imposing that kind of rule.
This business model offers other advantages: Micro-restaurants' spaces are much smaller and cheaper than your average restaurant space. Additionally, they can charge very high prices.
But it's telling that three of the four New York ventures are part of larger restaurant groups. As Chris Parachini of Blanca told me, it's very hard to make a profit off of this kind of endeavor. It doesn't scale, because it can't expand without losing its essence. The restaurants could, of course, simply charge more, but it's difficult to conceive of a place that could charge more than these restaurants already cost, typically $175-$200 per person for food only.
Parachini uses the Blanca kitchen for catering work during downtime, offsetting some of his costs. Water Library at Grass uses its ground floor as a bar and party space and those profits help the venture to break even. But turning a sizable profit off of a micro-restaurant alone looks to be impossible.
Given this permanently gloomy financial outlook, what's motivating restaurant owners to back these ventures? One possibility is that they've been lured into opening them without having figured out how to profit from something that can't be scaled. Journalist Adam Davidson pointed out a similar kind of problem in his New York Times piece about a bespoke suitmaker.
Another explanation is that these micro-restaurants serve as brand-building loss leaders. In the case of Blanca, its success proves to diners that its chefs can deliver something more sophisticated, rarefied, and refined than what they usually cook at Roberta's.
All of these restaurants have earned accolades and attention: Chef's Table at Brooklyn Fare was the first Brooklyn restaurant to receive three Michelin stars. All four New York places garnered quick and lavish praise from the Times.
Atera's owner, Jodi Richard, concedes that she's thinking of brand-building even in the absence of a larger restaurant brand: "We're going in the reverse direction of Momofuku," she says. "We're starting with Atera. But we want to build other things that help us continue its creativity."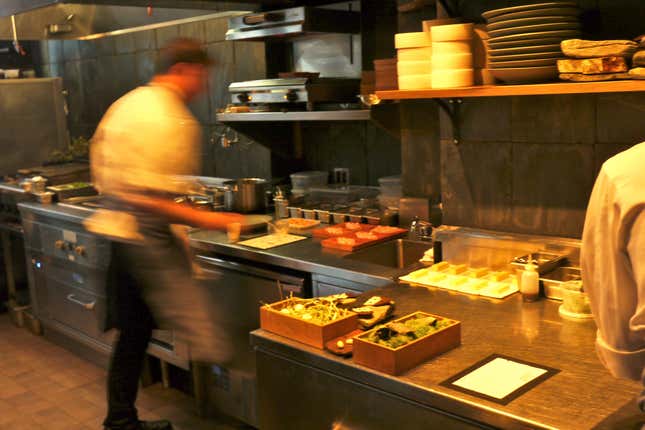 In speaking to chefs and restaurateurs behind these micro-restaurants, and eating at some of them as well, I found something much more interesting than just poor planning or loss leading.
It's instructive to look back to Japan, where most of these tiny restaurants are stand-alone operations. What you find are a lot more chefs and bartenders motivated by a kind of vocational, not purely entrepreneurial sensibility. I met bartenders who owned some of the swankiest bars in Ginza, Tokyo's most upscale entertainment district, yet lived in humble, suburban bedroom communities. Clearly they were driven by something more than just profit.
Chris Parachini, of Blanca, makes similar observations about values in the restaurant business. "One of the beautiful things about being in this business is that it has these other factors that have nothing to do with making money," he says. "What I love is that all these places are pushing the notion that it's most important to do something really great."
Haikal Johari, from Water Library, told me that his venture came out of a passion that he and the company's owner shared. "We wanted to offer a different kind of dining experience," he says. "We wanted to have a place small enough to let us talk people through the best fine dining we can offer."
Matt Lightner was raised in the Midwest and he sees what he does at Atera as an outgrowth of the hospitality he was raised on: "We start with this idea of entertaining people at dinner," he says. "But we take it further. We don't just want to entertain, we want to spark their interest, allow them to have fun, and make the experience very personal."
What these chefs and owners epitomize is a kind of qualified capitalism that artisans of all types embrace. They embody a commitment to the pure pursuit of excellence, even when that excellence is just not terribly profitable. As Parachini put it, "You can't make it in this business unless you put everything into it. Our work is our life. And so we have to ask ourselves: Is money more important than the satisfaction of doing something great?"