After launching a Japanese communications satellite toward orbit at many times the speed of sound, SpaceX's Falcon 9 booster rocket returned unerringly to a floating landing platform early this morning.
In true Olympic spirit, it stuck the high-speed landing.
It is the fifth recovery of a Falcon 9 booster rocket this year and the sixth overall. The company is now 4 for 5 at trying to land rockets on its sea-going platforms and 2 for 2 at attempting to return them to a Cape Canaveral launch pad.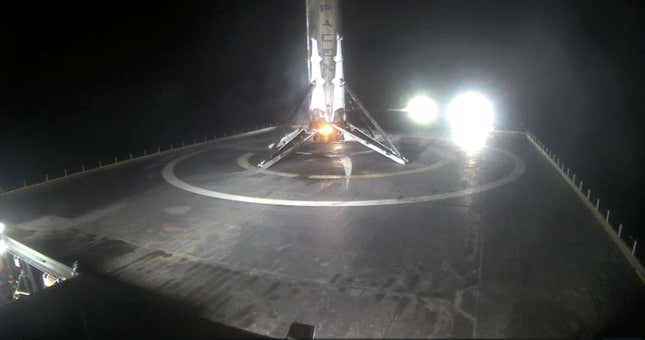 The flight also marks SpaceX's eighth successful mission of 2016, continuing the record-setting pace of Elon Musk's rocket company this year and keeping it on track to out-launch its rivals for the first time ever:
The mission today represented the SpaceX's bread and butter: Launching huge, expensive satellites to real estate in geo-stationary orbit more than 35,000 kilometers above the earth (check out our satellite map). JCSAT-16 weighs 4,600 kg (10,141 lbs) and will provide communications and broadcasting services to Japanese customers. The flight to get it there cost them around $65 million with SpaceX, tens of millions less than they would have paid with another operator.
"It's like waterfront property at the beach," Jim Cantrell, who operates Vector Rockets, told Quartz recently. "Everyone builds the biggest thing they can put up there. Chasing that market, putting everybody out of that business, that's how Elon is going to fund his way to Mars. It's kind of a brilliant strategy."
The business plan will really only work once SpaceX starts to reuse the first stages it has been collecting at its Hawthorne, California rocket factory. The first re-use of an orbital rocket is expected to occur sometime this year on behalf of the European satellite giant SES, perhaps in October.
But with the half the year gone, SpaceX still has several items on its check-list: Besides demonstrating full reusability, the company also hopes to still debut the Falcon Heavy rocket, which can carry more than twice the mass than can the Falcon 9.  The company just began full hardware testing of the Raptor engine that will power both the Falcon Heavy and the company's mooted Martian colonization vehicle.
And all that while keeping up a full spectrum of commercial launches to keep revenue flowing and important partners on board, from the satellite industry to NASA and the Air Force. It makes landing on a floating target from orbit seem like the easy part.