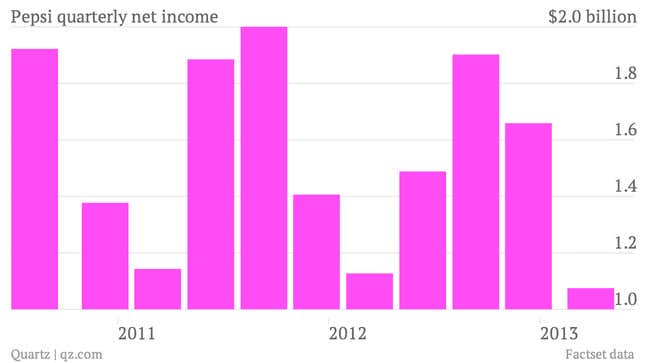 The numbers: Pepsi reported profits of $1.08 billion (pdf, p. 8), meeting analyst expectations for $0.71 per share for the first three months of the year on revenues of $12.58 billion. That represented a 5% fall compared to the same period a year earlier, mostly because of restructuring costs.
The takeaway: The soda wars are evolving. Pepsi and its rival Coca-Cola are in a bigger battle against falling US soda consumption and rising criticism from health advocates. Pepsi, also the maker of Gatorade and snacks like Frito-Lay chips, has been trying to sell healthier products and focus on its snack business. But that has meant that Coke, which has focused just on its beverages, has edged out Pepsi in emerging markets as well as in the US. In Thailand, Pepsi has even fallen behind a local soft drink maker.
What's interesting: Pepsi CEO Indra Nooyi gave the first hint she may be open to breaking up the company, which has been under pressure to separate its snack business from the underperforming beverages operation. Speaking on the earnings call, Nooyi said, "We're taking out costs to drive margin and improve returns under our current structure while we continue our work to explore sensible opportunities to unlock incremental value through meaningful structural alternatives." Given her previous opposition—last year she launched the "Power of One" campaign, marketing Pepsi drinks and chips together, to squash such talk—her veiled comment is almost a sea change. Nooyi said she wouldn't talk about the subject again until early next year.