Apple CEO Tim Cook is making the rounds in China once again. His trip is the latest in a series of photo-op-ready visits he's made to the country, with this one coming weeks after the company revealed disappointing quarterly sales there. According to the China Daily this is his ninth trip to the nation.
Cook first announced his trip on China's Twitter-esque Sina Weibo (link in Chinese, registration required). Yesterday (Aug. 15) he posted photos of himself with Guo Pei, one of China's most celebrated fashion designers. "Thrilled to see how her team is using iPad Pro as Guo Pei designs her new collection," he wrote.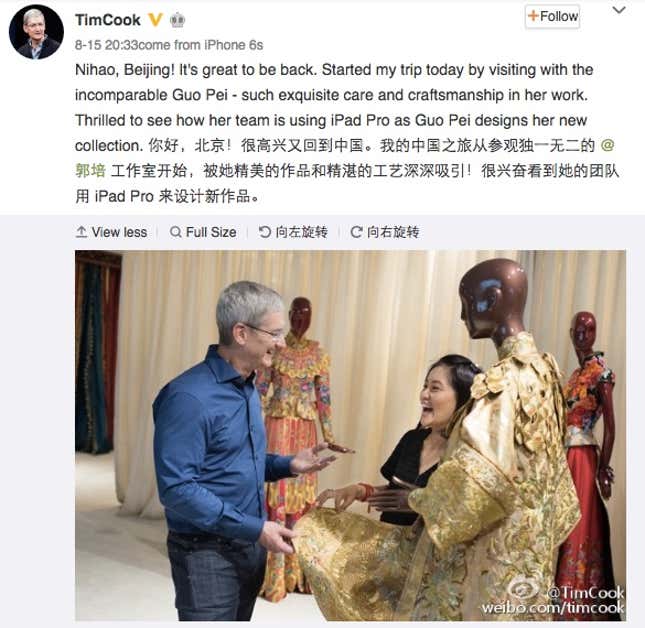 The following day, Cook attended a fitness class led by Tony Nicholson, a British citizen who runs a gym in Beijing. He then posted photos of himself visiting a home showroom equipped with Apple's HomeKit, from R&F, a major Chinese property developer.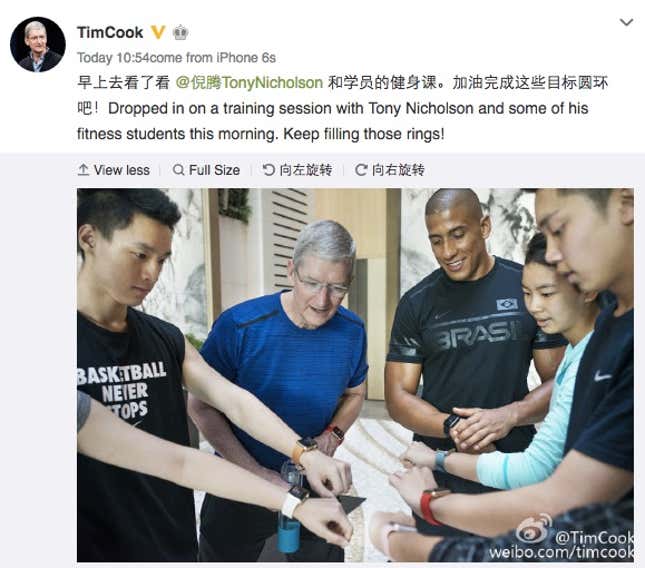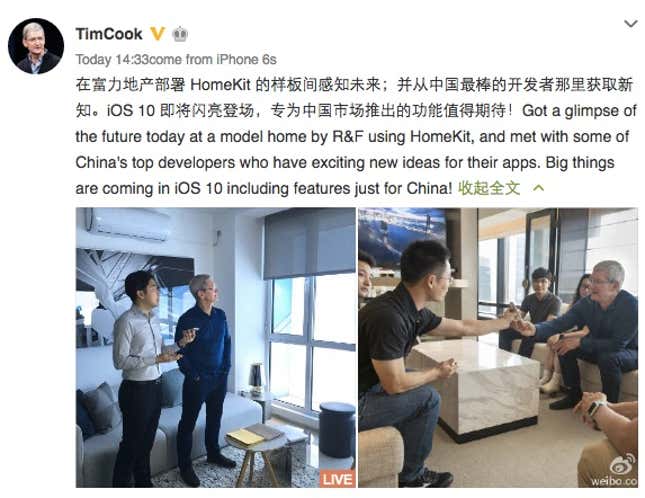 In May, Cook appeared with Singaporean musician JJ Lin in Beijing to demo a series of new Chinese music features introduced in GarageBand, Apple's music production software. That visit also coincided with news that Apple was investing in Uber rival Didi Chuxing.
This visit has yet to conclude with equally surprising news. But Cook did meet with Zhang Guoli, China's vice premier, and announced that the company would build its first Asia-Pacific research and development center in China by the end of the year.
Cook's trip follows disappointing quarterly earnings, reported in July, that saw China lose its place as Apple's second-largest market to Europe.
Despite China's years-long love affair with the iPhone, Apple has limited options for growth in the country. It already has distribution deals with the major carriers, and consumer demand for smartphones is slowing.
Meanwhile the Chinese government may be looking to hinder Apple's success—it recently blocked domestic access to the iTunes movie store and iBooks.
Staged photos of Cook or other top executives might not revive the company's fortunes in China. But Apple will pursue every tactic to ensure it doesn't fall further.