With DuoSkin, wearables are no longer just an accessory. They become part of your skin.
The MIT Media Lab and Microsoft Research set out to create on-skin user interfaces using gold leaf, which is commonly found in craft stores, as a conductor. Piggybacking on the trend in body-art and metallic jewelry-like temporary tattoos, the team decided to repurpose gold leaf because it is "robust to movements and skin deformations during motion…[and] both workable and aesthetic in appearance." The smart tattoos, outlined in a paper that will be presented at the International Symposium on Wearable Computers 2016, look like fashion statements but they include other materials and electrical components that make the tattoos interactive.
The tattoos can turn into an interface that can be used, for example, as a trackpad or a button to remotely control your phone. Alternatively, they can track and show you information about yourself. For example, by including thermochromic displays that change color in reaction to heat, the tattoos can show you your body temperature.
A third possible function is wireless communication. The tattoo could include an NFC (near field communications) tag, an electrical component that includes small microchips to store data that can be read by phones or other NFC devices nearby. In the near future, the technology could serve as a substitute for identification, subway cards, and even movie tickets, DuoSkin's lead researcher Cindy Hsin-Liu Kao said in an interview with Quartz.
Kao calls DuoSkin a "project" and not, as you might expect, a product or prototype. The team hopes that others will read their research and use the information as a basis to create their own personalized on-skin wearables.
In theory, the process is simple. First, you sketch the circuitry with a graphic design software. Then, you have to create stencils of the circuitry by applying a layer of vinyl film on thin temporary tattoo paper and cut it with an electronic cutter. After that, you layer the conductive gold leaf on top with spray adhesives. The next step is mounting the electronics. The DuoSkin device is planted on the user's skin like a regular temporary tattoo through water-transfer: apply the tattoo to your skin, press down with a damp cloth, peel off the backing paper, and then remove it, leaving the tattoo behind.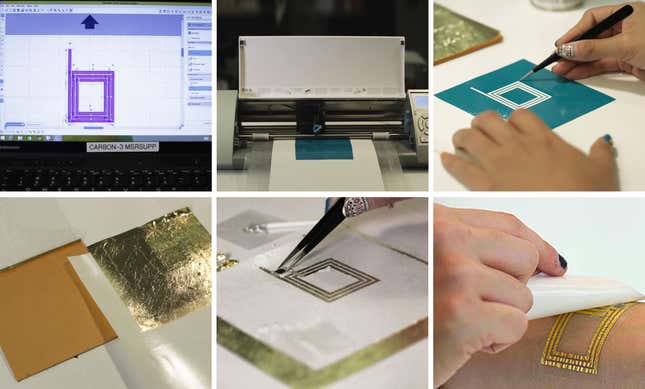 Kao says anyone can replicate the process for around $175—$150 to buy a craft electronic cutter from Amazon and another $10 each for the gold leaf and the temporary tattoo paper. That's a steep price for one temporary tattoo that can only be worn for up to a full day, but it's sort of scalable: after the electronic cutter has been purchased, each subsequent tattoo will cost less and less. 
Although this isn't the first time researchers have tried to use the skin as a touchscreen, previous iterations have proved to be expensive and required a device to project an interface onto the skin. Other innovations that have attempted to bring electronics to temporary tattoo-style applications include UV detectors and blood alcohol measurements but no technology has been as simple and affordable as DuoSkin.
Not everyone is going to be rushing to read through a scientific paper in order to design their own device, of course, but Kao believes there is commercial potential here, too. "There's definitely some people who are more maker-type personalities but there's of course people who would prefer not to do so [themselves]," Kao told Quartz. "We see this developing as a business model." She thinks users might well be willing to pay a fee at "temporary tattoo parlors" where someone else could custom-design the product.