Fans of Glasgow's Celtic club don't take kindly to the word "no." After a group of them took to Facebook to ask supporters to wave Palestinian flags at the team's Aug. 17 game against Israel's Hapoel Be'er Sheva, UEFA, European soccer's governing body, warned them not to do so. (UEFA prohibits messages "of a political, ideological, religious or provocative nature" at its matches.) When the fans defied the warning—displaying dozens of Palestinian flags during the Aug. 17 match—UEFA slammed their team with displaying an "illicit banner," a charge expected to carry a hefty fine when the case is heard on Sept. 22.
Now the fans are defying UEFA again, via a GoFundMe campaign called#matchthefineforpalestine that has thus far raised more than £100,000 (about $132,000). Set up by a group called the Green Brigade, the page says the fundraising effort is a response to the "petty and politically partisan act by European football's governing body."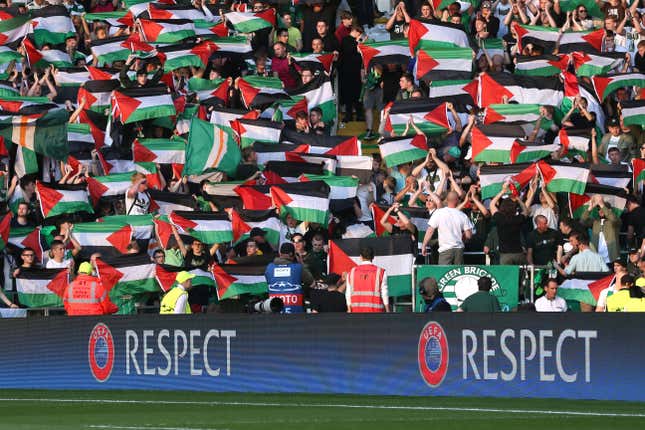 The group says it plans to donate most of the money to two pro-Palestinian charities. "We aim to raise £75,000 which will be split equally between Medical Aid Palestine (MAP) and the Lajee Centre, a Palestinian cultural centre in Aida Refugee Camp on the outskirts of Bethlehem," the page states. "From our members' experiences as volunteers in Palestine we know the huge importance of both organisations' work and have developed close contacts with them."
The group hasn't said what may become of the remainder of the money, or whether it will give any to Celtic to pay its impending fine.
The Green Brigade has demonstrated in support of Palestine before, and similarly run afoul of UEFA's rules. It waved Palestinian flags at a 2014 Celtic match against KR Reykjavik, for instance; UEFA fined the Celtic club £16,000, deeming the Palestinian flag a "political symbol." The year before, it brought a fine of £42,000 against the team in response to the Green Brigade waving banners showing Bobby Sands, the IRA hunger striker, and William Wallace, the Scottish hero who fought for Scottish independence.
Scottish historian Tom Devine told al Jazeera the show of support among Celtics fans for Palestine and other typically left-wing causes most likely stems from their own history. "It's [got] to do with the sense that the Irish Catholics in Scotland have of being underdogs over several generations," he said.
Celtic and Hapoel Be'er Sheva face off in a second game on Aug. 24, this time in Israel, where police are already warning Scottish fans not to cause a stir.