It took three years of planning—and lots of melting ice—but the Crystal Serenity cruise ship has finally begun a pioneering journey that will take it through the Arctic region's Northwest Passage. The trip is expected to conclude in New York on Sept. 12, having begun last weekend in Alaska, but the pristine region north of Canada is the real destination.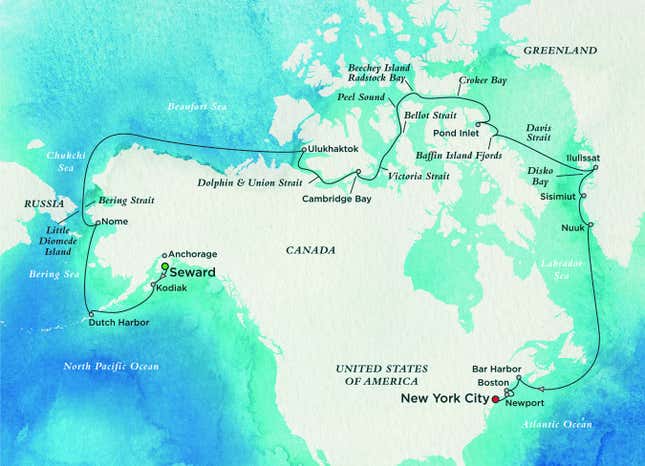 The trip marks the first time a cruise ship of such size sails—assuming all goes well—through the passage. Weighing nearly 69,000 tons, the 13-deck Crystal Serenity measures 250 m (820 ft) in length and 32.2 m (105.6 ft) in width. The $350 million ship has a crew of over 650 and a guest capacity of 1,070.
Of course, the trip is not without danger. Over the decades explorers have lost their lives trying to navigate the sea route, where it's traditionally been easy for ships to get trapped by sea ice. That's less of a problem now because of climate change and melting ice. NASA scientists call melting Arctic ice "the new normal."
Crystal Cruises, the company behind the journey, has taken safety precautions. Accompanying it on the trip as a first responder, if needed, is the RRS Ernest Shackleton, a ship designed for high ice and crewed by sailors with years of experience in polar conditions. It carries two helicopters and supplemental safety equipment.
Still, plenty of maritime experts have voiced their concerns about the voyage, and others like it that might follow. "All it takes is a single appropriately sized lump of ice to be in the wrong place at the wrong time for the wrong ship in the summer Polar waters," Bjarne Rasmussen, an experienced ice navigator, told Maritime Executive. "Then we face the potential for a ship disaster with many deaths and major marine pollution."
Intrepid vacationers don't seem concerned. The voyage is sold out, with passengers paying between $22,000 and $120,000 for the journey. They were also required to purchase $50,000 in evacuation insurance. Crystal Cruises has already announced it will sail the route again next year.