As the world's most popular search engine, Google has a decent idea of what people look to buy. In a couple of new posts to its "Think With Google" site, which provides insight for digital marketers, it put its analytical prowess to work examining what people are wearing and what's trending as kids head back to school. The results reflect what you've probably noticed by walking around, and what you're likely to see more of in the months ahead.
Here are some of the top trends Google identified as well as what's driving them:
Bomber jackets
The popularity of this military staple has steadily escalated through 2016. In April alone, Google says searches for the jackets grew 297% in the UK compared to last year, and jumped 612% in the US.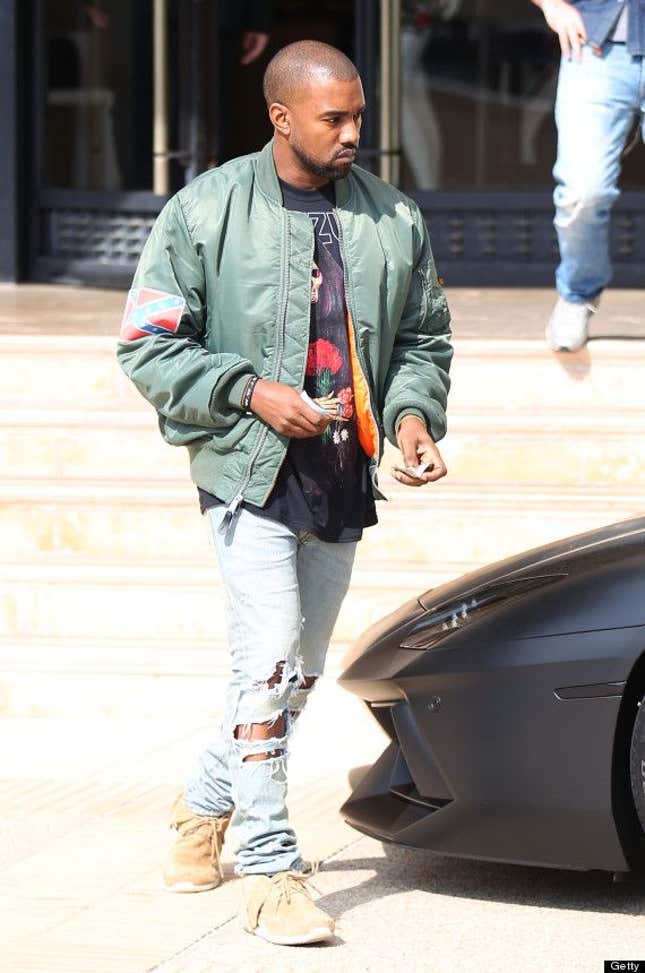 The large-scale bump comes after luxury brands and countless celebrities began adopting the jacket. A few years ago in menswear, a new generation of designers and fans, many riding the streetwear wave, rediscovered the iconic bombers made in the 1990s by Helmut Lang and Raf Simons. A number of high-fashion labels, including Haider Ackermann and Vetements, also found an audience with celebrities, such as Kanye West and Rihanna. "There was a time when women dressed for men," Google says. "Today, they're dressing more like men."
The trend has become so big among men and women that military supplier Alpha Industries, which made bombers for the US military for decades, is currently a fashion favorite.
Off-the-shoulder tops
From December 2015 to May 2016, Google says searches in the UK for off-the-shoulder tops grew 261%, and in the US they rose 347%. They're accompanied by a general interest in what Google calls "flower-child styles," such as boho dresses and kimonos.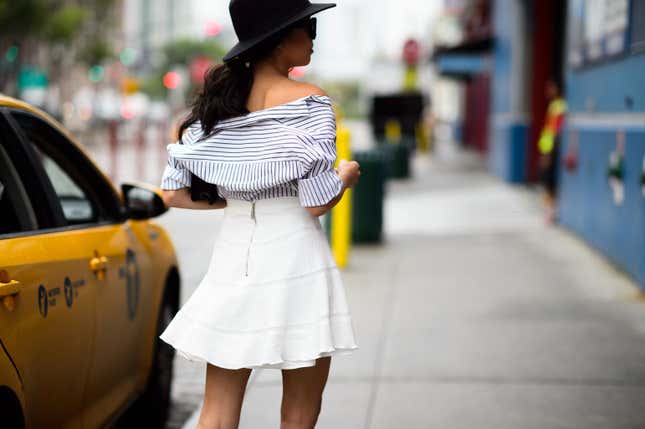 The boom in off-the-shoulder reflects the careful planning of the fashion industry, as Quartz previously reported. The look turned up a few years ago in a handful of evening gowns that appeared on fashion runways. It trickled through to celebrities, such as Lupita Nyong'o, and created a feedback loop wherein more designers started producing them. The tops reached a critical mass in the spring 2016 collections, which hit stores at about the time that Google's data shows searches spiking.
Rompers
Jumpsuits and similar one-piece garments have been growing in popularity for years. Google says the trend began in the UK in 2013, and Americans fueled it "in a much bigger way" a couple years later. A big part of their appeal comes from ease of wear. "Rompers are great at helping you avoid decision fatigue without sacrificing style or comfort," said one woman Google interviewed. "Put one on and you're done."
They also owe their success to celebrities. "Taylor Swift, Kate Hudson, and YouTube creator Bethany Mota were often searched along with the style," Google says.
Birkenstocks
When it came to footwear, Google showed in its back-to-school report that Birkenstocks still came in at the top. "For three years running, Birkenstocks have been a top choice," it noted. "In fact, interest is up 46% [year-over-year]."
The humble sandal began its climb in 2012 when Phoebe Philo, the creative director of Céline, sent models down the runway wearing Birkenstock-style sandals lined in mink. Whether through imitation or coincidence, other designers followed with their own take, and quickly the original became a sought-after fashion item. They're popular enough that Amazon is reportedly rife with counterfeits, and Birkenstock is said to be pulling its products from the site, according to an internal memo obtained by CNBC.
Also popular were Nike Jordans and Stephen Curry's sneakers for Under Armour, showing that the brand appears to be gaining real traction in the footwear market.