On the first official day of New York Fashion Week (Sept. 10), where designers present the clothes they'll sell to us next spring, the show I was attending in a Soho loft had yet to begin when the blogger, author, and social media star Leandra Medine, better known as the Man Repeller, caught my eye.
Medine is beloved for her smart, ruffled, and insouciant style, and on this particular day she wore high-waisted faded jeans with a dotted blouse that fell straight across her chest and sat a few inches below her suntanned shoulders.
Hey, that's a great idea, I thought. Don't I have an off-the-shoulder blouse somewhere?
Turns out I don't. I did, years ago, but between moves and closet purges, it slipped between the cracks of my wardrobe. Maybe I need another one, I thought, as a woman wearing a blue Oxford version of the same flattering neckline edged past me to her seat.
This is exactly how the forces of the fashion industry want me to feel, and when it comes to the off-the-shoulder trend, those forces are particularly well aligned. I want one because they made me want one. And I'm not alone.
The off-the-shoulder top is riding a perfect storm created by high-end fashion designers, high-street imitators, trend forecasters, stylish influencers, and the media. A crystal clear trend that reads "wardrobe update" to customers who (like me) have absolutely no need for new clothes creates new demand, and hence sales. That doesn't happen by chance.
"In order to create buzz, you have to be able to design into trends," says Jaclyn Jones, senior womenswear editor at the trend forecasting giant WGSN, which provides reports predicting moods, colors, and shapes to 6,000 companies around the world, including 95% of the fashion companies in the Fortune 500.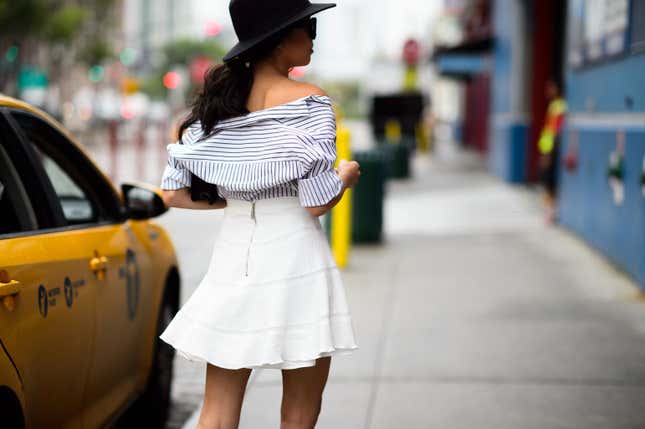 That work is paying off. On Friday, the fashion e-commerce aggregator Lyst reported a "shoulder spike." Since the beginning of New York Fashion Week, inquiries for "off shoulder" have shot up 108%, it says, and nearly 250 people put the exact $2,231 Rosie Assoulin version I had admired on Leandra Medine on their wish lists in the 48 hours after it appeared on Instagram. (It really did look cute.)
It felt like a conspiracy, and in a way, it was.
Throughout Fashion Week, the style would continue to appear, on influential, oft-photographed stylish women such as Medine, stylist Rachael Wang, blogger Vanessa Hong, and J.Crew creative director Jenna Lyons, as well as the models on the runways. The plaid version Lyons wore at her spring 2016 presentation was included in J.Crew's new collection. And at the same show, the glamorous photographer Yelena Yemchuk wore her own ruffled black vintage dress with the same neckline.
Clavicles also featured heavily on the Fashion Week catwalks of Givenchy, Derek Lam, Prabal Gurung, Proenza Schouler, and Adam Lippes, among others.
"It's scary," said one designer, "when everyone is feeling the same thing."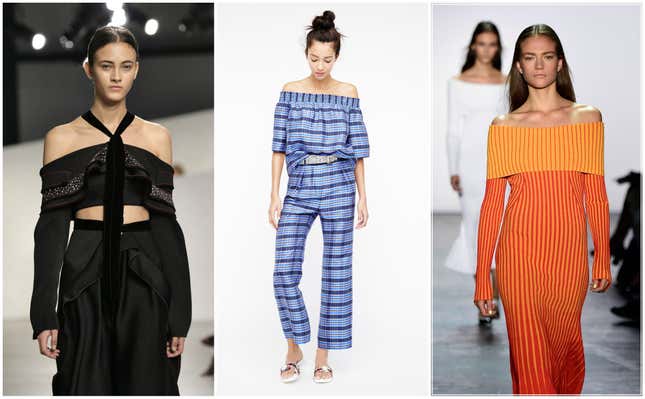 Of course, this hasn't come out of nowhere. WGSN has been predicting the trend for about 18 months, Jones said, which may seem incredibly astute to the layman, but wouldn't surprise anyone who studies the movements of fashion.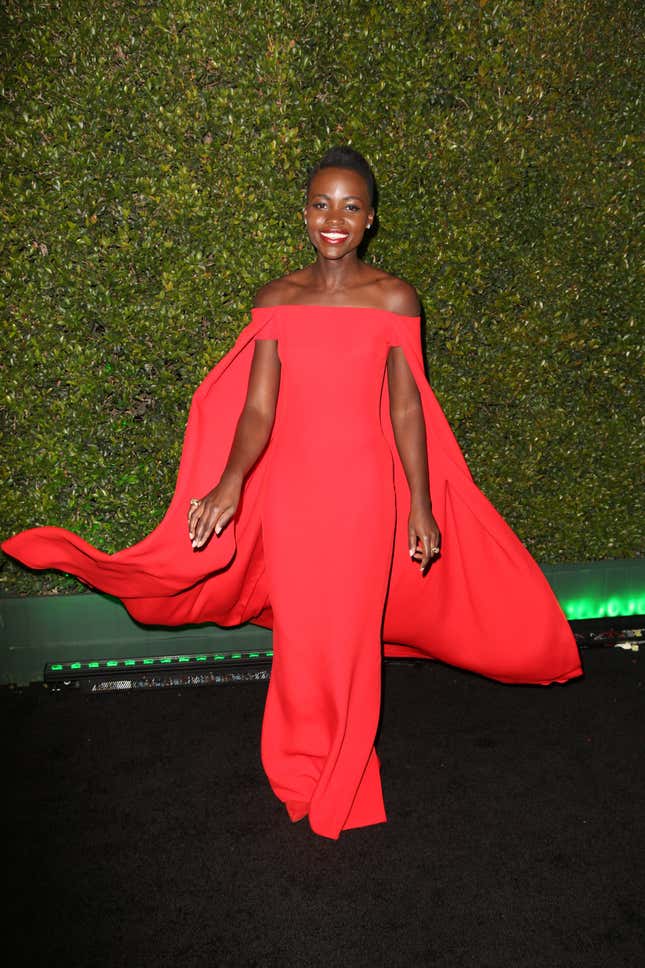 Two years ago, the look appeared in a handful of evening gowns, where formal and flattering portrait necklines are the norm. One of those, a striking lipstick-colored caped number, closed the show at Ralph Lauren, and then appeared on actress Lupita Nyong'o at the Golden Globes four months later. It promptly sold out in most sizes.
The following year, Rosie Assoulin, who created the blouse Medine wore last week, offered off-the-shoulder styles in her acclaimed Spring 2015 collection, as did the highly influential New York-based label The Row. What followed was a fashion feedback loop of sales data, social media, and shopping guides adding fuel to the fire.
Michelle Goad, founder and CEO of the personal shopping app PS Dept, says her clients went crazy for the Row's simple, cotton jersey version for $390 last year. When it sold out, they promptly turned to an alternate from the contemporary label Tibi, which became one the brand's best-selling items. Tibi now offers no fewer than 19 off-the-shoulder tops on its website, and naturally, the style reappeared on the label's runway last week. (If it ain't broke, keep selling it.)
Because those options are out there and recent runways reflect the look, editors are recommending the off-the-shoulder look as a new trend you can buy right now.
That Tibi version is growing on me, and apparently many others: It's sold out in my size everywhere. If I decide I cannot wait, fast fashion retailers including Zara, H&M, and Asos have me covered with their cheap and cheerful approximations. But I'd rather have a high-quality one to hold onto; if the runways are any indication, this look still has some shelf life.
"They were showing a ton of them this season," says Goad. "Good thing, because everyone wanted one, and I think it's going to be even bigger."
Me too. It looks like I'll have options.