No address? No problem for Íslandspóstur, Iceland's postal service. An envelope bearing a series of detailed descriptions and a hand-drawn map–and no address–made its way from Reykjavik, the country's capital city, to a farm and "mini-zoo" more than 150 km away in the Dalabyggð region in western Iceland.
This is what was on the envelope in lieu of a street address: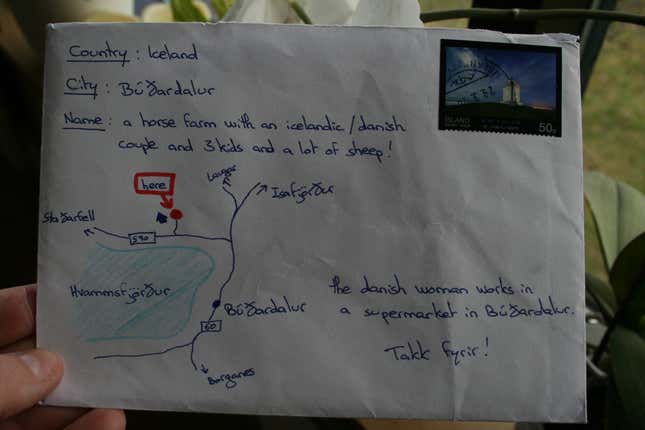 The envelope contained a postcard sent in March by three European travelers who had visited the farm, known as Hólar farm, which is run by a Danish woman named Rebecca Cathrine Kaadu Ostenfeld. She posted a photo of the envelope on Facebook, which attracted the attention of a local newspaper, Skessuhornið (in Icelandic) which was the first to write about the unusual postal instructions.
The image, taken by the Skessuhornið journalist, Steina Matt, went viral and it's being discussed on Imgur and Reddit. The map-drawing idea inspired someone in Russia to try to replicate it–and it worked. Ostenfeld said she got another postcard with a hand-drawn map in July.
Here it is: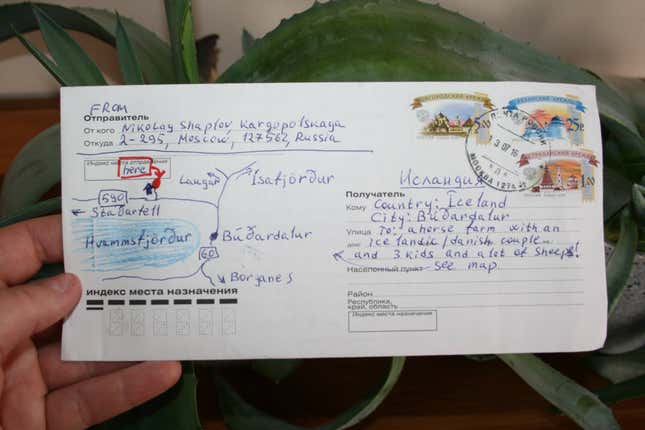 Visitors pay a fee of 500 Icelandic króna ($4.30) to get a tour of Ostenfeld's farm and pet the animals in the mini-zoo, which opened this summer. The mini-zoo includes Icelandic horses (here's our feature on the animals and their impact on Icelandic tourism), about 200 sheep, as well as rabbits, turkeys and even a raven.
While Iceland may be a special case, given the country has only 300,000 people in an area the size of the US state of Ohio, posting things without street addresses, or with detailed instructions in addition to an address, is actually pretty common, according to British startup What3Words. The company has devised an address system that labels every nine-square-meter space on earth with a three-word phrase which is easier to remember than the latitude and longitude coordinates the phrases correspond to.
What3Words says 75% of the world's population doesn't have a mailing address, and even people who do often have to include instructions so their mail successfully reaches their doorstep. The startup's system is particularly useful in remote regions where landmarks can be few and far between.
Mongolia's postal system adopted the firm's address technology in June, and the three-word system was also in use during the Rio olympics. It's being integrated into the delivery systems of Aramex, a logistics company with a large customer base in Asia, which says the system will help reduce missed deliveries.
What3Words may not be used in Iceland, but at least Hólar farm can be pretty confident that it's going to keep getting its mail.