Sansha City Yongxing School, a newly built Chinese primary school and kindergarten in the South China Sea, welcomed 29 new students on Sept. 1.
It is "China's southernmost school," according to state broadcaster CCTV. But according to an international tribunal's ruling in July, the island—also called Woody Island—isn't part of China. The island is part of the Paracel Islands chain, called Xisha by China, which Vietnam also claims sovereignty over.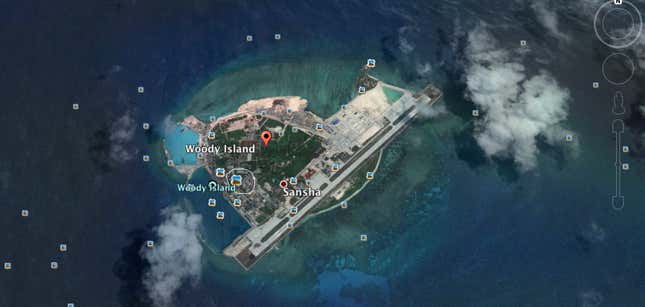 Putting children into school on the island, which is administered as part of Hainan province, can be seen as another move by the Chinese government to challenge the tribunal's ruling, which Beijing believes is "illegal, null and void." China has built islands in the contested waters, set up an air defense identification zone and held military drills in the area.
The 4,000-square-meter school's fall semester opening day was reported by several Chinese media outlets, including a 45-minute online live broadcast (link in Chinese, registration required) filmed by CCTV.  The school cost over 36 million yuan ($5.4 million) to build. Eight teachers are assigned to the 21 students in the kindergarten, and all of the students are children of soldiers and staff stationed on the island. There are around 1,443 residents (link in Chinese) on Sansha Island.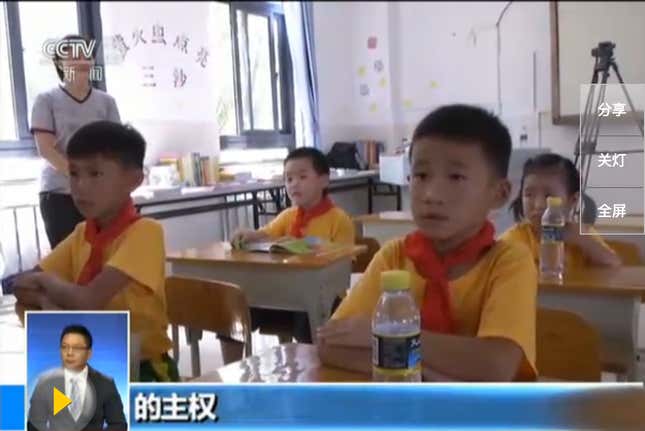 The first class for the students was a geopolitical class that focused on China's ownership of the sea (link in Chinese). Teacher Tang Hualing led the young students to repeat after her: "China has undisputed sovereignty over the Spratly Islands and its neighboring sea areas."
Both Tang and her husband are teachers at the school, and their son is enrolled there.
China's claims over the South China Sea conflict with several other nations' economic zones under United Nations law.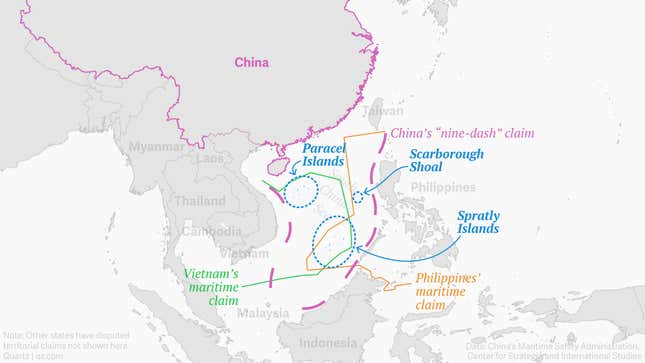 Chinese citizens were divided in their reaction to the school, with some praising it as a show of strength. "Our nation is getting stronger and showing power," one user wrote on Weibo, China's Twitter equivalent (link in Chinese, registration required). "We should build another one on Yongshu Reef and accept some Filipino students."
Yongshu Reef refers to an island in the Spratlys chain, which is also claimed by the Philippines. The island is also known as Fiery Cross Reef.  The Philippines brought the case against China at the tribunal at The Hague.
Others argued that the children were being used for political purposes. "Why do you need to build a school on such a controversial place? Who are you doing it for? Why use students as chess pieces in the game?" another user commented (link in Chinese,registration required).