There are eight weeks to go before the US presidential election, and the rhetoric and anger appears to be increasing on the campaign trail and off.
In recent days supporters of Donald Trump have physically clashed with protestors demonstrating against the Republican candidate, and one hung a representation of Democratic rival Hillary Clinton from a noose. Meanwhile, white supremacist David Duke heaped praise on Trump's running mate Michael Pence, after Pence refused to call him "deplorable" in a Sept. 12 interview.
In Asheville, North Carolina, a 69-year-old woman with an oxygen tank, who was part of a crowd of hundreds of protestors, was punched in the face by a Trump supporter outside a rally on Sept. 12. Shirley Teter told the local ABC affiliate she had told a Trump supporter that he should learn to speak Russian if Trump wins. "He stopped in his tracks, and he turned around and just cold-cocked me," Teter said. She fell on her oxygen tank, injuring her ribs.
Inside at the same rally, a Trump supporter throttled a protestor and then slapped him as he was being escorted out of the stadium. (At about the 15 second mark).
Several people were arrested at the rally, but the man who punched Teter remains at large. Police also confiscated a firearm outside the stadium.
In Sutherlin, Oregon, Trump supporter Billy Pitner hung a wetsuit dressed in women's clothing and topped with a blond wig from a crane near the local interstate, next to signs saying "Vote Trump" and "Treason? Ask her," local television station KVAL reported yesterday (Sept. 13).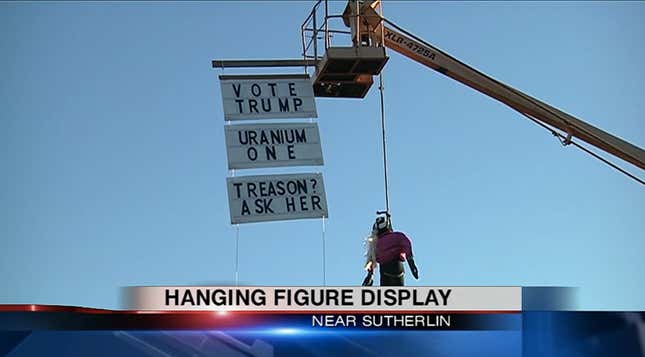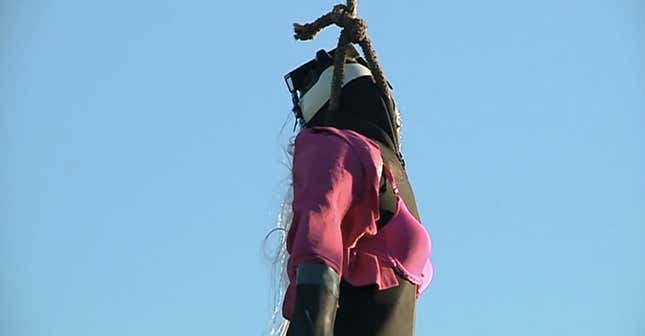 Meanwhile, Trump supporter David Duke showered praise on Pence on Twitter, calling him an "awesome viceroy."
Physical altercations have happened in the past at Trump rallies. He offered in March to pay the legal fees of supporters who hit protesters in the past. These incidents are expected to increase as the election nears.
In Philadelphia this week, US president Barack Obama criticized the Trump campaign, saying "They're not offering serious solutions. They're just fanning resentment and blame and anger and hate."