Starbucks wants you to buy its coffee … and pastries, smoothies, sandwiches, desserts, among lots of other confections.
In fact, the company is so intent on dolling out extras along with its coffee that it spent $100 million to acquire San Francisco-based bakery chain La Boulange last year. That's after buying juice company Evolution Fresh in 2011 for $30 million. But has the in-store expansion strategy been working? That will be among the key questions as Starbucks releases second-quarter earnings later this afternoon.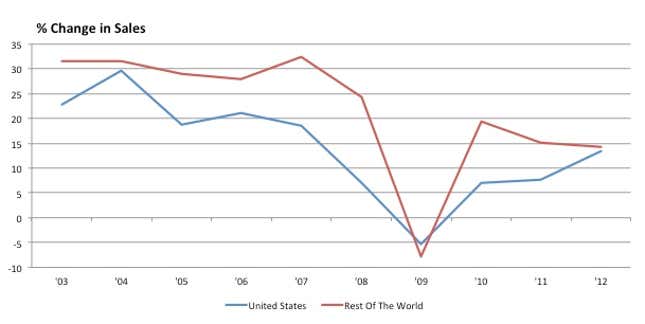 The graph above shows Starbucks' domestic and international sales growth, and the message to be had is a mixed one. While revenue has risen each year since dropping in 2009 after the economic collapse, Starbucks revenue growth has yet to reach pre-recession levels. 
The company has preached the importance of growing same-store sales, which are those open more than a year, and posted same-store sales growth of 6-7% over the past three quarters. But only about a third of that growth came from people actually spending more each time they popped in for a coffee. Average spending per customer for last quarter was up a scant 2%, compared to actual store traffic, which rose 4%.
This all may reflect a simple truth: People aren't as broke as they were back in 2009, but they might not be ready to splurge the way they once did.