Last week was a big one for self-driving car debuts. Uber showed off its modified Ford Fusions at an elaborate, two-day media event in Pittsburgh, then put the cars into service for locals. Ford invited journalists to test "drive" its autonomous vehicles at its headquarters in Dearborn, Michigan, and Volvo unveiled its first production-model driverless SUV, an impressively normal-looking XC90.
Not to be left out, Lyft co-founder and president John Zimmer published a lengthy essay on Medium over the weekend, outlining his company's ambitions with autonomous vehicles. He argues that self-driving cars "will account for the majority of Lyft rides within five years" and that "by 2025, private car ownership will all but end in major US cities." Together, Zimmer believes these two things will remake transportation into "the ultimate subscription service."
This service will be more flexible than owning a car, giving you access to all the transportation you need. Don't drive very often? Use a pay-as-you-go plan for a few cents every mile you ride. Take a road trip every weekend? Buy the unlimited mileage plan. Going out every Saturday? Get the premium package with upgraded vehicles. The point is, you won't be stuck with one car and limited options. Through a fleet of autonomous cars, you'll have better transportation choices than ever before with a plan that works for you.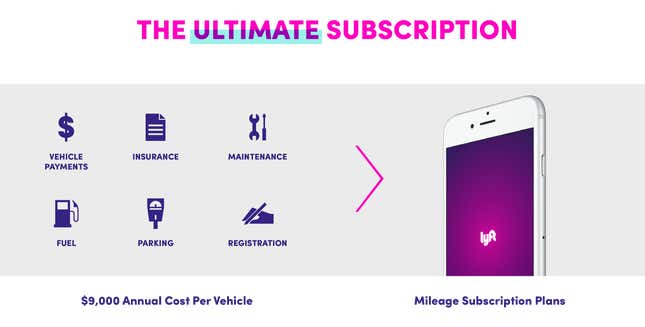 Lyft secured a $500 million investment from General Motors in January and is working with the automaker to integrate self-driving technologies into its ride-hailing service. Zimmer says those cars are being tested on the roads in San Francisco and Phoenix, Arizona.
Whether Lyft is keeping pace with its driverless and ride-hailing competitors is another matter. Last month, GM was among several companies reported to be interested in acquiring Lyft. According to a report by the Information (paywall), GM indicated it would pay around $6 billion for Lyft, a tiny premium over the company's current $5.5 billion valuation. Lyft has denied that it is for sale.
Lyft is spending heavily to compete with Uber in the US. The company reportedly capped losses at $50 million a month over the summer and is hoping to reduce that to $30 million by the end of 2016. Uber has stepped up its US spending in turn and reported second-quarter losses there of around $100 million, according to Bloomberg. Uber claims to command between 84% and 87% of America's ride-hailing market; Lyft has called this figure "misleading" and says it has more than 20% market share in major US cities.
Regardless of the specific numbers, what's clear is that Uber is winning. It has more money, more riders, and last week in Pittsburgh generated far more hype for its vision of the driverless future. Lyft, as usual, is trying to catch up.