The self-driving movement is coming to Amsterdam's canals.
Researchers are planning to launch "roboats" to traverse the Dutch capital's canals next year, part of a five-year project to test the self-driving vessels' ability to transport people and goods in a city whose area is about one-quarter water.
The roboats can also serve as temporary infrastructure, such as on-demand bridges or stages, said Carlo Ratti, a professor at the Massachusetts Institute of Technology's Department of Urban Studies and Planning. MIT is working with the Amsterdam Institute for Advanced Metropolitan Solutions, Delft University of Technology, and Wageningen University on the project.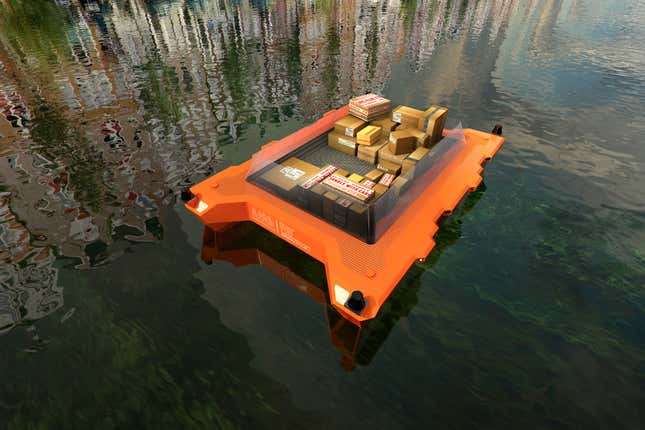 The autonomous boats will be programmed for other missions that were once left to humans trying to make a euro, such as retrieving the some 12,000 bicycles that end up in the cycle-centric city's canal each year, the organizers said. Other potential tasks include collecting data about air and water quality.
While researchers tout the project as the first time self-driving boats will be used in a metropolitan area, automation of other sea-bound vessels have been cropping up lately.
Engineers in California are testing out robotic sailboats to monitor fisheries and other marine life, the New York Times recently reported. Rolls Royce is studying automation (pdf) and remote-controlled commands for cargo ships, such as self-docking.
Advocates of automated fleets, including the Amsterdam roboats, argue the main advantage is that they are safer than those operated by humans.
The rules that will govern self-driving cars are becoming clearer. Money-saving seafaring vessels could be next and they might even have easier regulatory and cultural hurdles to clear since many of them would carry cargo, not passengers. But automated ferries and water taxies may not be far behind. So the next time you're in Venice, give your gondolier a hefty tip.