On Friday (Sep 16), Terence Crutcher's SUV stalled on the way back from music appreciation class at a community college near the heart of Tulsa, Oklahoma. Officers arriving on the scene, according to footage released by the Tulsa police on Monday, ordered Crutcher back to his car at gunpoint with his hands raised, and then tazered and shot him. He died at the hospital.
The  Tulsa Police Department's video, which was captured from helicopter and dashboard cams in the police cars, and made public after it was shown to Crutcher's family, has sparked nationwide outrage. It's the latest in almost 400 police killings of black men in the US since the start of 2015. The shooting follows recorded police killings of unarmed black men and teenage boys by police offers in Ohio, Minnesota and Cleveland. In April, a volunteer police deputy killed an unarmed black man in the same Tulsa county where Crutcher was shot, and was sentenced to four years in prison for manslaughter.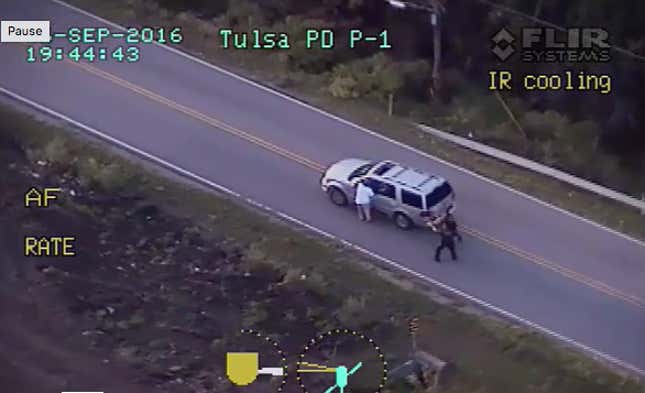 The videos of Crutcher's shooting are graphic. A circling helicopter above shows four officers pointing their guns at Crutcher as he walks toward the silver SUV with his hands up. Someone in the helicopter says, "That looks like a bad dude, too. Probably on something."
After approaching the car, Crutcher falls onto the pavement and rolls over partially on his back. A man in the helicopter says he thinks he has been tazered, and a few seconds later, a police officer is heard yelling "Shots fired"over the radio. A dark stain of what appears to be blood spreads down Crutcher's right side before he fully collapses. Police walk around Crutcher for about two minutes before giving assistance. The Tulsa World identified the officers as Betty Shelby, who fired the gun, and Tyler Turnbough, who fired the tazer. The department said no weapon was found on Crutcher or in his vehicle.
Full recordings of the incident are here, and excerpts are below:
The videos appear to contradict Tulsa police's original account of the killing. Officials said Crutcher ignored orders to put his hands up, according to the Associated Press, although the videos show Crutcher walking slowly to his car with hands in the air. Police Chief Chuck Jordan also told reporters at a press conference on Monday that Shelby, the office who shot Crutcher, told dispatchers that she was "not having cooperation from the person there."  Although there does not appear to be evidence of resistance, a Tulsa police spokeswoman  was unable to say why police shot Crutcher.  "I'm not privy to those details," said Jeanne MacKenzie on Monday.
Crutcher's family held a press conference on Monday calling for criminal charges against the officers and asking that any protests be peaceful. Crutcher's sister Tiffany said that she lost her brother "because of the negligence, and the incompetency, and insensitivity and because he was a 'big, bad dude,'" reports the Tulsa World. Crutcher, 40, was a father of four and enrolled in a music appreciation class at Tulsa Community College.
Tulsa police chief Chuck Jordan said he found the video "very disturbing — very difficult to watch," reports the Tulsa World. "I will make this promise to you: We will achieve justice in this case." The department is now investigating the incident. "I want to assure our community, and I want to assure all of you and people across the nation who are going to be looking at this, we will achieve justice, period," Jordan said.
The Tulsa Police Department said both officers have been placed on administrative leave with pay, according to BuzzFeed. The Department of Justice will open an civil rights investigation into the shooting, as well as recommendations of whether criminal charges should be filed against the officers. "The Justice Department is committed to investigating allegations of force by law enforcement officers and will devote whatever resources are necessary to ensure that all allegations of serious civil rights violations are fully and completely investigated," said U.S. Attorney Danny C. Williams according to ABC News.