Nervous flyers have always had various methods of coping with their fear: Xanax, chardonnay, the bus. Now they have apps.
For a fee, digital hand-holding could make that next business trip or vacation bearable for those who dread the overwhelmingly safe way to travel (pdf). There are are least 13 apps aimed at calming nervous flyers.
SkyGuru, which launched for the iPhone in Europe, the US, Canada, and Israel on Sept. 8, seeks to soothe skittish passengers with constant explanations of the sensations they are feeling throughout the flight, particularly as the plane encounters turbulence.
Before passengers board they are given a weather briefing, similar to the ones pilots receive, complete with reports of rough air.
How the $9.99 app stands out is by using a smartphone's motion sensors and accelerometer while in flight to detect movement. It then explains to passengers how severe the turbulence is and how and why the plane is reacting to that normal phenomenon. The app tells the passenger that it is not a hazard for the plane, but rather "an issue of your comfort."
Another app, SOAR, is like a therapist in the sky. The company has been offering courses for nervous flyers since 1982. Like SkyGuru SOAR's app provides turbulence forecasts but also reassuring messages about the sound design of aircraft. ("The wing and the fuselage are built far too strong for them to break.")
The app is free, but SOAR also offers 10 downloadable add-ons on topics such as airplane maintenance, that range from $19.99 to $59.99.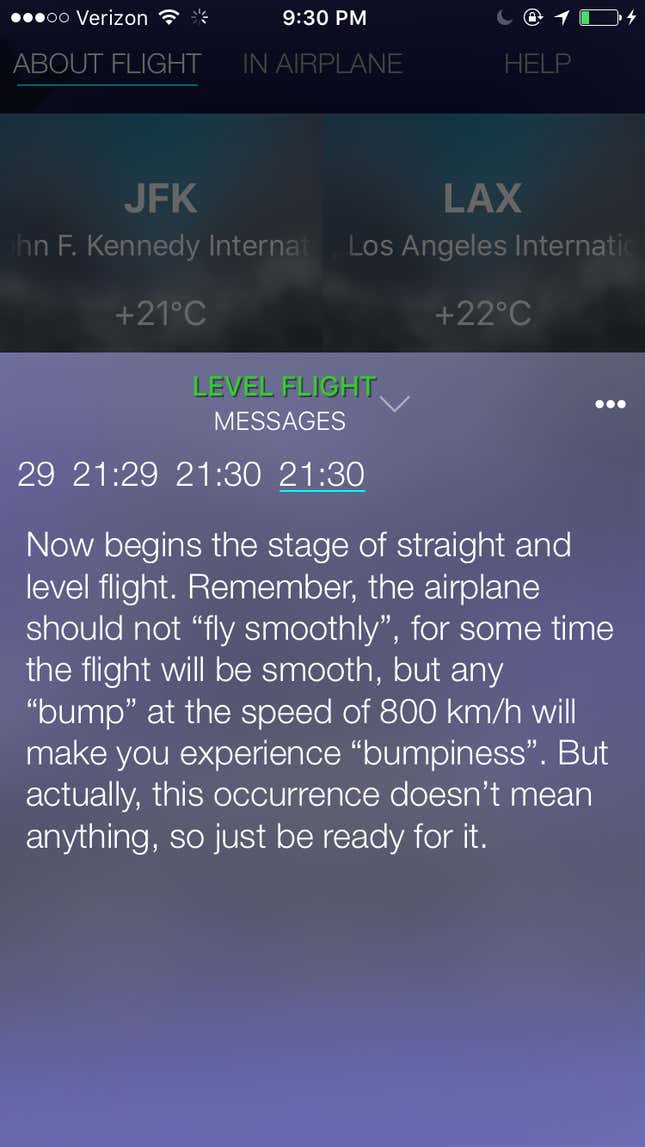 The unfortunately named app Am I Going Down?, whose logo is a silhouette of a jet taking a nosedive, informs flyers of the slim chances that their flight would crash. For example, a flight from Dubai to Hong Kong aboard one of Emirates' monster Airbus A380 jets has a one-in-1,766,286 chance of crashing, according to the app. It's been downloaded more than 30,000 times on iOS since its early 2015 launch, according to Sensortower.
About 6.5% of Americans have aviophobia, or a fear of flying and some 40% of adults globally have some form of anxiety about air travel, according to the International Civil Aviation Organization. Yet, for many of those nervous flyers, rationalizing their fear or reminding them that there's a chance—any chance—of a crash may not be terribly effective.
Airlines too have their own approach because fearful flyers could mean emptier airplanes. Virgin Atlantic, like many other airlines, offers a course to combat travelers' flying phobia. But the airline also recommends fearful passengers download its Headspace podcast for help meditating.
Developers trying to get inside the heads—and wallets—of nervous flyers may find that their inventions succeed. But there is no catchall solution.
Even SkyGuru's Alex Gervash, a pilot who also provides therapy sessions for aviophobes, admits: "The fear of flying is a very complicated psychological disorder."