There is little in this universe I love more than the end of my kids' days. No matter how frazzled I am, or what superhuman efforts they put up to resist bedtime, snuggling up with them tucked in and a pile of books beside us is the tonic we need to end our days.
Kids' books are beautifully simple. Big life lessons are distilled through vivid pictures and precise, accessible language. They explain how to be a friend, overcome setbacks, or understand the rich diversity of the world around us. They transport us to new and foreign places, show us funny families or broken ones, and drop us into fantastical upside-down situations where a giant jam sandwich saves the day, or a box of crayons stages a well-reasoned protest. Each one is a reminder of how much kids love to learn, and how much they have to learn.
This is a list of a few of our family's favorites. Any list is subjective, of course, and this is by no means exhaustive. (I am looking at 50 books on my floor right now and cursing that they are not included.)
These books are each wound up with memories no iPhone could ever capture. I read Strega Nona in New York, Mexico, and England, in airplanes and lying on the floor next to my daughter's crib. I read Country Frog, City Dog after my brother died (I couldn't get through it, even with my girls' repeated hugs). There are some my daughters memorized, others that caused shrieks of delight, touching ones about courage and friendship and a few that prompted existential questions about the nature of true evil (Dr. Seuss' Butter Battle Book is very, very dark). They have lessons in them, but that was not why we read them: We read them, again and again, because we loved them.  
 1) The Empty Pot (Demi)
Ping lives in China and loves to grow flowers. As it turns out, the emperor loves flowers too, and when he needs to choose a successor, he asks all the children in the kingdom to grow a flower with seeds he gives them. Ping thinks he's got it; flowers are his thing. But the flowers do not grow. A year—and a lot of beautiful illustrations—later, Ping presents the emperor his empty pot, while the rest of the children in the kingdom come bearing luscious flowers. Spoiler alert: The emperor was testing for honesty, not botanical skills. A story about courage, and the power of telling the truth.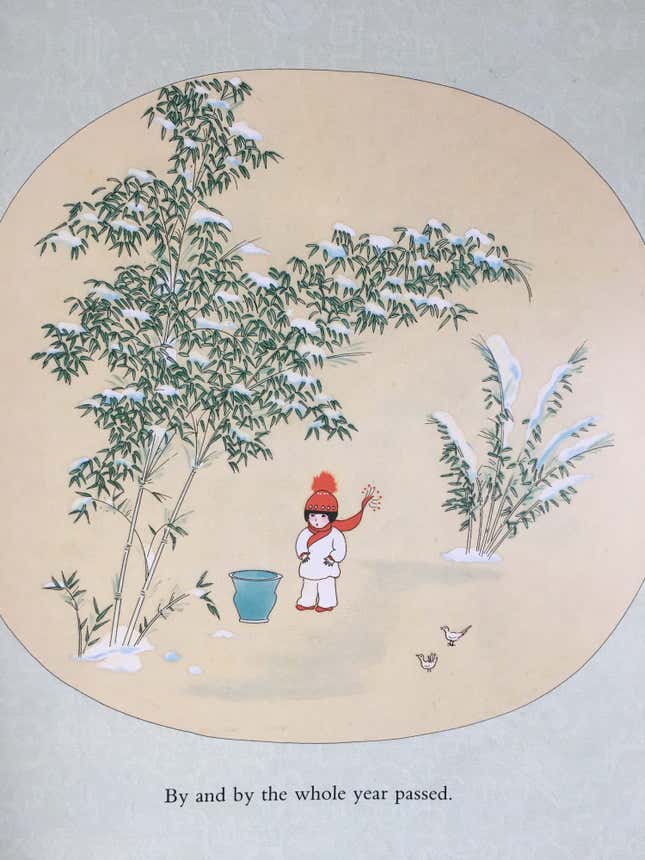 2) Ish (Peter Reynolds)
Ramon loves to draw, and he draws everywhere (including on the toilet, which my girls found pretty funny). One day his older brother makes fun of his drawing and Ramon decides he's done. He crumples up his work in frustration, but before he can toss it in the garbage, it is intercepted by Marisol, his sister who loves his work. He complains to her that his vase picture looks nothing like a vase. "I think it looks vase-ish," she replies. He is liberated to keep drawing. A story for long-suffering perfectionists, with a bonus storyline for siblings who support each other in their hour of need.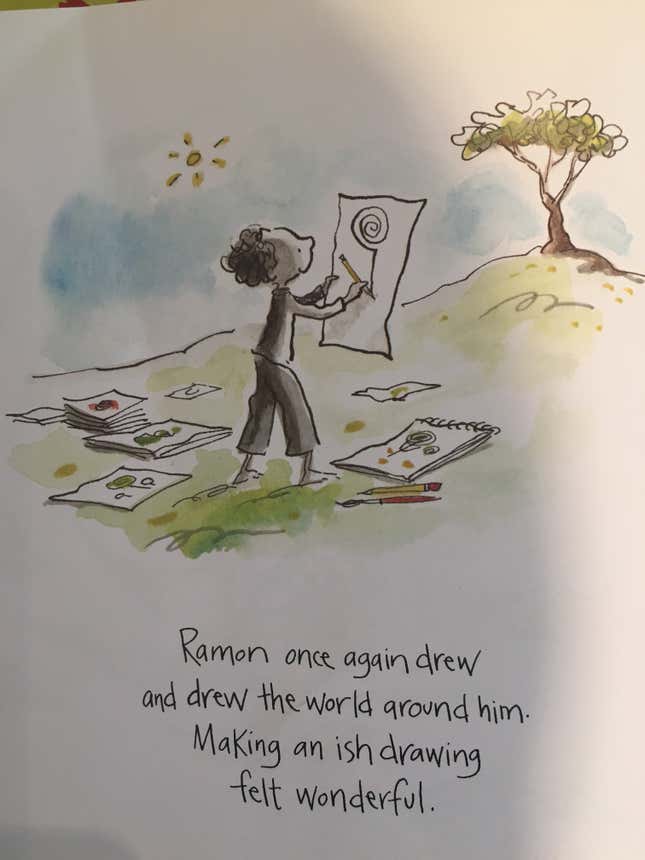 3) Imogene's Last Stand (Candace Fleming and Nancy Carpenter)
Imogene is a little girl who loves history. When the mayor of her small town threatens to tear down the Liddleville Historical Society to build a shoelace factory, she stages a series of innovative protests. Imogene's remarkable persistence eventually pays off with an amazing discovery, which gets the attention of the president of the United States (a black woman). A story about standing up for what you believe, and sticking it to The Man. 
 4) City dog, country frog (Mo Willems, illustrated by Jon J Muth)
A big, yellow city dog arrives in summer in the country and befriends a country frog, who is waiting for someone else. Country frog teaches city dog "jumping and splashing and croaking" games while city dog teaches country frog "sniffing and fetching and barking" games. The seasons change, the frog ages, and in winter, city dog cannot find his friend any more. A story about celebrating differences, and how things change. Warning: May cause tears (yours or theirs).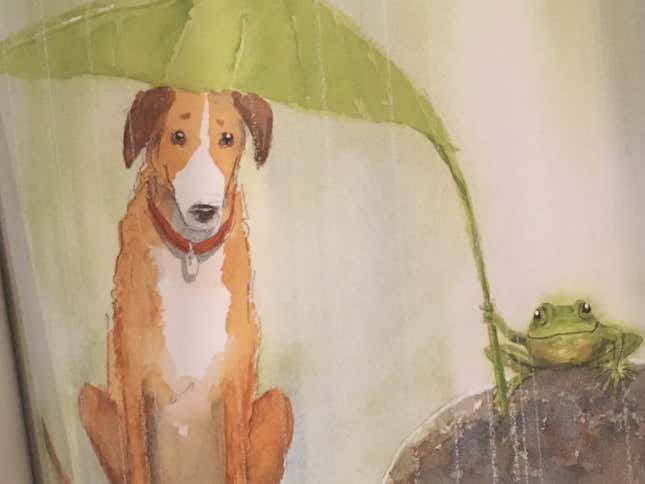 5) Chrysanthemum (Kevin Henkes)
Chrysanthemum, a springy young mouse, loves her name and everything about her five-year-old world (including her amusingly neurotic parents). But when she goes to school, everyone teases her about her name, including a nasty little mouse named Victoria, who notes that Chrysanthemum is a flower, and flowers are picked and wilt and die (a small part of you is dying now, right?). Enter Mrs. Twinkle, a magical music teacher who tells the astonished little mouselings that she too is named after a flower. And that changes everything. A story about bullying, the power of a good teacher, and the reality that we parents can't do jack shit about nasty things said on the playground.
 6) Giraffes Can't Dance (Giles Andreae and Guy Parker-Rees)
Gerald is a tall giraffe who also happens to be a total klutz. When the jungle gathers for its annual Jungle Dance—replete with waltzing warthogs, rhinos rock n' rolling, and chimps doing the cha-cha-cha—Gerald freezes up. The animals are unkind, and Gerald slinks away. But he comes upon a wise cricket, equal parts therapist, parent and zen master. "Sometimes when you're different, you just need a different song," the cricket tells Gerald, whipping out his violin (go with it). A story about overcoming fear, accepting differences and the power of friendship with small crickets who play the violin.
7) Strega Nona (Tomie dePaola)
Strega Nona lives in Calabria, where her name translates to Grandma Witch, and she tends to the village with potions and lotions. "She could cure a headache with oil water and a hairpin." She has a magical pasta pot which strangely enough, makes pasta. When she hires Big Anthony to work for her, she makes him promise never to use the pot. Temptation gets the better of Big Anthony, of course, with disastrous consequences. A story about honesty, and the value of good pasta.
8) Not a Box (Antoinette Portis)
"Why are you sitting in a box?" the story starts, with a very basic drawing of a bunny in a cardboard box. "It's not a box," the bunny replies, whizzing off in his race car. Reams of pages along these lines remind you how powerful children's imaginations are, and just how useful all those Amazon boxes can be. I can safely say I have read this over 500 times. A story about the power of imagination and curiosity.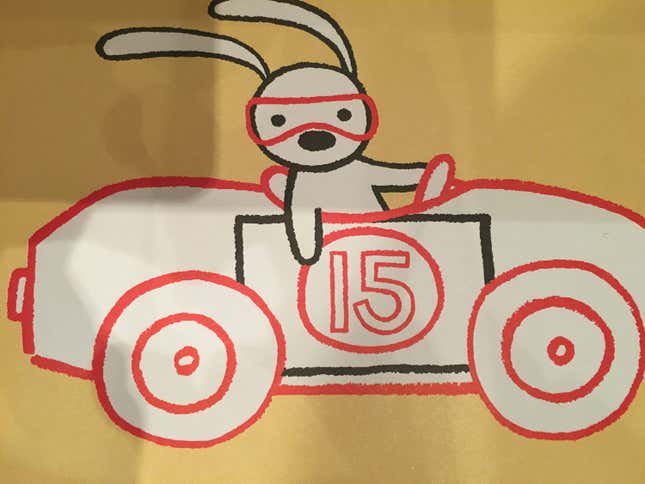 9) Leonardo the terrible monster (Mo Willems)
Leonardo is a highly ineffective monster. He can't scare anyone. So Leonardo comes up with a plan: He will find the most scared kid in the world and scare the "tuna salad out of him" (genius, right?). He finds his victim and makes him cry, but when he finds out why poor Sam is crying, Leonardo faces a big decision about whether he'd rather be a friend or a monster. A story about friendship, and what makes kids cry (which will also make you laugh a lot).
10) Grandfather's Journey (Allen Say)
The narrator's grandfather is born in Japan and emigrates to America, where he explores the vast country's rich and diverse landscape by train and riverboat and on foot. "The more he traveled, the more he longed to see new places, and never thought of returning home," he writes. But after settling in California and raising a family, he returns to Japan, where he grapples with war, and the pain of loving two countries. A story about passages, and being homesick. 
 11) Noodle and Lou (Liz Garton Scanlon and Arthur Howard)
Noodle, a baseball-hat wearing earthworm, wakes up in the rain, feeling blue. "Some days don't go well right from the start. Noodle woke up with a rain-cloudy heart." He turns to Lou, a bird, who offers cheeky and enduring words of wisdom about how to buck up. A book about the superpowers of friendship.
 12) Rosie Revere, Engineer (Andrea Beaty, illustrated by David Roberts)
Rosie loves to invent things. But when Uncle Fred laughs at her cheese-copter hat, constructed to keep pythons away (naturally), she goes clandestine with her inventions. Rosie keeps to herself until her great-great-aunt Rose appears (spoiler alert, she may just be Rosie the Riveter) with one last wish, which is to fly. A book about a girl who loves to invent stuff, and about how it's okay to fail.
 13) Horton Hears a Who (Dr. Seuss)
I wanted to avoid the obvious authors, but sometimes you just can't. From page one, Horton, an elephant, hears a teeny, tiny, faint noise which he believes is a plea for help from a small speck he cannot see. Should he put the speck down? Hell no, he should not. "If I do, these small persons may come to great harm. I can't put it down. And I won't! After all a person's a person. No matter how small." No one believes Horton that these so-called "whos" exist,  and they chide and deride him for protecting these invisible creatures. A story about one brave elephant, and helping those smaller and weaker than us.
 14) Brave Irene (William Steig)
When Irene's mother finishes making a stunning gown for the Duchess, she falls ill. Irene offers to deliver the dress, on foot, in a snowstorm. She battles fierce wind and freezing snow, and even twists her ankle before finally seeing the dim light of the palace in the distance. The perseverance of Brave Irene (also woefully unsupervised Irene, in the woods alone, at night, in the snow) pays off in the end. A story about determination and overcoming obstacles. (Bonus point: this kid will do anything for her working mother.)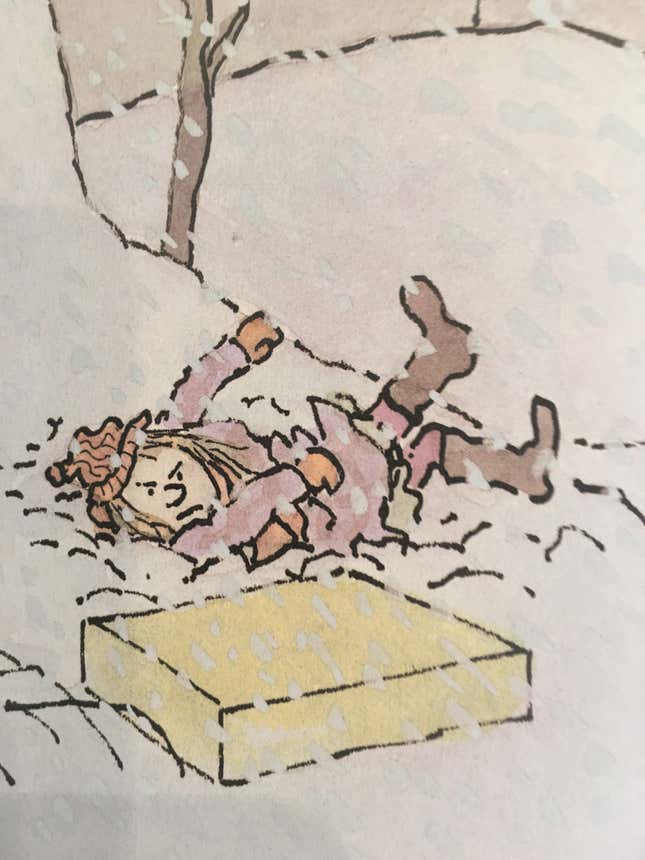 15) The Giant Jam Sandwich (John Vernon Lord and Janet Burroway)
Itching Down has a wasp problem. The town meets to address the infestation, and comes up with an ingenious plan: a giant, football field-sized jam sandwich to entrap the nasty buzzers. This requires innovation—the pool becomes a mixing bowl—and working together. A story about teamwork.
16) Miss Rumphius (Barbara Cooney)
The story of Alice, a little girl who dreams of traveling the world, and then does, from a "real tropical island" to the tops of tall mountains, to the land of lotus-eaters. She eventually retires to a small house by the sea and though she falls ill, she endeavors to find ways to make the world around her a more beautiful place. A story about tending to your gardens, whatever those may be.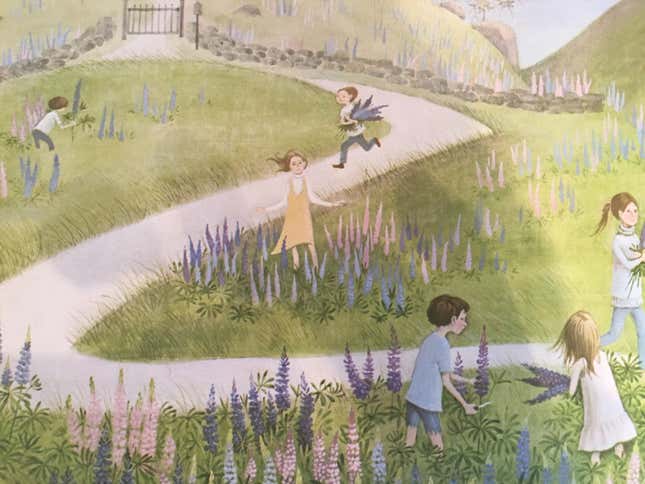 17) The Gruffalo (Julia Donaldson and Axel Scheffler)
A mouse makes his way through the deep dark wood and outsmarts a series of animals that want to eat him by scaring them into believing in a scary creature called a Gruffalo. "His eyes are orange, his tongue is black. He has purple prickles all over his back." Then the Gruffalo actually appears, and the super-sharp mouse needs to think quickly to save himself from being dinner. Being clever can make you brave, and literally save your bacon. 
 18) Miss Nelson is Missing (Harry Allard and James Marshall)
Miss Nelson is a sweet, generous teacher in a class that just won't behave. She mysteriously disappears, and is replaced by Miss Viola Swamp, a witch who is unrelenting and unreasonable (she takes away story time!). After the Swamp whips the class into shape, Miss Nelson reappears and the kids are on their best behavior. (Back at her house, Miss Nelson has a black cloak hanging in the closet.) A good lesson in not taking things for granted. 
 19) The Day The Crayons Quit (Drew Daywalt and Oliver Jeffers)
One day Duncan finds a stack of letters in his desk from his box of crayons, each of which has a particular and amusingly complex problem. Red is overworked, purple is a bit neurotic, and beige is having an identity crisis ("I am not 'light brown' or 'dark tan'"). Yellow and orange are fighting about who is the true color of the sun, while white is having an existential crisis. The voices are funny, and the Oliver Jeffers illustrations perfect. A story about advocating for yourself, resolving conflict, and working together.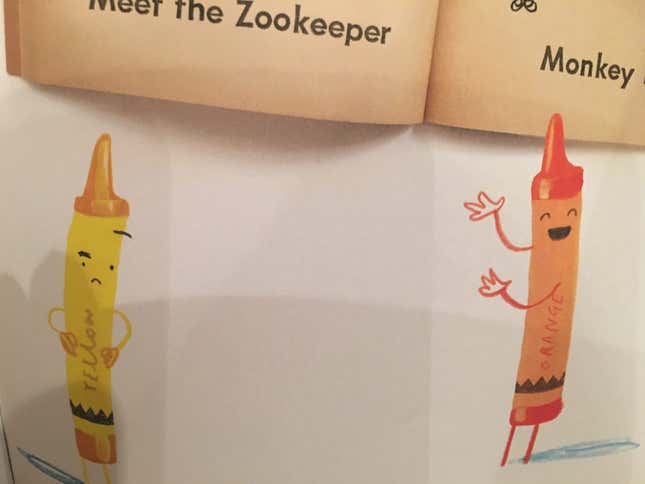 20) The Worst Princess (Anna Kemp & Sara Ogilve)            
My kids loved fairy tales, which left me scrambling for story arcs beyond handsome-prince-saves-beautiful-princess-by-marrying-her. The Worst Princess is just the antidote. Sue waits to be rescued by her prince, and is thrilled when she is. But he turns out to be a "twit" who wants to lock her up in a tower. She thinks that's rubbish. She teams up with a friendly dragon who helps her takes her revenge on the loser-prince. Girls cannot be put in a princess box, and twits should have their trousers set alight.
 21) Pierre: A Cautionary Tale (Maurice Sendak)
Pierre just doesn't care about anything: what he eats, whether his parents get pissed off at him for pouring syrup on his head, nothing. He is a serious grump. When a lion eats him, he learns the downside of being aloof. Caring is better than not caring. 
22) Art (Patrick McConnell)
Meet Art, and his art. "Can you tell them apart?" Art loves to paint and create and get wild with his markers. "Art stares at the paper and uses his noodle, to conjure up the perfect doodle." A story about boundless passion and creating things you love. 
 23) The Lorax (Dr. Seuss)
You think you know this story, but you do not, at least not until you have read it 50 times and can fully appreciate the forward-thinking genius of Dr. Seuss in showing us exactly how we are destroying the planet. There so much to love in here, from the curmudgeonly Lorax himself (he sort of reminds me of Bernie Sanders) to the unrepentant greed of the Once-ler who cannot stop "biggering" until it is too late. And, of course, the young boy who brings hope. A story about caring for your planet.
 24) Emily (Michael Bedard, pictures by Barbara Cooney)
A young girl moves in across the street from a big yellow house, where a mysterious lady and her sister live. It is rumored she is a poet, though no one knows because she won't leave the house. The girl's mother is asked to the yellow house to play the piano, and secretly, the little girl meets Emily, a grown woman wearing all white, hiding at the top of the stairs. A friendship is born, and Emily Dickinson (the woman who won't leave the house) comes to life through Cooney's beautiful pictures of Amherst, Massachusetts circa 1850. A story about people's fears, being different and the suffering of artists. A perfect segue to read some Dickinson to the kids.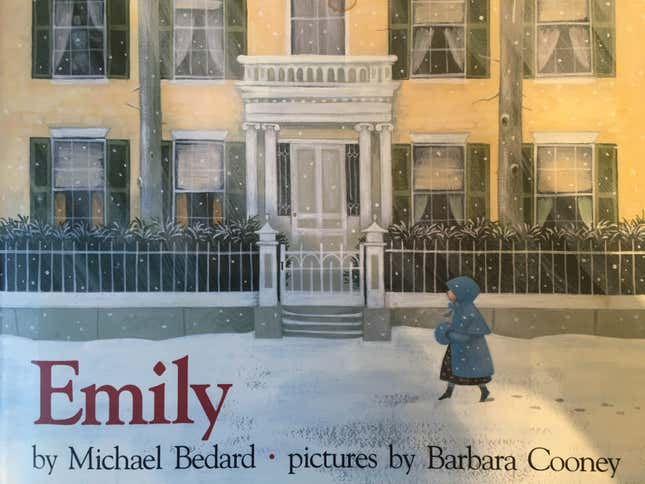 25) Badger's Parting Gift (Susan Verley)
Badger is reliable, wise, and always loves to lend a helping paw. "He knew almost everything. Badger was so old he knew he must soon die." That's page one, and you can guess where it goes from there. It is a narrative of death that is neither scary nor foreboding, and can help discussions about where dead people go, and what is means to mourn them. You will know if you need this book, and when you do, it will be a comfort.
 26) Little Blue and Little Yellow (Leo Lionni)
 I loved all of Lionni's books more than my kids did. But there is no mistaking their power. Little Blue and Little Yellow are best friends. They get separated, and when they reconvene, they hug and, oops, turn green. They have to embark on a journey to find their own true colors. Don't judge anything, or anyone too quickly.
27) Hairy Maclary (by Lynley Dodd)
Hairy Maclary is a mischievous dog who is always rustling up trouble with the neighborhood canine gang, including Bottomley Potts covered in spots and Hercules Morse as big as a horse. There's a whole series, each more delightful than the next. No big lessons here, but tons of fun to read.
28) Dragons Love Tacos (by Adam Rubin, illustrated by Daniel Salmieri)
"Hey kid! Did you know dragons love tacos?" After that killer opening line, you know it's going to be a load of good, unpredictable fun. Consider this line:"Dragons love parties. They love costume parties and pool parties. They love big gigantic parties with accordions and little tiny parties with charades." A dragon taco party happens, but some spicy salsa ignites a few problems among the fire-breathing set. Have fun, but clean up the mess you make.
29) You're Finally Here (Melanie Watt)
A bunny is so excited you have just appeared, but wants to know WHERE YOU HAVE BEEN. The book alternates between warm entreaties to stay close and reprimands for staying away. Great insights into the strange minds of children, with a steady stream of amusing similes. (How annoying is it to wait? "As annoying as having a song stuck in my head…") Your kids hate it when you leave and love it when you come back, but that doesn't mean they won't give you a ton of grief.