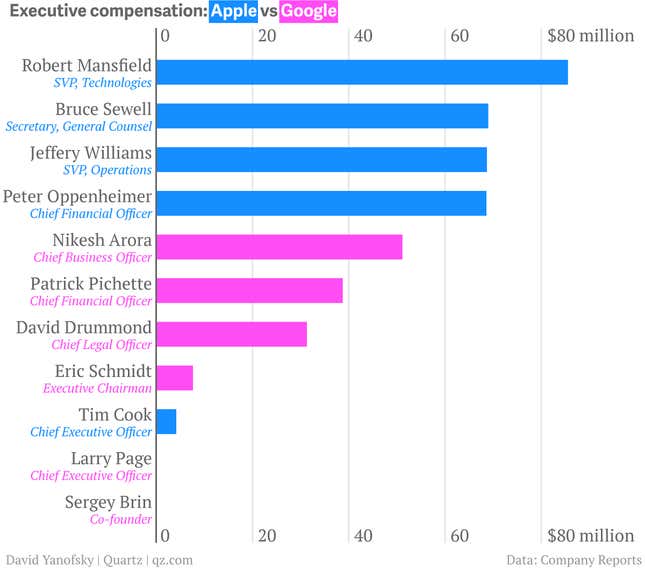 Google surprised many this week when it revealed executive compensation for 2012. The annual statement showed that Nikesh Arora, Google's chief business officer, was paid more than any other named executive in the company: $51 million in salary, bonus, stock, and options grants.
As large as his compensation package seems, one doesn't have to look far in Silicon Valley for even larger sums:  just nine miles away in Cupertino there were several executives at Apple who made more. Apple CFO Peter Oppenheimer, special vice president for operations Jeffery Williams, and general counsel and secretary Bruce Sewell each had total compensation near $69 million in 2012. Robert Mansfield, Apple's senior vice president for technologies, was compensated with $85.5 million of cash and stock.
Of all of the named executives at Google and Apple, the CEOs are making the least. Google chief Larry Page was paid $1 in 2012 (as was Google co-founder Sergey Brin). Apple CEO Tim Cook made $4.2 million, significantly more than Page but significantly less than his top lieutenants.
Both executives are positioned to have their payday if they lead their companies to success. While Cook owns 13,817 shares of Apple, he has another 1,125,000 restricted stock units that fully vest by 2021. Page owns 25 million shares of Google. Put another way, every dollar his company's stock price appreciates is a $25 million personal gain for Page. In 2012, Google's share price rose $113.41.