West Elm wants customers to sleep in its showrooms.
The home-furnishing chain announced Monday (Sept. 26) that it is launching a boutique hotel chain, and yes, the furnishings are for sale.
The hotel business is a departure for West Elm, which has sought to hook customers through aggressive catalog mailings and its stores. Instead of opening more brick-and-mortar shops, which have vexed retailers as more shoppers buy online, the Williams-Sonoma subsidiary is going the hotel route. The hotel chain—West Elm Hotels—would give the company another source of revenue, a physical property not wholly dependent on shoppers.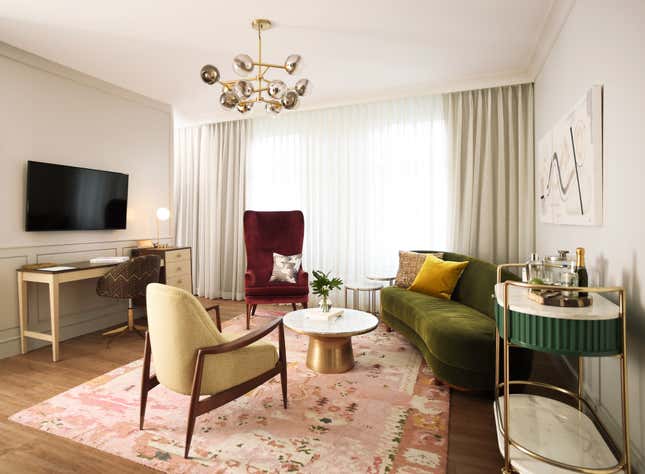 The first hotels will open in late 2018 in smaller US cities where real estate is more affordable: Charlotte, North Carolina; Indianapolis, Indiana; Detroit, Michigan; Savannah, Georgia; and Minneapolis, Minnesota. More locations will be announced later. The company is partnering with hotel management group DDK.
Rooms will go for about $200 a night while suites will be more than $400 a night. Each property will have between 100 and 250 rooms, West Elm told Quartz.
The venture won't be without its challenges. Traditional hotels are facing strong competition from home-and-room sharing company Airbnb, particularly as business travelers warm to staying in someone else's home.
But West Elm isn't trying to launch a commodity hotel empire. It's counting on its design acumen to create hotels that reflect the style of each city. As a home-furnishing retailer, West Elm is adept at staging, so its plan to allow guests to buy their room furnishings or artwork on its website (there won't be any price tags in the room) may prove to be successful. At the very least, guests can test out West Elm's offerings before buying anything.
Correction: Due to an error in West Elm's press release, an earlier version of this story mistakenly omitted Minneapolis, Minnesota and included Nashville, Tennessee in the list of cities where locations of the hotel chain are to be built.