Guadalajara, Mexico
The US, Russia, and European Union all have private rocket companies staking a claim in the burgeoning commercial space business. And now, the first private space company in China plans to add its country's launch technology to the mix .
Landspace, founded in 2015, says it will have its first commercial launch in 2017, an extraordinarily fast pace of development for an orbital rocket.
The secret to Landspace's rapid entry to market is that the company, founded by veterans of China's state-owned rocket firms, will use flight-proven designs already deployed by the Chinese government.
The company's exhibit here at the International Astronautical Congress in Guadalajara, Mexico, suggests the Landspace rocket is based on the mysterious Long March 11, a 20-meter-tall, solid fuel rocket designed by the Chinese government to reliably lift small satellites into orbit. The Long March 11 flew for the first time in September 2015; little is known about it outside of China's aerospace industry.
Landspace founder and CEO Zhang Changwu, who formerly worked at one of China's state aerospace firms, recalls a visit to Europe to pitch Chinese launch vehicles; the sales trip was unsuccessful—not because of technology problems, but because of concerns related to the state's involvement with sensitive technology.
Indeed, the tension surrounding China's rise as a world power has carried over to the space industry. Chinese tests of anti-satellite weapons, including one gone wrong in 2007, have increased concerns about the militarization of space. Despite a history of space diplomacy with outright enemies like the Soviet Union during the Cold War, US lawmakers forbid NASA from working directly with China's space agency.
Changwu predicts that Landspace's independence—the company did not raise money from the state, he says, though some of its vendors are state-owned—will allow the company to avoid geopolitical entanglements that have made it difficult for China to market its rocket technology commercially.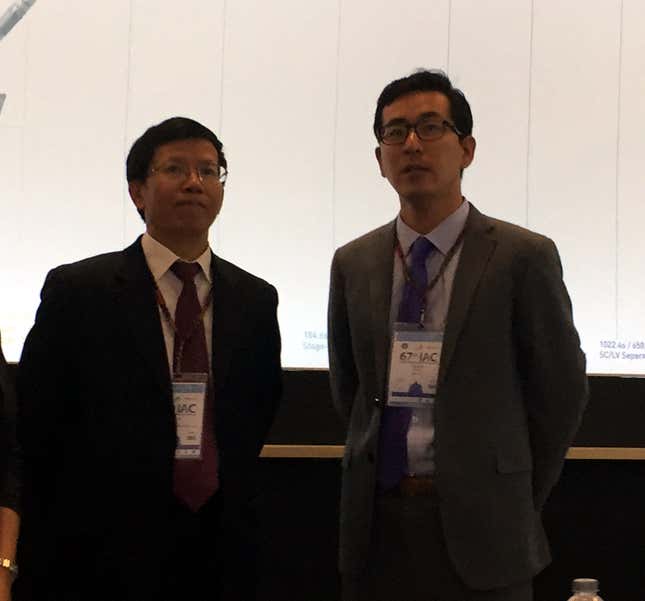 "We are open to serve as a bridge" between China and the global aerospace industry, he says. "Nothing to do with military or defense, purely aerospace."
China's space program is demonstrating its increasing sophistication, with a pathbreaking quantum satellite experiment and the recent launch of its second space station, Tiangong-2. Wu Yanhua, the vice administrator of China's national space agency, notes that his country launched 19 rockets last year and is on pace to launch 24 more in 2016.
While Landspace's current rocket will target the burgeoning small-satellite market, Changwu says his company is already contemplating a powerful liquid-fueled rocket engine for a more ambitious vehicle capable of competing directly with SpaceX and Arianespace.
If Landspace can succeed in breaking into the global launch market—a task that will require a significant increase in transparency about the rocket and its performance, as well as further tests—it could be a key step forward in international aerospace cooperation.