When the fighter jets drop the bombs, the White Helmets move in.
The nearly 3,000-strong volunteer rescue group from Syria, formally known as the Syrian Civil Defense, is credited with saving over 60,000 people since it started operating in 2012. Their work, removing people from under the rubble of barrel bombs, spans across the country, including in dangerous areas such as Idlib and Aleppo. The group's efforts have received global recognition, with its nomination for the Nobel Peace Prize in August, and awarding of the prestigious Right Livelihood Award in September.
Yet, the White Helmets' humanitarian work and recognition has also made it a target. On Friday (Sept. 23), three out of the group's four centers in Aleppo were destroyed. The group posted photos on Twitter showing damaged buildings and destroyed cars.
More than 130 members of the White Helmets have been killed while undertaking rescue missions. The group consists of former bakers, tailors, doctors, and carpenters, who banded together after the Syrian civil war started in 2011. Their objective was to rescue as many people as possible, drawing inspiration from a verse in the Quran that reads, "To save a life is to save all of humanity." The group's daring rescue missions, captured in a recent Netflix documentary, has put a face to the brutality of Syria's civil war.
"To be honest, yes, there's a lot of pressure in our work," Raed Al Saleh, the head of the group, told Quartz. "The thing that I don't think people can understand is that feeling, that moment when you pull someone from under the rubble and you find them alive. In that moment, you forget everything else. You forget the stress, you forget the pressure, you forget the tension."
Al Saleh was speaking at a forum in New York on Friday, a few hours after his colleagues in Aleppo were shelled. In his remarks, he painted a picture of a city—and a country—plagued by war, and of children, mothers, and fathers constantly negotiating with the fear of death and famine.
Hundreds of thousands of people have been killed in Syria since the beginning of the war, and 4.8 million others have fled the country, according to the UN office for the coordination of humanitarian affairs. In Aleppo, one of the world's oldest continuously inhabited cities, more than 250,000 people are now under siege in the rebel-controlled eastern part, trying to survive without water or basic amenities.
Al Saleh spoke of the dangerous and dreadful conditions his team faces on a daily basis. Despite the group's usage of marked vehicles and white helmets to make them easily identifiable, they have been repeatedly targeted. This has especially happened through what is known as the "double-tap" strikes, where warplanes and helicopters circle back to drop bombs on volunteers carrying out rescue operations.
This, Al Saleh said, has forced them to smear vehicles with mud, remove all marks, and even build hospitals underground so that they aren't bombarded. Yet in Syria's war, nothing is sacred anymore: During the Friday airstrike, one of the group's rescue centers featured in the Netflix documentary was destroyed.
The dwindling number of doctors and the scarcity of hospital equipment have also created a humanitarian disaster. Mahmoud Mustafa, an ophthalmologist and a native of Aleppo, founded a doctor's association that provides life-saving care to medical facilities in the besieged city.
"Doctors are target number one," Mustafa said, adding that 850 medical personnel have been killed in the country since the war began. "I have lost any glimmer of hope," he said. "What will happen within a month or two? I don't want to imagine."
Marcell Shehwaro, a co-founder of Kesh Malek, a civil society organization that runs schools in opposition-held areas of Aleppo, said education facilities are also under attack. After schools were bombed, Shehwaro's group established makeshift schools in basements, removing any glass materials that could shatter in an aerial strike. But regime strikes continue to rain on them: according to Save the Children, 40% of schools in rebel-held Aleppo have been shelled once (pdf, p. 5), and enrollment has dropped to as low as 6%.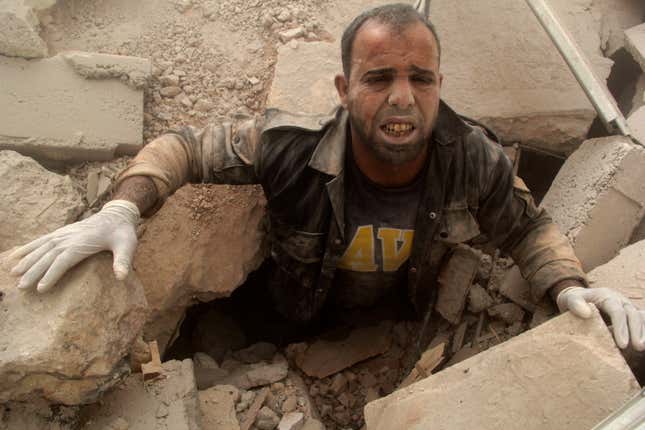 "We used to have high hopes of the world watching," Shehwaro said, meaning that president Bashar al-Assad's regime wouldn't shell schools while the international community looked on. The schoolchildren, she said, show signs of trauma: "They don't cry when they need to." If we don't address the siege and the war very fast, she said, "they won't be kids anymore."
Despite the fragility of the situation, Mustafa said there are glimmers of humanity in the war-torn city. "I always feel happy when I am told there are seven births at the hospital or four C-sections," he said smiling. Despite the siege, he said, people continue to live, at times even "planting their gardens and backyards."
Al Saleh said that the world shouldn't forget that Syrians started protesting against Assad's regime to demand freedom. "We are not crazy about death, we are not crazy about crossing oceans, we are not crazy about ISIS," he said. "We didn't set out to try all methods of death."
The world, he said, should remember the humanity of the Syrians living under attack. "There's a bright face," he said, "and we don't have to forget that."