Typhoon Megi, which has wrecked havoc in Taiwan in the past two days, killing four people and injuring more than 600, has drudged up an unlikely hero on social media: a woman photographed eating a pork bun while battling the winds and rain.
Captured by Associated Press photographer Chiang Ying-Ying, who was assigned to cover the weather story, the photo of the woman eating in misery was snapped up by international news outlets including the Wall Street Journal, ABC, and NBC.
The caption of the photo reads:
A woman eats and struggles with her umbrella against powerful gusts of wind generated by typhoon Megi across the the island in Taipei, Taiwan, Tuesday, Sept. 27, 2016. Schools and offices have been closed on Taiwan and people in dangerous areas have been evacuated as a large typhoon with 162 kilometers- (100 miles-) per-hour winds approaches the island.
After the photograph began circulating in news coverage, internet users in Taiwan took to answering two pressing questions: 1) where she bought her pork bun, and 2) who she was. A city-wide manhunt took place, and journalists from Apple Daily Taiwan (link in Chinese) found her to be Mrs. Dai (she only provided her surname), a fruit vendor at a local wet market, who was a little too optimistic about setting up shop during a typhoon, and so closed the store early to return home when she realized just how awful the weather was.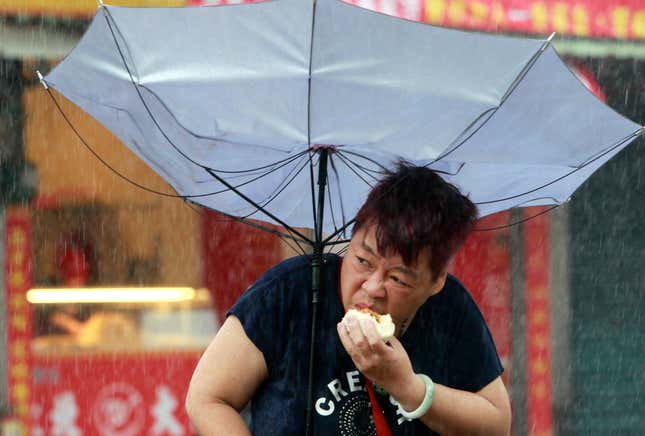 Embarrassed when her friends brought the less-than-flattering viral photo to her attention, she told the journalists it was all her husband's fault. He's the one who bought her the pork bun, from FamilyMart, a convenience store chain.
Internet intrigue about the pork bun's origins likely stemmed from the woman's unfaltering determination to eat it. In other words, it must have been irresistible.
"I can tolerate anything for a pork bun," commented (link in Chinese) one Facebook user regarding a post about the picture by online media outlet ET Today.
"You need to eat pork bun in order to combat such bad weather," said another.
"Why isn't there a link to the pork bun store? This is so unprofessional…" said an internet user commenting on the news about Mrs. Dai's identity.
Taiwan is regularly slammed by typhoons and even some super typhoons, which makes the plight of Mrs. Dai especially relatable for a citizenry who is constantly battling the elements. But just about anyone can empathize with the broader sentiment: Even in the most uncomfortable of circumstances, it's hard to ignore the food right in front of your face.