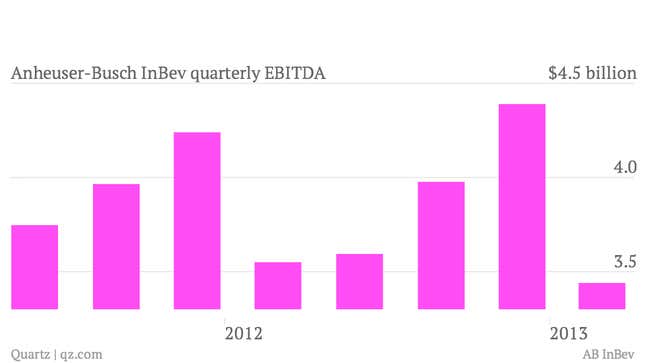 The numbers: Not great. Anheuser-Busch InBev's earnings before interest, taxes, amortization and depreciation were $3.4 billion (pdf, p.2) in the first quarter, down from $3.55 billion the year before. Shares were down 2.5% in morning trading.
The takeaway: AB Inbev, the world's biggest brewer and maker of Budweiser and Stella Artois, gets almost three quarters of its operating profit from customers in the US and Brazil. Shipments of its beer in the US fell, the company said, because cold weather and higher gas prices weighed on consumers. The company said Brazilians drank 8.2% less than the same quarter a year ago, also because of cold weather, an earlier Carnival celebration, and weak income growth.
What's interesting: Brazilians aren't drinking as much beer. Last week, Heineken also reported falling sales in Brazil during its first quarter. AB Inbev, recently approved to take over Mexico's Grupo Modelo, has focusing on emerging markets where it is having mixed success. In contrast to Brazil, sales in China grew 16% for the period.