To buy a bespoke suit isn't just a cash-for-goods transaction. It's an experience, too. You talk to your tailor about your style, and what the suit is for. You select your fabric, and maybe details such as the lining of your jacket. You have multiple fittings to make sure it's just right.
If you are having your suit made at Casa Rubinacci in Naples, you may also spend six nights at the family villa, guided to their favorite spots nearby during your stay, which concludes with a suit made start to finish to your exact specifications by one of Italy's finest tailoring families. It will only set you back €4,800 (about $5,400) to start, including VAT—the EU consumption tax—or €4,200 without it if you're buying from outside the EU.
The price is undoubtedly high, but a suit that's fully made to order can take up to 60 hours of work by highly skilled labor; the family describes its hand stitching as "almost forensic." Over the last three generations, it has become renowned for its jackets: unlined, with high armholes and soft shoulders. It's a quintessential Neapolitan style worn by men such as Lapo Elkann, the once-riotous heir to the Fiat dynasty who is routinely dubbed one of the most stylish men in the world.
The Rubinacci family started building its fortune in the 18th century, in the silk trade. In 1932, Genarro Rubinacci, wealthy and with an eye for a suit's cut as sharp as a pair of scissors, created the business as something of a gentlemen's club. Men went there to socialize and buy well-tailored suits, and still do in a sense, though coming from a much greater distance.
About 90% of the clientele is foreign now. Men fly in and stay at one of seven suites, each decorated by Mariano Rubinacci—Genarro's son—and including amenities such as a kitchen and flat-screen TV. The €4,800 starting price for the suit applies whether or not you want the stay included. You're paying for the product, and the Rubinacci name. The room is a perk.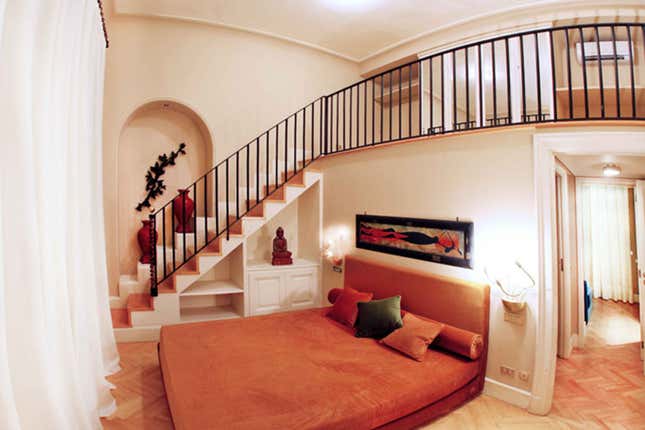 "The clients can come to Naples, and have a one-week Rubinacci experience in the south of Italy, with the Rubinacci family," Luca Rubinacci, Genarro's grandson and the face of the company today, told Forbes. "That is, visiting the restaurants we dine at, in addition to visiting our favourite hotspots. In the meantime they'll get their suit made within a week's time."
A week is fast for a bespoke suit, given the labor involved. It's part of the draw—and letting customers stay on the property means they're immediately available for fittings. Casa Rubinacci, which introduced the program in 2010, wouldn't say how many customers it gets in a typical month.
Tourism to Naples has fallen out of favor in recent years, but even travelers who aren't getting a suit can stay on the estate, which is located in a peaceful hillside enclave between the districts of Mergellina and Corso Vittorio Emanuele. Suites start from €150 per night.
But it's the suits that make it a destination.