Philippines president Rodrigo Duterte is planning his first official visit to China. It promises to be a pivotal moment in Sino-Philippine relations.
Just three months ago the two countries were experiencing "the most toxic bilateral relationship… but now they are suddenly new best friends," Richard Heydarian, an assistant professor in politics at De La Salle University in the Philippines, told Quartz. Manila was Beijing's chief antagonist in the South China Sea, and lodged the complaint that led to a scathing international tribunal decision on China's activities there.
But after Duterte issued a string of insults against US president Barack Obama, the Philippines foreign affairs secretary said on Oct. 5 that the country would "realign" its foreign policy, "breaking away from the shackling dependency of the Philippines" on the US. The island nation's new alignment will include closer ties with China and Russia, Duterte has indicated, and he promised to talk about buying defense assets from the two.

Manila's about-face is more than just a diplomatic victory for Beijing—it also affirms in many Chinese people's minds their long-held view of the Philippines as a weak, inferior country that should respect China, the regional superpower. As Duterte moves to embrace Beijing, racial slurs based on the Philippines' tropical fruit exports and its status as a major exporter of cheap labor remain commonplace in China.
Easily manipulated
 banana sellers
It is evident from Beijing's characterization of the South China Sea dispute that it does not think the Philippines is capable of acting in its own diplomatic capacity. In one editorial published (link in Chinese) by state news agency Xinhua in May, Manila is said to be simply acting out a script that is "directed" by the US, with other countries including Japan acting as "cheerleaders" in the background. Chinese state media also rolled out a "US expert" from from the little-known "Executive Intelligence Review" to bolster its argument that the Philippines is merely America's pawn.
China's disdain for the Philippines as a pliable bit-actor in Asia is amplified by a widespread view that the country is an impoverished, tropical country which depends on China to buy its bananas.
"I just told my father about the international tribunal ruling result over the South China Sea, and my father asked me, 'Philippines? That banana seller?" wrote self-claimed Chinese writer Wu Yan (link in Chinese, registration required), who has over 14.9 million followers, on Weibo, China's Twitter-like platform.
Others shared cartoons depicting the Philippines as a child, upset and remorseful that its actions have affected China's appetite for its bananas and mangos.

One popular cartoon circulated after the international tribunal decision (which has since been removed from Weibo) shows a cartoon "China" smacking a crying "Philippines" with the caption "How dare you! A banana seller dares to rob the South China Sea from your father!"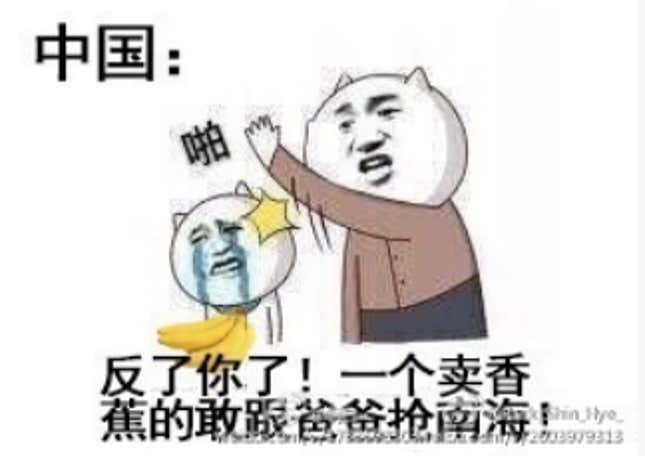 China has used fruit as leverage against the Philippines in the past. In June 2012, China imposed restrictions on banana imports from the Philippines following a standoff between the two countries over the Scarborough Shoals in the South China Sea that year, citing concerns over pests.
"When the Chinese get really angry about the Filipinos, they stop buying bananas," said David Zweig, chair professor of social sciences at the Hong Kong University of Science and Technology.
The Philippines exported 160,000 tons of bananas (pdf, p.12) to China in 2014, according to the Pilipino Banana Growers and Exporters Association, a significant drop from 2011's 310,000 tons.
In March this year, China destroyed 35 tons of Filipino bananas worth $33,000, claiming that the bananas had high levels of pesticide residues. Ahead of Duterte's visit, 27 blacklisted fruit exporters will be allowed to sell to China again as a "gift."
The help
The other image that comes to mind when many Chinese people think of the Philippines is its large number of domestic helpers who work in homes in Hong Kong, Macau, and Taiwan.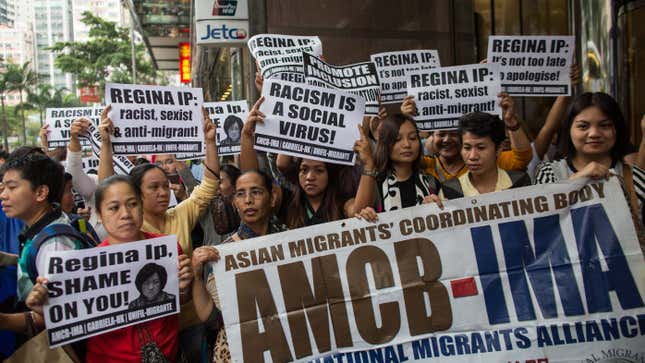 In Hong Kong, Filipina domestic helpers in the 1980s, were referred to in Cantonese as "bun mui ," taken from the words for "Philippines" and "younger sister" or "girl." The connotation referring to a low-cost servant in this common usage was derogatory, said Daisy Tam from Hong Kong Baptist University's cultural studies department, "Filipino domestic helpers were referred to and treated as second-class citizens."
That impression of Filipinas is at a young age. 30-year-old Hongkonger Nicole Tsui told Quartz, "I think of 'maids' when talking about Filipinos." Tsui's family had employed several domestic helpers in the past 20 years. Tsui added the family's helpers "were just like sisters."
They are however, paid less than local workers. Domestic helpers from the Philippines are paid a base rate of HK$4,110 ($530) a month, below the city's minimum wage for residents, and by law are required to stay in the same house as their employers.
In recent weeks, some Chinese netizens mocked Filipinos for their low-cost labor image. "Duterte ordered the US to leave the nation's military base, but the US refused to do so. It looks like the Filipino maids just invited a wolf who refuses to leave the Philippines," wrote (link in Chinese, registration required) one Weibo user on Sept.14.
"The three biggest Filipino exports are maids, maids, maids," Another Weibo user (link in Chinese, registration required) based in Thailand wrote on Aug.16. "They can't be trusted."
What Chinese drugs?
As Duterte's brutal war against drugs in the Philippines continues, he's been open about where he thinks these drugs, especially "shabu" or methamphetamine, are coming from—China.
It's an accusation that's backed by the United Nations Office on Drugs and Crime and US drug enforcement, which say Chinese laboratories are a major source for precursor chemicals of meth: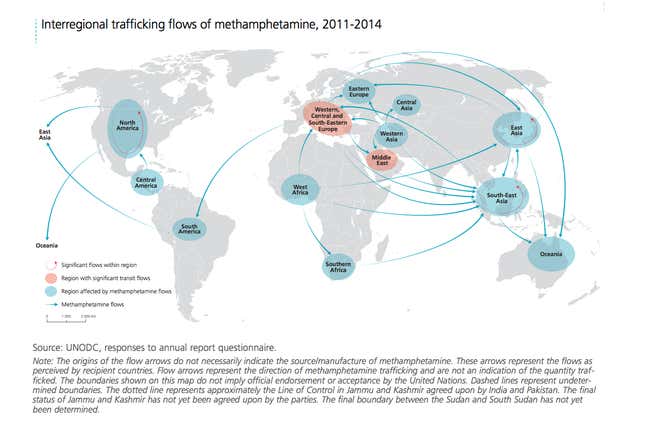 But in a sign of how little Beijing takes Duterte's accusations, and his war on drugs, seriously, Chinese state newspapers have mostly not even reported the remarks, and an official denied any link this summer. Instead, some Chinese citizens and one state-backed paper are also criticizing Duterte's human rights violations' since he started his war on drugs.
Tom Tsui contributed reporting.