Philippines president Rodrigo Duterte plans to make illegal drugs from China and tensions in the South China Sea a focus of his first official visit to the mainland on October, but Beijing appears to be trying to play down one of those issues.
Duterte, who took office pledging to wipe out drug dealers and has overseen the killings of thousands of suspects, blamed Chinese syndicates making shabu, or methamphetamine (meth) for the Philippines' drug problem in a Sept. 27 press conference:
"We are dealing with China. I'm bringing this to their attention. Lahat ng materials galing sa (All the materials are from) China. We want them also to control their people and increase focus on their criminals. Kaibigan man kaya tayo (We're friends, right)?"
It's not the first time Duterte has railed against China for its alleged role in the Philippines' drug problems. He threatened to kill three local Chinese dealers and talked about confronting the Chinese government because their citizens who were being killed in the Philippines for drug offenses, just in the first two weeks of his presidency. "Those who die and the bodies are unclaimed, who will claim them?" he said. "Most of them really are Chinese."
China's state media, however, have mostly downplayed or completely ignored Duterte's allegations, even while covering most of the rest of his speeches. After the July statements, Cankao Xiaoxi (link in Chinese), a daily newspaper owned by state media Xinhua, was the only one to report that Duterte had "raised some questions" about China's involvement in drug crimes. Beijing agreed to participate in fighting drugs, and has sentenced many drug dealers from the Philippines for smuggling drugs into China, the report added.
On Thursday (Sept. 29), Cankao Xiaoxi (link in Chinese) mentioned Duterte's Sept. 27 accusations against China, in an article published two days after he spoke. It also said Duterte's anti-drug actions have been criticized by human rights groups and some foreign governments, calling the over 2,000 deaths in his anti-drug war "death under unknown circumstance." Earlier state media reports of his Sept. 27 speech focused on the fact that Duterte had accused the US of undermining the Philippines' currency, and ignored his accusations against China.
When discussing China's possible role in the Philippines drug problem, Chinese citizens have condemned (link in Chinese, registration required) Duterte's policies for their brutality instead. "The Philippines hunting and killing on drug dealers is a combination of Chinese official Lin Zexu's burning opium before the 19th century's first opium war and China's cultural revolution in 1960s," one said.
Others are mocking Filipinos. "Actually I believe in this, the big bosses must all be Chinese, after all it takes wisdom to be a drug dealer. Does the Philippines have that?" Another asked "so you are angry because we don't buy Philippines bananas?"
Accusations that China is smuggling drugs into the Philippines were denied by Zhao Jianhua (link in Chinese) in August, and the Global Times (link in Chinese), which also noted that China is helping Filipinos to build rehab facilities.
China is a hub for meth manufacturing and distribution in Asia, the United Nations Office on Drugs and Crime (UNODC) says. The agency's 2016 report shows the flow of drugs from China to Australia and Europe.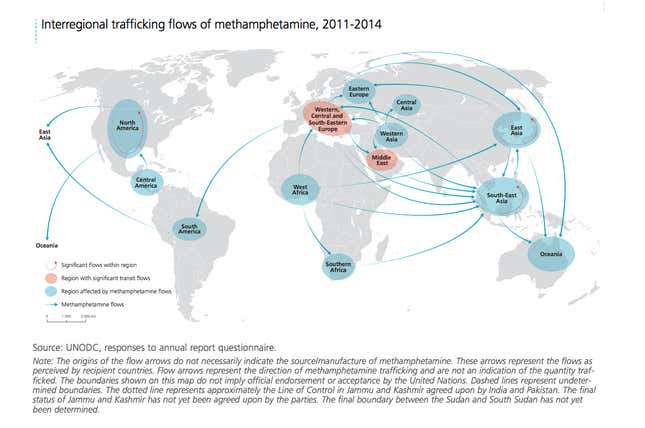 Drug seizures of meth in China are growing every year, the UNODC reports:

And China is believed to be a major exporter of the precursor chemicals used to manufacture meth bound for the US market.