At first, it struck me as a gimmick: Nearly 30 years after Michael J. Fox strapped on auto-lacing Nike sneakers in Back to the Future II, the company has created a working replica of that shoe that a select few people can get their hands on.
Nike yesterday announced that it's releasing 89 pairs of the Nike Mag—a reference to 1989, when the movie premiered—via a raffle that will benefit the Michael J. Fox Foundation and its research on Parkinson's disease. (Fox has Parkinson's, and has become an advocate for efforts to find its cure.)
Though the Mag is a promotional product meant to evoke nostalgia for a beloved movie and raise money, developing it led to the creation of a commercial product Nike has coming, the HyperAdapt 1.0, a sneaker geared toward athletes that uses the same self-tightening technology as the Mag. Now the Mag is building excitement for the HyperAdapt's release late next month.
As futuristic as it sounded, I initially had some doubts about the real utility of a shoe that would automatically clamp down around your foot. But after trying out the auto-lacing on a pair of the Nike Mags at a press event on Oct. 4, I was surprised to find myself sold on the technology. I wouldn't even rule out buying a pair of the HyperAdapt sneakers.
While it's undeniably cool to watch the shoe shrink around a foot, what struck me most wasn't that closing action (triggered by putting pressure on the heel sensor). It was the way the shoes felt once they were closed. Instead of regular laces, there are four straps across the front of the sneaker that contract, and can be further tightened or loosened using a small control panel just inside the shoe's collar. (Tiffany Beers, the lead engineer on the project, said the Mag uses basically the same lace engine as HyperAdapt, which she was wearing at the press event.)
Unlike laces, which can dig into the top of your foot with uneven pressure when pulled taut, the straps distribute the pressure across your whole foot. The entire shoe seemed to close in, making my foot feel comfortable and secure. I could see an athlete seeking a performance boost wanting that. Similarly, when I loosened the sneaker, it relaxed evenly around my foot.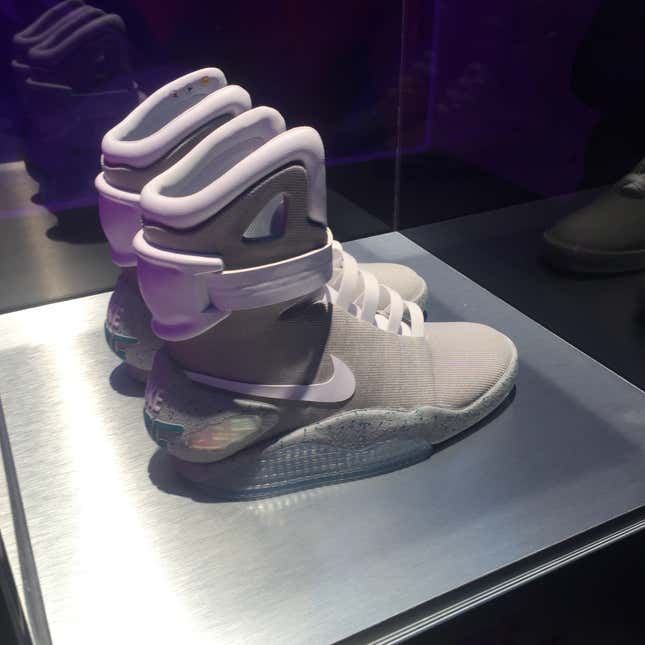 The HyperAdapt will work somewhat differently. When Nike created the concept of the Mag for Back to the Future II, it hadn't yet developed Flywire, which uses strategically placed bundles of filaments like the cables of a suspension bridge to secure your foot. The Mag, which mimics the sneaker in the movie, doesn't use Flywire, but the HyperAdapt will be a modern athletic shoe, with Flywire.
How much better is any of this than regular old laces? If it is any better—an athlete would have to answer that—it's probably just marginally so at this point. Nike hasn't said how much the HyperAdapt will retail for yet, so it remains to be seen whether the performance or comfort advantage it offers can justify the cost—in dollars to customers, but also to Nike in terms of time and money spent on research and development.
The company says it has worked on the idea for about a decade, making advances while waiting for components such as batteries and motors to shrink enough that they could fit in a sneaker sole. (The battery in the HyperAdapt is supposed to keep a charge for about two weeks, though Beers says hers have gone much longer on a single charge.) And the development process will continue: There's a reason Nike calls it the HyperAdapt 1.0.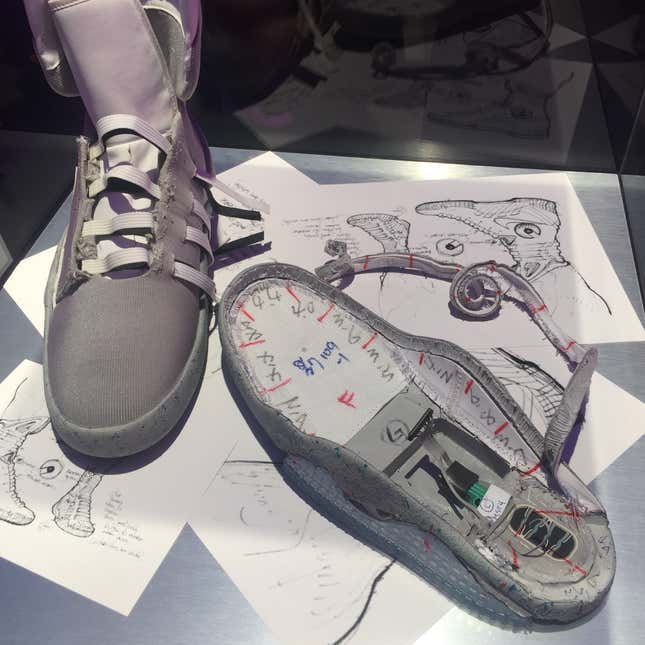 The goal, Nike says, is to ultimately release a fully adaptive sneaker, meaning it would react automatically to your foot. When you perform an activity—playing a full game of basketball, for instance, or running a long race—your foot sweats and swells, changing shape slightly. In theory, the sneaker would respond on its own, without you needing to manually loosen or tighten it.
Nike has big hopes for this technology, and it's working on adaptive products that go beyond fit. "We've got so many other opportunities from a complete performance standpoint," CEO Mark Parker said of Nike's adaptive tech in a Sep. 27 earnings call with investors. "And what you'll see coming out very soon in Q2 will be the tip of an iceberg that I think is actually quite compelling."
Will sneakers that started out as a futuristic concept in 1989 catch on in 2016? That's still uncertain. But after trying out the Nike Mag, I'm certainly curious to see what Nike tries next.