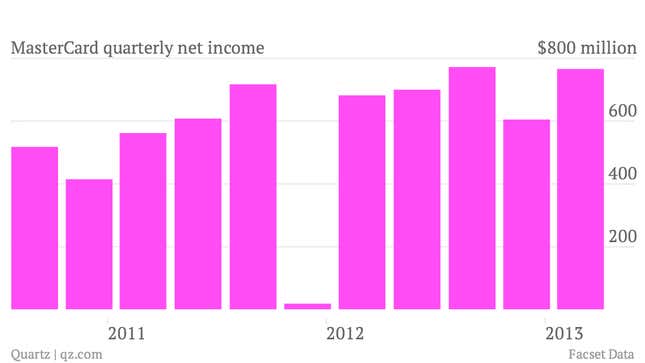 The numbers: The US's second-largest payments network today reported net income of $766 million, a 12% increase from a year earlier, but below analyst expectations. Shares were down 2.3% in afternoon trading.
The takeaway: US consumers spent less in the quarter, hurt by higher payroll taxes and overal uncertainty, said MasterCard CEO Ajay Banga. Banga, speaking in the company's earnings call, says MasterCard faces a "dodgy" second quarter in the US.  The company is working to get the edge on rival Visa, which reports after the market close, in the expanding US debit card industry. Since the mid-1990s, debit card usage has grown almost 20% a year, overtaking credit card usage in 2006. MasterCard makes money from fees it charges card issuers like banks for both debit and credit cards.
What's interesting: MasterCard's biggest shot at growth may be in China and other regions where demand for payment systems is growing, like the Middle East and Africa. The volume of transactions on the MasterCard network grew 20% in Asia, Africa, and the Middle East but only 4% in the US. Earlier in the month, MasterCard inked a deal with China CITIC bank to issue cards in China and elsewhere in Asia. MasterCard has also signed deals with Alibaba Group, best known for its massive e-commerce operation, to allow cross-border payments.