Do you trust LinkedIn to keep a secret?
If you do, you might let the company tell corporate recruiters you're looking for a new job. LinkedIn has introduced a new feature in the US, UK, Canada, and Australia called Open Candidates. It allows users to signal that they're looking for a new gig, in theory without their current employers finding out.
From the Oct. 6 announcement:
Who among us hasn't, at some point, tried to find work without our boss finding out? Now, you can privately indicate to recruiters on LinkedIn without worrying. We will hide the Open Candidates signal from recruiters at your company or affiliated company recruiters.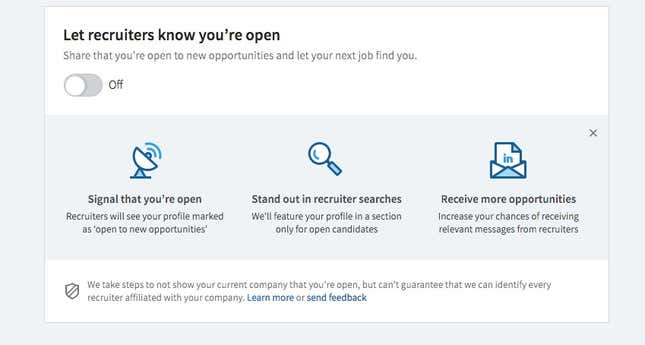 LinkedIn says every employer gets a unique company ID. If the ID of the company you're working for matches the number of an employer signed up with LinkedIn's Recruiter service, they won't see that you've raised your hand.
But beware the fine print. The site warns:
We cannot guarantee, however, that every company is accurately identified, or that affiliated companies are accurately mapped on our platform. We also cannot guarantee that every recruiter has an up-to-date and correct Company ID, so there's a small chance that your career interest preferences will be visible to a recruiter at your current employer or an affiliated company.
LinkedIn is undoubtedly a useful product; enough people think so that Microsoft agreed to buy it for $26.2 billion. But it is also famously buggy. From recommending jobs that would never interest me, to insisting I have a new message when it's three weeks old, and sending me spam emails, the site's reliability doesn't inspire confidence. And its creepy habit of screening my emails to suggest new contacts makes me wonder about how much it values my privacy.
Maybe I'm just being paranoid: LinkedIn say 1 million people are already using the new feature, and for a platform with 433 million global users, that number may grow rapidly. It's possible very few of them will be narced out by LinkedIn. And anyway, I have no interest in using feature, because I'm perfectly happy where I am. Right, boss?